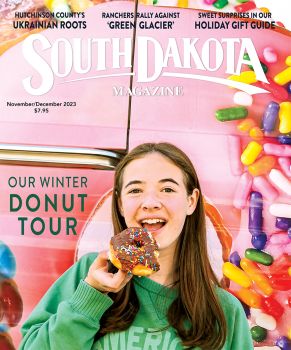 Subscriptions to South Dakota Magazine make great gifts!
Subscribe today — 1 year (6 issues) is just $29!

Canning Produce and Wit
By Katie Hunhoff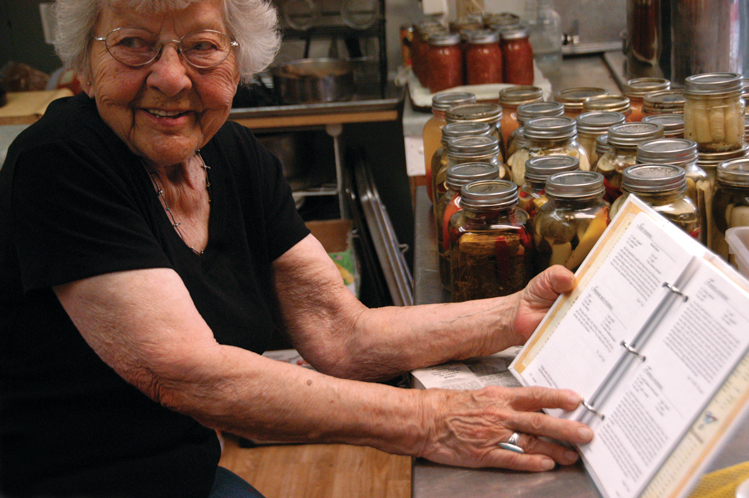 Henrietta Truh's cookbook has a lifetime of recipes and wisdom.
Editor's Note: Henrietta Truh was 94 when we met her in her kitchen in Carthage in the summer of 2014. Truh passed away last winter. A version of this story appeared in our November/December 2014 issue. To order a copy or to subscribe, call (800) 456-5117.
Henrietta Truh burst into her kitchen, apologizing for the mess. "The health inspector told me it's cluttered but clean," she said. Glass jars of pickles and salsa filled the countertops. Red Wing crocks sat on the floor. Fresh apples, peppers and tomatoes were waiting to be canned, and she had a stash of lollipops for kids who visit.
Truh was 10 years old when she learned to can on a wood-burning stove at her family's farm in Wisconsin. She has used those skills ever since. Today, at 94, she estimates that she cans three to four thousand jars each year in her commercial kitchen in the little town of Carthage. She then takes her preserves — cucumbers, tomatoes, pickles, relish, pickled radish, salsa, jelly and applesauce — and sells them at farmers markets in De Smet and Salem. Her donuts, cookies, pies and kuchen are also best sellers.
Carthage doesn't have a farmers market, but if it did Truh would be the queen. She's known as the Pickle Lady in the tiny town of 150 that had 15 minutes of fame when the movie Into the Wild was filmed there in 2007. The movie is based on a true story by Jon Krakauer about Chris McCandless, a young man who gave away $24,000 intended for law school to travel the country and to live as simply as possible.
McCandless came to Carthage in the fall of 1990 after the owner of the local grain elevator, Wayne Westerberg, found him hitchhiking in Montana and offered him a job. McCandless worked at the elevator for a few months and also painted a house Westerberg owned just down the block from Truh's home. McCandless stopped back in Carthage in 1992 on his way to Alaska, where his body was found in an abandoned bus near Denali.
The Cabaret, a popular steak house and lounge, was featured in the movie and today the restaurant's walls are covered with Into the Wild memorabilia. Across the street, Truh's daughter Melanie runs a cafe and bar called the Prairie Inn. There is no grocery store in town, so Melanie stocks some basics — ice cream, bubble gum and toilet paper. Further west on Main Street is the Coughlin Inn, an 1889 13-room Victorian mansion that was home to the Coughlins. The most famous of their 10 children was Charles, who graduated from South Dakota State in Brookings, became head of engine-maker Briggs & Stratton and later built the Campanile on the SDSU campus.
Truh, though a transplant, seems to fit the town of Carthage. She and her husband, Adolph, farmed in Minnesota and raised four children. After Adolph died of cancer, Henrietta continued to live and work on farms in Minnesota until she followed Melanie to Carthage in 1989. Her son, Charles, also moved to town, and her daughter Lois is a family practice physician in nearby Huron. Her daughter Janice lives in Fargo and supplies Truh with the apples she needs for canning.
When we visited, tomatoes from Charles' garden were piled high and she was working on salsa. "My hours are according to the produce," she said. "I will sit here and work 10 hours a day in order to get things done." Sometimes she wakes in the middle of the night to start canning. "My son likes to tell people, 'Mom's 94 — she just doesn't know it yet,'" she jokes. But visiting in her kitchen we understood her son's meaning. Truh's personality shines with wit and passion for her work.
She's as sassy as her horseradish. "I've been told I can make anything taste good," she says. "Even horse manure." And when we commented on how youthful she appears for her age, she retorted, "Do I have to look 94?"
No, we agreed. She doesn't have to look 94. And she doesn't have to act 94. "Every age I've been through has been interesting. So why not continue? The reason I'm doing my business is because someday I might get old and not be able to do it anymore," she laughs.
---
Truh's mother, Rachel, was from Canning Town, England. Every Christmas her family enjoyed suet pudding, a traditional English dish, as a holiday treat. The pumpkin cake is from Truh's cookbook, Tried 'n Truh, which includes hundreds of recipes she collected through her life.
Suet Pudding
1 cup suet (chopped)
4 cups white flour
1 1/4 cups raisins
1/4 teaspoon salt
1 tablespoon sugar
1/2 teaspoon cinnamon (optional)
Mix ingredients and shape into a loaf. Moisten with cold water and put on a floured cloth. Tie shut and submerge in boiling water for about 2.5 hours. Keep covered with water and add more boiling water as necessary to keep pudding covered. When time is up, lift the bag and remove pudding from the cloth. Slice it, serve hot, sprinkled with sugar or use syrup on each serving.
---
Holiday Pumpkin Cake
1 cup sugar
1/2 cup vegetable shortening
1 egg
1 1/2 cups cooked pumpkin (mashed)
1 3/4 cups flour
1 teaspoon baking soda
1 teaspoon baking powder
1 teaspoon salt
1 teaspoon cinnamon
1/2 teaspoon cloves
1 cup raisins
1 cup nuts (broken)
Cream sugar and shortening, add the egg; beat until light and fluffy. Blend in pumpkin. Sift together dry ingredients and add to the pumpkin mixture. Mix until thoroughly blended. Lightly fold in raisins and nuts. Spoon evenly into a greased and floured (or sugared) 8-inch tube pan. Bake at 325 degrees for 65 minutes.