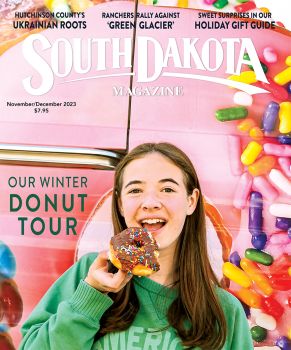 Subscriptions to South Dakota Magazine make great gifts!
Subscribe today — 1 year (6 issues) is just $29!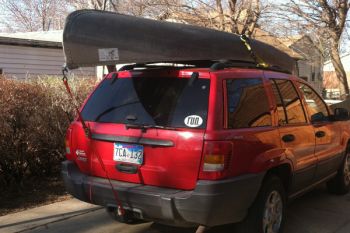 Dream Boat?
Apr 24, 2014
Canoe ownership has been my husband's dream for years. Jeremy searched endlessly on Ebay and Craigslist for the perfect one at just the right price. And he couldn't drive by a garage sale without wondering, "Any canoes?" Me? I've always been against one. I tried canoeing when I was 16 and I remembered tipping. A lot. But when Jeremy found an old 14-foot aluminum canoe for just $250 I gave in. "It'll be fun," Jeremy said. "And if we don't like it we can sell it. I bet we'd even make money off of it in this river town." How can you argue with that?
April 12 was supposed to have a high of 73 degrees so we took our inaugural paddle that morning on Lake Yankton. I was nervous as we eased the boat along the dock into the little lake below Gavins Point Dam. Unsteadily, I got in first. Then Jeremy told me I had faced the wrong way. "Why didn't you tell me before I got in?" I exclaimed, rocking the boat as I scooted around. "I hate this!" I yelled, mostly joking.
Jeremy seated himself with little fanfare and we found a rhythm to our paddling. Lake Yankton is around 250 acres and is generally calm since motorboats aren't allowed. Surprisingly we were the only boat that beautiful day; I thought for sure there would be kayakers. We rowed into a narrow area with no breeze and glided under a tree where two bald eagles perched. Jeremy offered to paddle alone as I sipped coffee. Painted turtles sunned on logs, ducks and geese flew by, a turkey trotted along the bank and frogs serenaded. "O.K. I don't hate this," I admitted. "I love it! I was totally wrong. Good job buying a canoe!"
I paddled to help when we decided to turn back. "What a beautiful morning," I thought, smiling to myself as we slipped into shallow water. But suddenly we started rocking and — you guessed it — tipped. No wonder there was no other canoe or kayak on the water. The water was cold! "What happened? I didn't do anything! What happened?" I exclaimed, scrambling to stand up. It took Jeremy a moment to admit he had dug his paddle into the lake bottom in an effort to move us faster. It seemed like a good idea until his paddle got stuck and he lost his balance.
I don't know if you've tried to right a canoe while it's still in the water, but I believe it's impossible. We nearly lost a paddle, ruined a smartphone and tipped again before dragging the canoe to shore and walking about a mile to our car on frozen feet. I hope the people fishing from shore got a good laugh, because we did … eventually. I'll go canoeing again, but not until July.