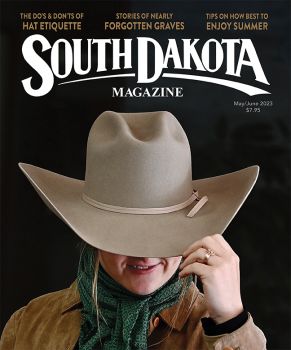 Subscriptions to South Dakota Magazine make great gifts!
Subscribe today — 1 year (6 issues) is just $29!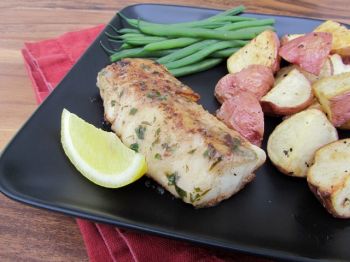 Goin' Fishin'
Jun 12, 2014
At the farm, the guys rely heavily on working dogs to help with the sheep. From sorting for sheering, weighing or vaccinating to moving the lambs away from the feed bunks so the tractor and feed wagon can make their way for daily feedings, the herding instincts of our border collies are essential. However, with one of our loyal and hardworking pups no longer much of a pup, Hubs has felt the need to look around for a new generation of canine coworkers.
His search ended late last December when a cousin's Australian shepherd had a litter of beautiful puppies. Immediately Hubs claimed a female, and in March Nilla came to live with us — in town. There were many sound reasons why we brought this puppy into our dachshund-ruled home flanked by city streets instead of immediately making her nest among the sheep at the farm. I won't deny that a large factor might have been how my heartstrings were tugged as she slept in my lap during the 5 1/2-hour drive home from picking her up.
It has been an interesting few months as Nilla navigated the puppy door to the fenced backyard, mastered housebreaking, chewed a dining room chair, learned to sit for jelly beans, trampled my herb garden and the rhubarb (but hasn't chased away the snakes), made some day trips to the farm to begin the transition to her working future, snuggled, wrestled and snoozed with our dachshunds, and dug holes in the backyard every time it rained. Every time it rained. And, if you weren't aware, it has been a fairly wet spring and early summer.
Our smart, curious and friendly puppy doesn't seem to have any interest in the dirt when it is dry, but a quick downpour and suddenly she is excavating a path to China. I blame the earthworms. Our soil is rich with night crawlers that become super active in the rain. If Nilla finds one squirming across our damp concrete patio after a rain shower, she dances with excitement. Maybe she just wants to go fishing.
I haven't been fishing in a while, but Nilla has got me thinking about it. There is something about freshly caught walleye from the Missouri River that just can't be beat. Maybe I shouldn't be scolding Nilla for digging holes to find worms. Maybe I should be rewarding her with a taste of freshly pan-seared fish with a light lemon and butter sauce. Manicured lawn be damned; let's go fishing.
Fran Hill has been blogging about food at On My Plate since October of 2006. She, her husband and their two dogs ranch near Colome.
---
Lemon Butter Fish
(adapted from Cooking Light)
4 fish fillets (about 3/4 inch thick) – cod (which is what I had on hand), halibut, walleye or whatever
black pepper
kosher salt
1 teaspoon flour
2 tablespoons butter, divided
2 tablespoons fresh lemon juice
1 tablespoon parsley, finely chopped
Pat fish dry and season both sides with salt and pepper. Sprinkle with flour.
Melt 1 tablespoon butter in a large nonstick skillet. Add fish to the pan and cook until lightly browned. Carefully turn fish over; cook another 4-5 minutes (until fish flakes easily). Remove from pan and set aside to keep warm.
Add remaining tablespoon butter to pan and cook until lightly browned, swirling pan to melt butter evenly and prevent burning. Remove pan from heat, stir in lemon juice.
Drizzle sauce over fish. Sprinkle with parsley. Serve immediately. (Serves 4)