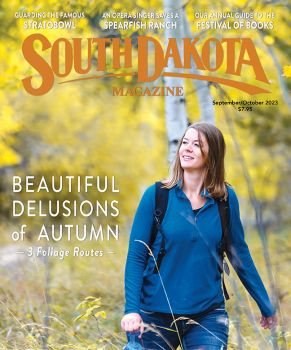 Subscriptions to South Dakota Magazine make great gifts!
Subscribe today — 1 year (6 issues) is just $29!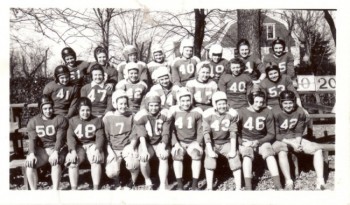 Cavour's Lady Leatherheads
Feb 15, 2012
In our November/December 2011 issue, Roger Holtzmann wrote about the Lady Leatherheads of Madison, an all-girls football team fielded at Dakota State University during World War II, when many of the school's men were serving in the military. They effectively saved the school's homecoming in 1945 by staging a football game.
We deemed it the first "powderpuff" game ever played, and even reported our find to Wikipedia, which promptly changed its powderpuff page to reflect the discovery. Hopefully the online encyclopedia's editors are willing to make one more change.
After our article appeared, LeRoy Barton, a former executive at the Huron Chamber of Commerce, sent us a newspaper clipping about a girls football team at Cavour High School in 1926. What's more is that the team defeated the Lake Preston boys squad 13-7.
Boys were in short supply in Cavour that year, so the school's girls decided to fill the void. A photograph of the team shows 20 girls and their coach, a Miss M. Dauwen, smiling brightly for the camera. All are wearing jerseys (one with a number 10, another with a capital C), short pants and leather helmets. They played exhibitions against each other prior to Huron College football games and apparently played against other high schools.
I couldn't dig up any details of the girls' game against Lake Preston, but it did become national news. "Cavour woke up one morning to discover that it had the only nationally famous high school football team in America," one newspaper announced.
One player from the Madison team recalled that their game wasn't as rough as she was led to believe it would be. But Cavour fielded Marjorie Gilchrist, who reporters called the "low-tackling demon of the team and a female Red Grange," after their first game of the season in early October.
"The girls exhibited surprising ability," a reporter wrote. "A fumble was a rare occurrence. Line plunges were much in evidence. Marjorie Gilchrist looked like a real football player. She goes low on tackles, unhesitatingly diving through the air. She is fast and she can handle the ball."
Little else is known about the team and its 1926 season. If you have any information, please comment below.