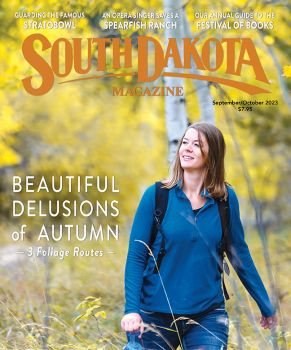 Subscriptions to South Dakota Magazine make great gifts!
Subscribe today — 1 year (6 issues) is just $29!

Colombe's Colome
By Bernie Hunhoff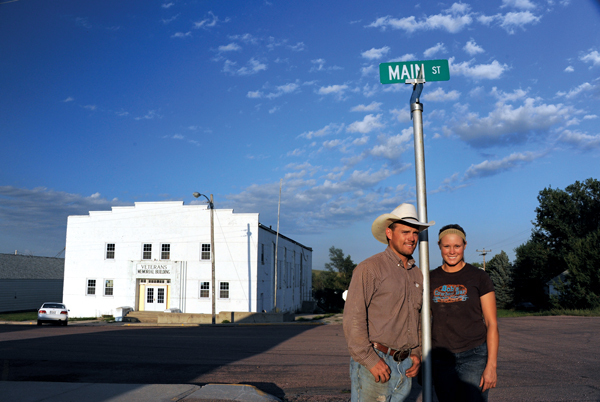 Reed Petersek, a steer wrestler on the South Dakota rodeo circuit, and his wife Erin live in Colome.
An apple a day keeps the doctor away, and a good steak a week keeps an entire town happy. At least, that's true for Colome, a cowboy enclave surviving nicely on the Tripp County prairie sea of grass and corn.
About 150 diners gather in a green metal building known as the Thayer-Waters American Legion Club every Thursday night for steaks, salads and neighborly talk. Steak Night, as it's called, has grown to become an unusual community tradition.
Colome is in south central South Dakota, a half hour's drive north of the Nebraska border. A dozen businesses operate there, and their names tell something about the town: Frontier Bar, Feed Mill (the local café), the Sign Inn and Scott's Welding, for examples.
Anchoring Main Street is the stately Veterans Memorial Stadium, built to honor local World War II soldiers, where teens practice basketball. North of the big gray gym is the Legion Club, where the aforementioned steaks are fried.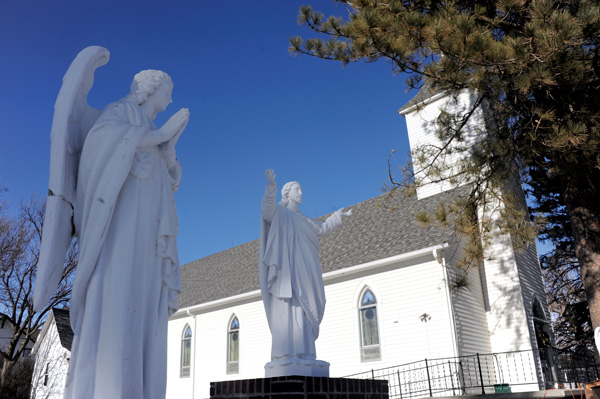 Statuary welcomes guests to St. Isidore Catholic Church. Isidore is the paton saint of farmers.
"Steak night is an institution," says Fran Hill, a local rancher, writer and food blogger who has helped with the event. "It's almost all volunteer, only the cook and the bartender and a barmaid are paid." The helpers bring salads, wait tables and wash dishes.
Alan Armstrong, the Colome school superintendent, says his children plan their trips back home to coincide with steak night. "And we try not to schedule school events on Thursdays because we can't compete with that, and we don't want to."
Armstrong says the street is full of cars by 5:30, "and usually it's families coming together." Profits from the feed are mostly donated to local youth and school activities, including upkeep on the auditorium. Roger Hauf, a former mayor and owner of Hauf Floor Covering and Hardware, says Colome's citizenry, while few, are generous to a fault.
Hauf wanted a new roadside sign when the town celebrated its centennial in 2008, and he had little trouble selling bricks 400 personalized bricks to cover the $20,000 cost. Just last year, Colome raised $700 to help buy a digital projector for the Pix Theater in Winner, even though the two towns have been rivals through the years.
And people from Winner, Gregory and other neighboring towns reciprocate by attending Steak Night — proof that the town has mellowed from wild beginnings. There might not even be a town called Colome if Chris Colombe, the town's namesake, hadn't survived a bloody barn dance brawl in 1894.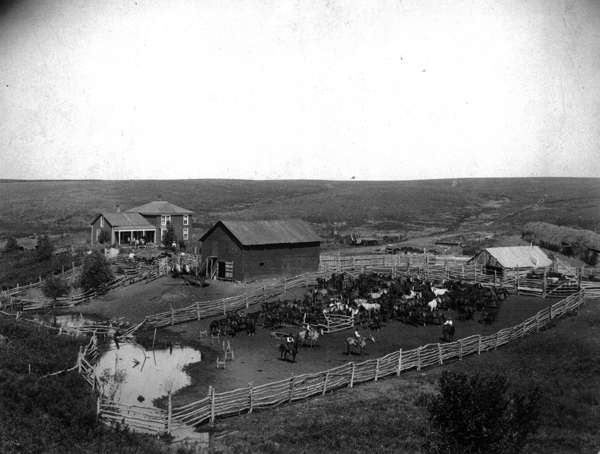 An 1890s-era photo of the George Pete ranch shows the barn where Chris Colombe courted and fought for his bride.
Colombe was the dashing, dark grandson of Pierre Dorion, a fur trader and friend of the Yankton Sioux who interpreted for Lewis and Clark when they pushed up the Missouri River valley in 1804.
The young cowboy was taken with a beautiful girl, Emma Brughier, and promised to meet her at a barn dance at the George Pete ranch. He brought along some buddies, because he suspected that Emma's family and friends might not approve. Sure enough, a big fight broke out, with fists, knifes and guns. Before it was over, Colombe rode away, "with the girl in his arms and there was no one on Pete's creek who dared to follow," according to an historical account in the Rapid City Journal.
Colombe and Brughier married, raised three children and became successful cattle ranchers. When the Rosebud region was opened to homesteaders in 1908, they sold land to the railroad for a town to be called Winona. As soon as the lots were purchased, the name was changed to Colome. Apparently, the bloody barn dance was forgiven if not forgotten.
Colome lies in the heart of South Dakota pheasant country. Larger towns of Gregory and Winner sit to the east and west, but the little town has a competitive streak. It scored a big victory five years ago when the Wood-Witten school board agreed to a consolidation agreement, even though they were closer to Winner.
That gives the school almost 300 students. Armstrong, the superintendent, takes pride in his veteran faculty. "We have people who came here out of college and are here 30 years later. That really makes a difference."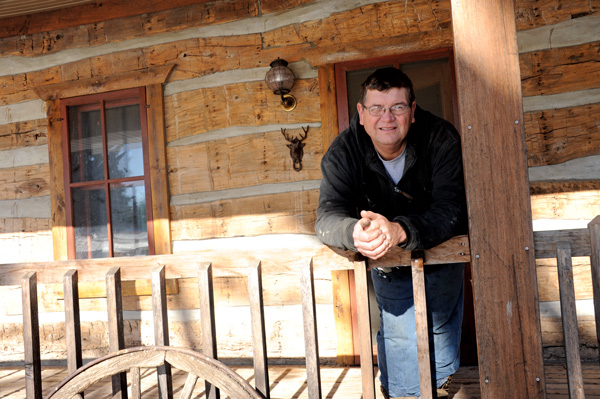 Richard Papousek is known throughout Gregory County for his creative remodels.
The town has 300 residents today, about half the population that it boasted in 1935 when Chris Colombe died. But there's a thriving commercial community, and hunting services have added a new industry in the recent years. Most of the lodges are located on farms outside town but several years ago an old brick hardware store on Main Street was renovated into lodging.
The lodge's roof collapsed due to a major drainage problem, and it was about to be bulldozed when Richard Papousek, a talented Colome carpenter, stepped forward and offered to buy it for a dollar. "Nobody else was going to save it, and the price was right," he says.
Papousek, famous locally for his creative remodeling projects, redid the lodge and decorated it with a huge collection of old commercial signs. He calls it the Sign Inn and rents rooms for $40 a night to traveling workers and hunters.
They couldn't find a friendlier town, or a better steak on Thursday nights.
Editor's Note: This story is revised from the March/April 2013 issue of South Dakota Magazine. To order a copy or to subscribe, call (800) 456-5117.