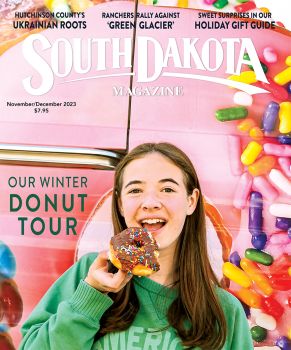 Subscriptions to South Dakota Magazine make great gifts!
Subscribe today — 1 year (6 issues) is just $29!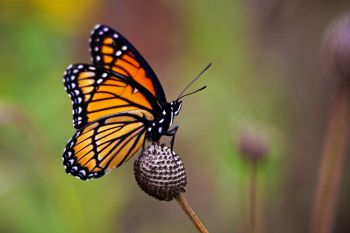 The Color of September
Sep 28, 2016
By Christian Begeman
A passion for nature photography has accompanied me for many years, and I've learned a few things along the way. One of the most important is that nature is medicine. Good medicine. A perfect example was what happened to me just days ago. The previous workweek had been tough, with a lot to do and not a lot of time in which to actually do it. Admittedly, part of the problem involved me taking off the last week of September to chase fall colors in the Black Hills. As much as I wanted to head west as soon as I checked out late on Friday, I wasn't able to hit the road until Monday, which made me anxious, irritable and simply a big old grouch. By the end of the day as I stood quietly on a hillside in the Sage Creek Wilderness of Badlands National Park, things were completely different. The late light accented fall foliage in the high draws, and the evening shadows played along the rugged landscape in the distance. All the angst from the week before melted away. I felt like a new man. That's the kind of medicine I'm talking about.
So I thought this time I would share a few other things I've learned along the way, especially about shooting photos in September:
Ever since I can remember, the colors of Spearfish Canyon peak during the last week of September. If you can be there on or around September 25-27, then you should see the good stuff.
Fall colors typically start in the high country first. Spearfish Canyon, the upper parts of Slim Buttes and Cave Hills are good examples. Then the color seems to spread to creek and river bottoms. The last trees to turn are often the non-wild trees in town. So don't worry if you miss autumn in Spearfish Canyon. There are still opportunities to enjoy the color.
Early September is a great time to watch for migrating butterflies and songbirds. From hummingbirds to Monarchs, the small flying ones are on the move to warmer climates.
It is easiest to get up close to Monarchs during the migration south. The butterflies are in heavy feeding mode, and will often tolerate a nearby camera lens as long as you approach slowly and don't block the sun (try not to put your shadow on them).
Aurora like the equinox. For whatever reason, even a relatively small solar wind causes northern lights around the first day of fall (and spring), so hope for clear skies and free nights to get out and photograph them.
September is also a good time to go looking for the big animals. Bison are coming out of their rut in early September, and then elk start harem building and bugling. Finally, whitetail and mule bucks start gaining weight as their rut approaches later in the year.
Rabbits can be scary. I know that seems odd to say, but those rascals like to sit still and out of sight until you are almost on top of them. Then, out of nowhere, they explode from the tall grass and bound away as you fight to get your heart back out of your throat.
You know, the more I think about number 7, it could just be me. Day-old fawns and pheasants have done the same thing to me. It's not that the animals are scary; it's the unexpectedness that gets me every time. But I'll take a rabbit, fawn or pheasant any day — and twice on Sundays — over the dreaded rattler.
Christian Begeman grew up in Isabel and now lives in Sioux Falls. When he's not working at Midcontinent Communications he is often on the road photographing South Dakota's prettiest spots. Follow Begeman on his blog.