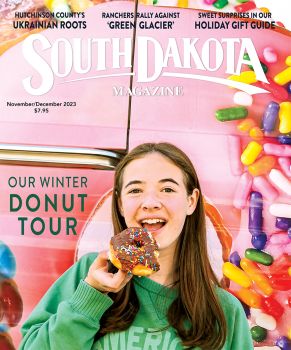 Subscriptions to South Dakota Magazine make great gifts!
Subscribe today — 1 year (6 issues) is just $29!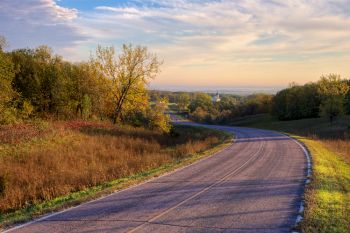 The Early Bird Finds the Beauty
Oct 26, 2016
By Christian Begeman
I was up before the sun on October 1. That in itself is a rare occurrence. I just can't seem to get excited about super early mornings. I blame my younger years on the farm and countless pre-dawn milking sessions for that. I learned the luxury of sleeping in at an early age. But I digress. I was up early on October 1 to find and photograph fall colors along the eastern edge of the Coteau des Prairie, and I was not disappointed. Squinting into the rising sun while driving east along a winding road through the Big Coulee area north of Summit, I was greeted with a classic South Dakota scene complete with fall colors and a small white church in the distance. Later, I spent a few hours at Sica Hollow, one of South Dakota's most colorful fall destinations. It was a good day searching for and finding autumn color.
About mid-month I found myself in Pierre late on a Saturday afternoon. I was pleasantly surprised that most of the cottonwoods below Oahe Dam were blazing yellow and orange, and the day was calm enough to attempt reflection photos in the marina at Oahe Downstream Recreation Area. And Capital Lake was almost still enough to be a mirror. You couldn't have asked for a more perfect fall day. The next day I got up early again to check out Palisades State Park. Although the trees weren't quite as far along, I found colorful leaf detail near King and Queen Rock.
When photographing fall foliage, I usually recommend using a telephoto lens and shooting from a distance to pull as much color into frame as possible. This year, I tried the same technique but with leaf detail. If I found a leaf I liked, I tried to put a colorful background of other foilage behind it and then shot it with a long lens. It made for a different way to enjoy and record autumn. Another trick when shooting in the woods is to include a sunburst with a wide angle lens. Find a scene you like and position your camera relative to the sun so it is just past a distant branch or leaf. It helps to have your aperture set high (f16 or so) to get more rays from the burst.
Just last weekend, I helped some old college friends take family photos at Union Grove State Park. I don't usually photograph people, but in all honesty, the best fall photos usually include humans. Whether it is kids jumping in a leaf pile or a couple walking hand in hand under a canopy of colorful leaves, human interaction simply adds so much more to a happy autumn scene. Even though October is almost over, there are still leaves on the trees or piles on the ground, so it's not too late to get out there and get some memorable photos. Another good thing about this time of year is that beautiful, early morning light doesn't happen quite so early, so getting out of bed to get those photos is definetely doable. At least that's what I tell myself when setting the alarm the night before.
Christian Begeman grew up in Isabel and now lives in Sioux Falls. When he's not working at Midcontinent Communications he is often on the road photographing South Dakota's prettiest spots. Follow Begeman on his blog.