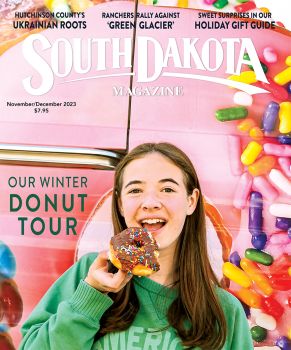 Subscriptions to South Dakota Magazine make great gifts!
Subscribe today — 1 year (6 issues) is just $29!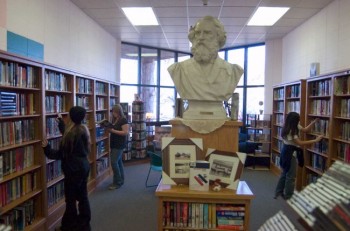 Cooperation, Not Competition
Jan 13, 2012
During my first teaching evaluation at Madison High School, my principal, Dennis Germann, said, "There's a difference between being efficient and being effective."
This morning, I heard our Secretary of Education, Melody Schopp, say on public radio that she's not worried that the merit bonuses proposed by our governor would cause teachers to stop collaborating with each other. The truly great teachers, she said, have never been motivated by monetary rewards.
Both Germann and Schopp recognized that public education doesn't work like a business. (Well, I'm sure my principal didn't; I'm not sure our Secretary has thought through the philosophical contradiction of her boss's plan and her defense thereof.)
We educators try to do things efficiently, but we don't measure our success in terms of number of students run through the mill each hour. I'm teaching French right now. Instead of constructing a quick computer-scorable multiple-choice test that all of my students could take at the same time, I'm conducting 19 hours of one-on-one interviews to give each student a chance to show me what she's learned.
We don't calculate returns on investment with our students. We teachers sometimes sweat more to help a failing student reach a D than we do to help a B student snag an A. Our constitutional mandate to provide a free and adequate education to all South Dakota children prevents us from cutting loose the less productive bottom percentiles for the sake of dedicating more resources to the most promising GDP generators.
We don't look at our students as commodities on which we personally can make a profit. Our professional code of ethics forbids us from doing so. We help students not to boost our pay but to enrich our community with young people who can participate not just in the economy but in our democracy, in our culture.
We teachers collaborate. When the new teacher down the hall needs advice or lesson ideas, we share. We know that another teacher performing better doesn't threaten us; it helps us.
The core values of public education are cooperation and community, not competition. Governor Daugaard's proposed merit bonuses undermine those core values. Kids become commodities. Colleagues become competitors. Public education becomes a rat race.
Teachers don't want that. Parents and kids shouldn't want that. Let your teachers focus on what matters —not beating each other for bonuses, but working together to do right by our kids.
Cory Allen Heidelberger writes the Madville Times political blog. He grew up on the shores of Lake Herman. He studied math and history at SDSU and information systems at DSU, and is currently teaching French at Spearfish High School. A longtime country dweller, Cory is enjoying "urban" living with his family in Spearfish.