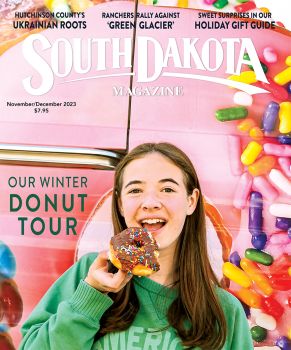 Subscriptions to South Dakota Magazine make great gifts!
Subscribe today — 1 year (6 issues) is just $29!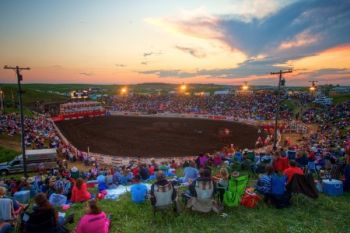 A Cowboy's Dream
Editor's Note: We attended the Crystal Springs Ranch Rodeo in Clear Lake in the summer of 1988 and met E.W. Weisel, the cowboy who made his rodeo dream come true. This year's rodeo takes place June 23-26, so we thought we'd share the story of how it all began.
No sport attracts more fun-loving folks in South Dakota than rodeo, and one of the granddaddies of them all, the Crystal Springs Ranch Rodeo, is among the best.
Clowns and trick ropers. Flag bearers and guitar players. Fans wearing 10-gallon hats and hawkers of pink cotton candy. Young cowboys wrapping last week's bruises and old cowboys watching wistfully. Barrel-racing girls and wranglers herding stock.
That's what we saw at Crystal Springs this summer — an Old West tradition that continues to capture the fancy of people everywhere.
Rodeo is a romantic reminder of the "rawhide and ride-hard" days of the Old West. Although nobody knows the identity of the dupe who first climbed aboard a Brahma bull, all the other rodeo competition grew out of routine chores on Western ranches. Cowhands balanced atop bucking broncs because they needed transportation. They roped and wrestled calves because it was their job.
Boys being boys, it was only a matter of time before they began to pit their skills against one another. Friendly competitions to see who could ride the ranch's wildest critter were often accompanied by wagers and a smattering of onlookers.
Before long, the big ranches held rodeos as a uniquely Western festivity. Food, dancing and music were usually included. By the 1920s, the Rodeo Association of America was formed and today the Professional Rodeo Cowboys Association (PRCA) rides herd on a professional sport that in 2012 paid almost $40 million in prize money on several circuits and tours.
PRCA was organized in 1945 as the Cowboy's Turtle Association to protect the interests of cowboys and ensure fair prize money. That was the same year that a South Dakota rancher drained a duck pond in his hilly and rocky pasture near Clear Lake, put up a corn-cribbing fence, and held a rodeo on a Sunday afternoon.
"I'm just a cowboy who had a dream," says E.W. Weisel, "And I made that dream come true."
Weisel bought the Crystal Springs Ranch in 1936 and more than once he sat on horseback atop a hill that formed a circular valley and imagined what it might be like to hold a rodeo there. "I dreamed it," he said. "I dreamed it was all there, with horses and cattle and the people all laughing and having a good time."
Hundreds of people showed up on that first Sunday, so he tore down the corn cribbing and put up a permanent corral. A Clear Lake banker gave him a loan and he put on a bigger show in 1946. By 1947, he had lights in the natural arena.
But he never built bleacher seats, and for good reason. The surrounding hillside makes a natural outdoor amphitheater. Every clump of grass provides a great view of the action below.
A promoter from the old school, Weisel advertised it as "America's Most Natural Rodeo Bowl." He never apologized for the bumpy gravel and dirt roads that still lead to the site. Instead, he turned it to an advantage, calling it "Where the Pavement Ends and the West Begins."
For 25 years, Weisel and his wife, Josephine, ran the rodeo along with the help of their daughter, Cleo, and veteran ranch hands like Two Gun Kelly and Little Joe the Wrangler.
"Everybody said I was crazy when we started," recalls Weisel, who at age 90 has never missed a performance. At the last event, he sat high on the hill in a lawn chair, joshing with friends and watching each bronc bolt from the chutes.
He laughs at the doubters who thought he'd better stick to raising Herefords and horses. "It worked. We ran it 25 years and never went in the red once." Not one to fiddle with balance sheets, Weisel can look over the hillside during the performance and determine success or failure. "See that over there," he says, "there's too much grass showing over there. There's not enough people. That should be solid people."
The Weisels entertained as many as 20,000 fans during the three-day competition in their best years. However, when they sold the ranch and rodeo operation and retired it slipped in attendance. There have been four owners since him, but now the rodeo is back in local control.
Realizing the importance of the event to the town, a group of 10 Clear Lake businessmen and ranchers assumed responsibility for the event four years ago and it is coming back faster than a coughing calf on penicillin.
"The guy that bought the ranch several years ago was no longer interested in running the rodeo," explains newspaper publisher Gary Dejong, one of the 10. "It has been such a fine tradition for the community that we really hated to see it stop, so a group of us got together to keep it going."
Dejong says more than 5,000 people attend the three-day rodeo in an average year, coming from as far away as Minnesota's Twin Cities. Although the rodeo grounds are a few miles out of town, the community buzzes with activity during rodeo week, culminating with a gala parade through main street on Saturday.
The newspaperman says there's more to putting on a rodeo than most people think. Though the duck pond has already been drained, it's a big job to attend to the details of publicity, grounds keeping, ticket sales and concessions. The biggest challenge — and the task at which E.W. Weisel excelled — is putting together an entertaining show.
The community of Clear Lake has gotten involved. The weekend now features a carnival, car show and parade down Main Street on Saturday afternoon. Bullfighters, clowns, guitar-pickers, a mellow-voiced announcer, and hillsides full of people complete the cast.
A cowboy's dream lives on.
Editor's Note: This story is revised from the September/October 1988 issue of South Dakota Magazine. To order a copy or to subscribe, call (800) 456-5117.