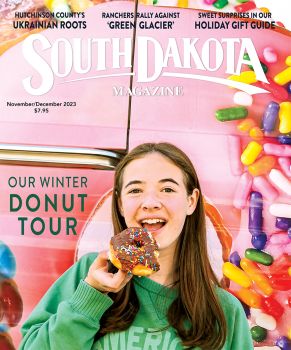 Subscriptions to South Dakota Magazine make great gifts!
Subscribe today — 1 year (6 issues) is just $29!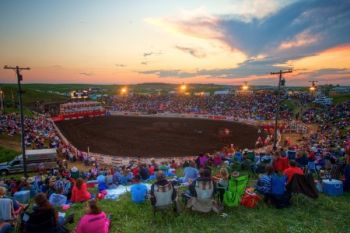 Coteau Rodeo
Jul 8, 2013
By Christian Begeman

In northeast South Dakota there is a great flatiron-shaped plateau of land that the early French trappers and explorers named the "Coteau des Prairies." This is roughly translated as prairie hills or prairie slopes. The Coteau Hills, as they are more commonly called nowadays, are approximately 200 miles in length and 100 miles in width and start in North Dakota and end in Minnesota. The Big Sioux River provides drainage for the plateau, sort of. These hills are made up of ancient glacier rubble and rock so there are many prairie potholes as well as large glacial lakes on the topside.
The places where the slopes meet the flat prairie below provide wooded valleys of exquisite beauty as well as great vistas for the eyes. A couple of my favorite areas include driving Highway 20 through the Crandall-Crocker Hills on the west side. This is the route my family would take to see relatives living in southwestern Minnesota when I was a kid. My other favorite place is the Sica Hollow area on the east side of the plateau. Here the change in elevation between landforms seems to be the most abrupt and also the most beautiful. I've found pasque flowers in abundance in the early spring among the rocky hilltops in Grant County and have also seen wonderfully colored cottonwood creek bottoms during autumn from the streams running down the plateau into the prairie below.
Such a large landmark is tough to fit into just one column, so I decided to try a little something different this time around. A couple years ago, a friend and co-worker of mine from Clear Lake finally talked me into attending his beloved Crystal Springs Rodeo. I'm glad he did. This event is a pilgrimage every summer for him and his family and now I understand why.
Crystal Springs Rodeo bills itself as being the only rodeo to take place in a natural rodeo bowl. It is located right in the middle of the Coteau Hills of Deuel County as well. Basically an old prairie pothole duck pond has been transformed into a rodeo arena and has since become one of the most unique rodeo experiences you will find in the state. What better place than here to get a photographic taste of the Coteau Hills?
There are no bleachers at this rodeo. Locals and folks from Minnesota, North Dakota and beyond bring tarps, blankets and an occasional lawn chair and sit on the hillsides that surround the rodeo bowl. There isn't a bad seat to be had. Every year I go, I am amazed at the amount of people gathered. All this provides quite a fun time for a guy with a camera. Capturing a little bit of Americana South Dakota style is both fun and challenging at the same time. If you've ever tried shooting bucking broncs and the cowboys that ride them then you know what I mean. That said, rodeos are more than just bull riding and calf roping. I found that it is a great opportunity to take candid shots of friends and family as well as the kiddos.
Willie Nelson sang about not letting your babies grow up to be cowboys, but if you really want to take that advice, I'd not take those babies to this rodeo. It's pretty hard to watch those tough cowpokes and not start humming another old Willie song that goes something like, "My heroes have always been cowboys, and they still are, it seems."
Christian Begeman grew up in Isabel and now lives in Sioux Falls. When he's not working at Midcontinent Communications he is often on the road photographing our prettiest spots around the state. Follow Begeman on his blog. To view Christian's columns featuring other unique spots in South Dakota's landscape, visit his landmarks page.