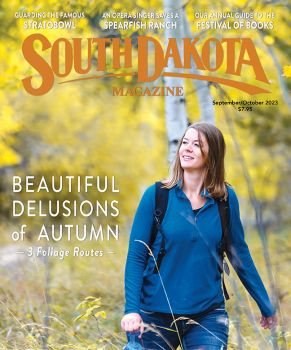 Subscriptions to South Dakota Magazine make great gifts!
Subscribe today — 1 year (6 issues) is just $29!

Getting to Know Deuel
Oct 11, 2016
By John Andrews
Back in my newspapering days, a colleague and I used to rib each other about our home counties. I grew up in Hamlin and he was from Deuel. The phrase "God's country" got thrown around a lot, and we both enjoyed bragging up our hometowns and sports teams. We don't see each other as often these days, but when we do the subject still comes up — and we're still equally as proud of our counties as we were then.
Now I concede nothing, but after nearly a decade of working at South Dakota Magazine, I've learned a lot more about Deuel County. And I have to give him credit. His home county has some pretty interesting stories.
One of his favorite summer pastimes is to camp out at the Crystal Springs rodeo, held every June northeast of Clear Lake. I'd always known about Crystal Springs, but I had no idea until I came to the magazine that one of the most popular rodeos in the Upper Midwest began as a farmer's dream.
It goes all the way back to 1936, when E.W. Weisel bought the Crystal Springs Ranch in 1936. His property included a hill that formed a circular valley where he used to imagine what it might be like to hold a rodeo there. "I dreamed it," he told us a few decades ago. "I dreamed it was all there, with horses and cattle and the people all laughing and having a good time."
Hundreds of people showed up the first year, so he tore down the corn cribbing and put up a permanent corral. A Clear Lake banker gave him a loan and he put on a bigger show in 1946, and he installed lights the following year.
But he never built bleacher seats, and for good reason. The surrounding hillside makes a natural outdoor amphitheater. Weisel advertised it as "America's Most Natural Rodeo Bowl."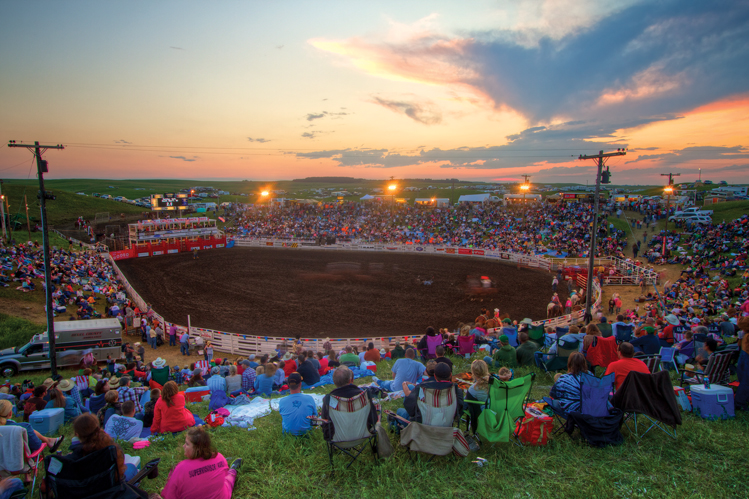 The Crystal Springs Rodeo is held in America's most natural rodeo bowl northeast of Clear Lake. Photo by Christian Begeman
Today the Crystal Springs Rodeo spans three days with rodeo performances every night. The whole city of Clear Lake gets involved, staging a parade, car show, trail ride and pancake feed.
Another dream has come true in Gary, a small town that straddles the South Dakota-Minnesota line in southern Deuel County. After Gary lost county seat status to Clear Lake in 1895, Doane Robinson, publisher of the Gary Interstate and future state historian, began advocating for the state to build the South Dakota School for the Blind on property just north of the town's business district. Ground was broken in 1899 and students were on campus in 1900.
The School for the Blind operated until 1961, when it was moved to Aberdeen. After 1980, the campus' buildings were mostly abandoned. But then in 2009, wind energy entrepreneur Joe Kolbach transformed the campus into the Buffalo Ridge Resort and Business Center.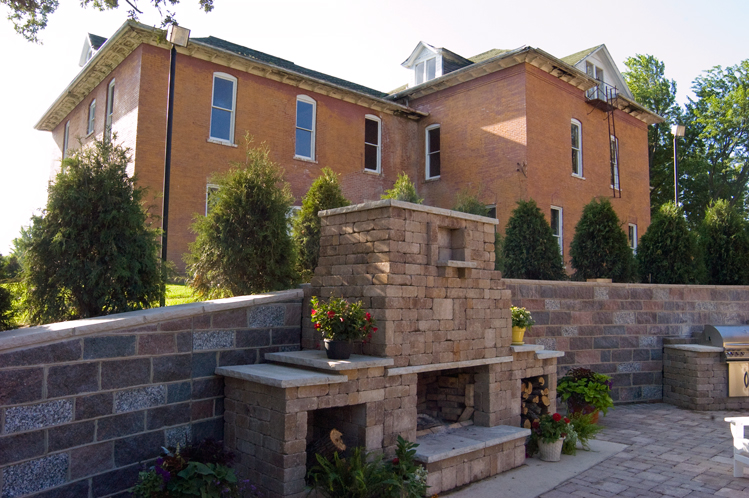 The buildings of the old School for the Blind in Gary have been transformed into a resort and business center.
Satisfied guests like the quiet setting, an atmosphere that feels like a bed and breakfast, a large patio set up for barbeques and 50 pretty acres. Kolbach resuscitated Lake Elsie, which is a damming of Lac Qui Parle Creek. Guests can feel the history in the stately buildings, especially in the web of tunnels that visually impaired students once walked daily between buildings.
On a given day, the campus could see vacationers checked into some of the resort's 19 guest rooms, along with students training across the yard (or through the tunnels) at the administration/classroom building. Meanwhile a meeting could be underway in the former school auditorium, now called the ballroom, and an outdoor wedding could be happening alongside Lake Elsie.
Guests interested in history can hike a mile west of town to place locals call Indian Lookout. A giant compass made of rocks sits on a grassy hillside. Dakota elder Elden Lawrence believed the rocks were placed there in the 1860s to guide Indians traveling from the Sisseton area to Pipestone, where they quarried native stone to make sacred pipes.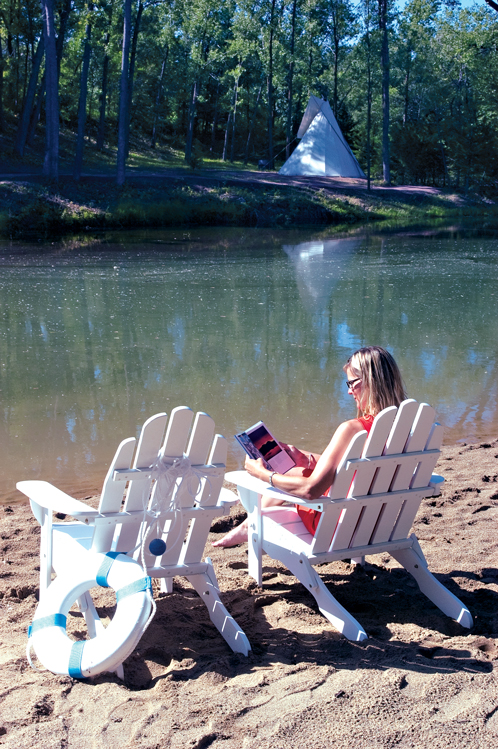 Lake Elsie, formed by damming Lac Qui Parle Creek, was restored along with the School for the Blind campus.
Deuel County is home to other legends as well, such as the blue flags that grow each spring in a region called the Hidewood. Floyd Haug discovered the flowers when he rented the land, and later discovered that they mark the graves of two pioneers.
A Norwegian settler named Per Gustav Erikson and his wife, Ida Mary originally homesteaded the land. In the early 1880s they had a baby daughter. But during the winter of 1885-86, a diphtheria outbreak struck the territory and both Ida Mary and the daughter died. Because the snow was so deep and the ground frozen, their bodies were placed in two wooden boxes built by a neighbor.
The grieving young settler kept the rough-hewn coffins in a shed until spring, when he dug two graves just to the south of his house and buried them above the Hidewood Valley. He probably had no money for a permanent marker, and instead planted blue flag flowers. That same year, he sold his claim for $300 to Peter Dahl and left Dakota Territory.
Now, almost 130 years later, the flowers still mark the simple graves. Prairie grasses have infiltrated the flowers, but the blue flags still grow thick and in the obvious rectangular shape of a grave.
Other stories aren't as sad. Several years ago, Lowell Anderson wrote an article for us about Herman Raschke, a man he called the Goodwin Giant.
Born in 1896, Raschke lived with his brother and a sister in a clapboard house overlooking Round Lake in northern Deuel County. "I was always told that Herman stood 6 feet, 10 inches tall, and weighed 425 pounds," he wrote. "My father claimed he weighed himself on the grain elevator's truck scale.
One of Anderson's favorite stories about the giant involved a traveling salesman who was driving along the Grant-Deuel county line one spring, not far from the Raschke house. His car became stuck in the soft road, and he walked to the Raschke house for help. When he knocked on the door and saw Raschke, a good 14 or 15 inches taller than he was, the salesman was taken aback.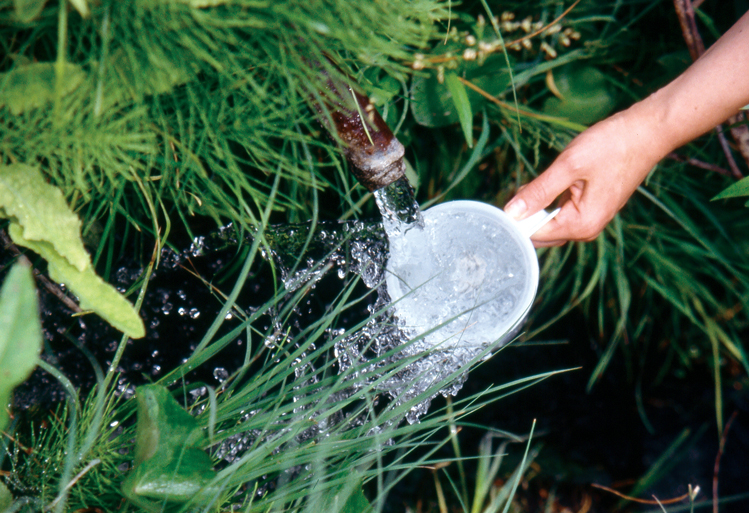 A natural spring near Astoria has been gushing fresh water for decades.
"I'm stuck out on the road. I need help," he said. "Would you possibly have a team of horses to pull me out?"
"Let's go take a look," said Herman.
"You don't need to look. I'm stuck. For sure. The wheels don't even touch the ground!"
"Let's go check it out."
The salesman didn't argue. He followed as Herman walked directly across a plowed field, through an accumulation of spring mud, towards the road and the car.
"See, I'm really stuck," said the salesman.
"Oh, it doesn't look so bad," said Herman.
And then, Raschke put his hands under the front bumper, lifted the front end of the car out of the ruts, and gently lowered it onto solid ground. He did the same to the rear of the car. The salesman was speechless.
I've also learned about unique traditions, including stopping your car along Highway 28 to fill jugs with water gushing from Jorstad Spring, 2 miles northwest of Astoria. Decades ago, someone stuck a pipe into the creek, and ever since — even through the dry years of the Depression — pure water gushed out from a shallow aquifer.
Another tradition is only recently discovered is the annual oyster stew feed at the Bemis Holland Presbyterian Church. The feed is featured in our September/October 2016 issue, and is coming up this Saturday, October 15. It's been a harvest tradition for nearly 130 years, and even though numbers at the rural church continue to dwindle, oyster stew night is one of the busiest of the year.
Despite our history of good-natured banter, I've always enjoyed my trips to Deuel County (even though I still haven't completely figured out that outrageously downhill par 3 at the Clear Lake Golf Course). Maybe "God's country" knows no county lines.
Editor's Note: This is the 29th installment in an ongoing series featuring South Dakota's 66 counties. Click here for previous articles.