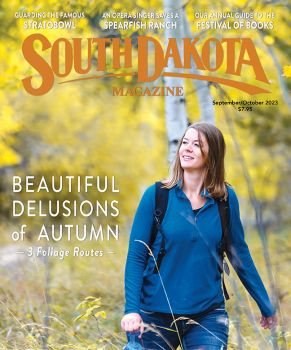 Subscriptions to South Dakota Magazine make great gifts!
Subscribe today — 1 year (6 issues) is just $29!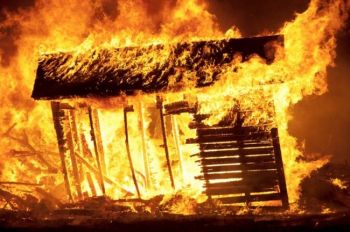 Prepare for Hot and Dry in South Dakota
Mar 27, 2013
By Bernie Hunhoff


The summer of 2012 was the hottest and driest on record, and a Rapid City weather expert advises South Dakotans to prepare for more of the same in 2013.
Darren Clabo, the state fire meteorologist, told firefighters and emergency personnel in Yankton that the drought remains widespread and shows little sign of abating. "We could definitely see continued drought across the region," he said.
Yankton officials are especially wary of fire conditions in the residential developments that have sprung up in the cedar-thick hills above Lewis and Clark Lake. Many of the neighborhoods are only accessible by narrow roads that have but one outlet, and that creates risky conditions both for homeowners and firefighters. Thick grasses and trees in the hills are extremely dry. Tree branches often obstruct large emergency vehicles. And many homeowners have made matters worse with propane tanks, shake shingles, piles of firewood and trees too close to the homes.
The hills rise above the state's largest campground, where campers at the lake gather nightly to roast hog dogs and marshmallows. One fireman noted that if a campfire gets out of control and reaches Highway 52 it will race through the hills like a hot flood. "Fire is the only thing in nature that runs faster uphill than downhill," noted Jim Burk, a 23-year veteran of the South Dakota Wildlands Fire Division.
Yankton County Sheriff's Deputy Clint Clites said his office has prepared an evacuation plan, but he recommended that every family have a personal plan. "Don't wait for us if you see smoke," he said, "because on those one-way roads you may have only one chance to get out."
Jay Esperance, state director of the SDWF, added that families should prioritize pets in the plan. He has counseled many families who have lost homes. Obviously, human life is the most precious concern. But he said pets are sometimes forgotten in the process, and that is usually a family's biggest lament in a fire loss — outranking pictures and other physical belongings.
Larry Nickles, deputy chief of the Yankton Fire Department, noted that farmers and ranchers are especially vulnerable to wildfires during hot and dry cycles. Hay fires were once considered little more than a nuisance, but a big stack of bales can be worth nearly six figures today, as alfalfa hits $300 a ton.
Nickles said farm fires often are sparked from something as simple as a mower or combine header hitting a small stone. Machinery should be kept clean of dry debris. Bearings should be inspected, and farmers should always be vigilant when working in dry conditions — especially on warm and windy days.
If you live in the country, take a hard look at your yard before the temperatures get any higher. Move firewood and other kindling away from buildings. Keep haystacks, fuel barrels and other inflammatory materials in spacious areas that can be reached by fire trucks. Keep the grass mowed and trim the trees so if a fire does start it is containable.
South Dakota's fire danger could all but disappear with timely rains and moderate temperatures. But firefighters are planners. It's part of their nature. And in South Dakota they are preparing for the worst in 2013.