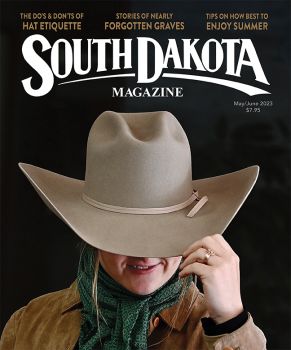 Subscriptions to South Dakota Magazine make great gifts!
Subscribe today — 1 year (6 issues) is just $29!

The Verne Miller Story: From Lawman To Outlaw
Editor's Note: This story is revised from the May/June 1996 issue of South Dakota Magazine. To order a copy or to subscribe, call 800-456-5117.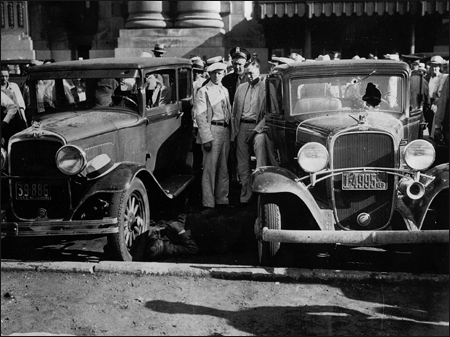 No stone would be left unturned in the search for Verne Miller in the aftermath of the Kansas City Massacre of June 17, 1933. FBI photo.

In November of 1920 the Huron newspaper, the Evening Huronite, promoted a young candidate for Beadle County sheriff by editorializing that with his election "crooks and licentious characters will have no protection and the safety of our wives and children and the future well-being of our families will be fully guaranteed." Thirteen years later the U.S. Justice Department announced a nationwide manhunt for a man they identified as "the most dangerous criminal in the country."
Both observations were accurate and, incredibly, both referred to the same enigmatic man: Verne Miller. He has been described as "easily the most contradictory and mysterious figure of the 1930s Public Enemy community." A handsome blue-eyed redhead, he did not drink or gamble and abhorred swearing. However, he was the chief suspect in from five to 12 murders and was rumored to have participated in many more. His path from respected South Dakota lawman to reviled national outlaw is a puzzling one, with unanswered questions at every turn. Even his early life is shrouded in mystery. Various documents list his birth date as 1892, 1895 and 1896, and his birthplace as Interior, S.D., Kimball, S.D. and Illinois.
What is known is that Miller's parents divorced when he was young, leaving him on his own at an early age. He dropped out of school at the age of ten. In 1914 he moved to Huron to work as a mechanic. In 1916 he joined the Army and served on the Mexican border. In the spring of 1917 he returned to Huron and married. A month later he was recalled to military service. On April 17, 1918, Miller landed in France with the 164th Infantry. Color Sergeant Verne Miller returned from World War I a genuine hero. A decorated marksman and sniper, he was awarded the French Croix de Guerre for bravery. He was wounded twice and suffered lung damage in a poison gas attack.
Soon after his return from Europe, Miller joined the Huron city police force. The local newspaper heralded his arrival. "Lawbreakers had better watch out," the editor announced, "if they want to keep their health."
Right from the start, Miller's law enforcement career was marked by dedication and courage, sometimes to the point of foolhardiness. Less than three months on the force, Miller arrested W.S. Davis, a member of a prominent Huron family, for blocking traffic with his car. Davis argued vehemently but his protests held little sway with the conscientious young patrolman and only earned him a night in jail.
On another occasion Miller's courage may have saved a life. M.B. Balsiger, manager of the local theater, engaged R.E. Beckwith, a war veteran and popular speaker, to lecture on his military experiences. On the night of the lecture a disagreement arose regarding the speaker 's fee and Balsiger knocked the young man unconscious. The war was fresh in everyone's mind and patriotic fervor was high. When news that Balsiger had beaten up a war hero reached the street, an angry mob gathered outside the theater. The building was doused with yellow paint and the mob demanded that the manager give himself up. A frightened Balsiger turned to Officer Miller for help. Miller first ordered the crowd to disperse. When they ignored him, Miller led Balsiger toward the protection of the police station. Someone in the mob threw a brick, striking the manager in the head. Miller drew his pistol and advanced on the mob. Finally the rioters dispersed and Balsiger's life was spared.
This sometimes reckless devotion to duty did not go over well with everyone in Huron. In May of 1920 Miller resigned from the police force, saying that he and Police Chief Johnson suffered fundamental disagreements over the conduct of police business. But Miller had no intention of leaving law enforcement. By this time he had already been named the Republican candidate for Beadle County Sheriff. The 1920 sheriff's campaign was hotly contested with Miller the focus of numerous rumors and accusations. Still he managed to eke out a 41-vote victory.
The career of the once-feared Beadle County Sheriff would come to an abrupt and startling end as Verne Miller turned gangster.
Sheriff Miller was an active community leader. He was a founder of the Huron American Legion post and served as its delegate to the state convention. He was an avid fisherman and amateur boxer. He proved to be an active sheriff as well. Records note that he located and destroyed nine moonshine stills during his first six months in office. So much bootlegged liquor was confiscated that Miller began using it as antifreeze in the radiators of the sheriff's department vehicles.
Miller gained a reputation for being quick to use his weapon. It was said that, while a city officer, he twice fired on tourists for violating traffic ordinances. After the election the county commission warned Miller of the legal ramifications of an over-eager trigger finger.
On at least one occasion this reputation proved useful. A prison escapee turned himself over to authorities when, while hiding in a pasture, he heard what was apparently the backfire of a passing car. He told a reporter, "I thought Verne Miller was on my trail and had started shooting at me. I sure wished that I was back in jail again."
In the spring of 1922 Sheriff Miller was well on his way to re-election and a second term. Then Miller's wife, Mildred, was admitted to a Rochester, Minn., hospital. Miller told his deputies that he was taking a short leave to visit his wife and from Rochester they would go to a Washington, D.C. sanitarium to take treatments for his lungs. After a couple of weeks with no contact from the sheriff, his deputies became worried and then suspicious. They discovered that, shortly before he left, Miller had withdrawn $4,000 from various bank accounts, money that had apparently come from county property tax collections. The career of Sheriff Verne Miller came to an abrupt and startling end. The career of Verne Miller, gangster, was just beginning.
The State Sheriff's Office was called in and a search begun for Miller and the missing funds. For three months there was no sign of the sheriff, then South Dakota officials received a call from a St. Paul, Minn., hotel operator wondering if they were still looking for Miller.
In the 1920s and 1930s there were several places where bandits and outlaws could go to "cool off"; communities where a tacit agreement had been reached between local officials and the criminal element. The most popular of these havens was St. Paul. As one criminal noted, "In those days if you hadn't seen a friend for a few months you looked two places — prison or St. Paul." The St. Paul police force of the 1920s was the most corrupt in the country, so it was inevitable that a renegade lawman like Miller would seek refuge there. Before the hotel owner notified South Dakota officials he had called the St. Paul chief of detectives and was assured that Miller was no longer wanted. The S.D. State Sheriff's deputy who arrested Miller reported that Miller's first phone call while in custody was to that same chief of detectives.
Back in the Beadle County jail where, just a few months before, he had been jailer rather than jailed, Miller displayed his resolute self-reliance. He turned down offers from friends to raise the $ 10,000 bond. Miller pleaded guilty to the embezzlement of $2,600 in county funds and was sentenced to two years in the state penitentiary.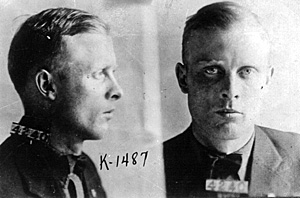 Verne Miller's 1923 FBI Photo.
Verne Miller entered the South Dakota State Penitentiary on April 4, 1923. Armed with numerous character references, including one from the states' attorney who had prosecuted him, Miller soon landed the cushy position of warden's chauffeur. He passed his prison term driving the warden about the city and corresponding with his many friends and supporters. Miller was released on parole in September of 1924. According to records, he found work as a farm laborer near Doland, making $70 a month. But Miller had sampled the good life and it could not be lived on that sum. Within a year he was indicted for bootlegging. He paid a $200 fine in Sioux Falls federal court in October 1925 and disappeared.
The next few years offer infrequent glimpses of Verne Miller and his activities. In February of 1928 he was indicted for his part in a Minneapolis speakeasy shootout. The charges were dropped for lack of evidence. In 1929 Miller was running Canadian gambling interests for Lepke Buchalter, one of the most powerful figures in organized crime on the East Coast and an important connection in Miller's growing criminal resume.
In late 1930 Miller was back in the Twin Cities. He held up the Wilmar, Minn., bank with Machine Gun Kelly and the dean of American bank robbers, Harvey Bailey. In 1931 with Harvey Bailey and Oklahoma outlaw Frank Nash, Miller robbed a bank in Sherman, Texas.
In the summer of 1932 Miller paid his last visit to his father's farm near White Lake. Friends and relatives remember that the gangster's shiny new car and expensive clothes made quite an impression in that Depression-ravaged farm community.
In December of 1932 Miller drove a getaway car for the infamous Barker gang when they held up the Third Northwestern Bank of Minneapolis. That robbery resulted in tragedy when two city officers happened on the scene and were slain in a hail of machine-gun fire. The Barker gang split up after the Minneapolis bank robbery. Miller moved to Kansas City to cool off.
A few months later Miller received a frantic call from the wife of his old friend, Frank Nash, saying that her husband had been arrested by federal agents. That phone call touched off events that would culminate the next day in the bloody outrage that will forever be known as the Kansas City Massacre.
On the morning of June 17, 1933, the parking lot of the Kansas City Union Railroad Station was crowded with arriving and departing passengers, their family and friends. Few in the crowd paid any attention to the group of men moving warily among the parked cars. If they had they would have seen seven nervous lawmen surrounding a handcuffed prisoner. The prisoner was Frank Nash. The lawmen, FBI agents Vetterli, Caffrey, Smith and Lackey, Kansas City detectives Grooms and Hermanson, and Oklahoma Police Chief Otto Reed, had reason to be nervous. Nash was a well-known criminal with strong ties in the underworld. They feared that some of his friends might attempt a rescue.
As they loaded Nash into a waiting patrol car, their fears were realized. Three men jumped from a nearby car. One of them, brandishing a Tommy gun, commanded the law officers to "Hold it!" Time froze as the two armed camps regarded each other. Then one of the officers went for his pistol and all hell broke loose.
Within seconds it was over. Bodies were scattered about the parking lot. Grooms, Hermanson, Reed and FBI agent Caffrey were dead. Agents Vetterli and Lackey were seriously wounded. Nash, the object of the ill-fated delivery, was also among the dead. One woman, surveying the bloody scene, moaned, "It's just like Chicago." The bandits escaped unscathed.
The late 1920s and early 1930s marked a decade of lawlessness. Colorful outlaws such as Pretty Boy Floyd, John Dillinger, Machine Gun Kelly, and Ma Barker were as familiar to the public as politicians and movie celebrities. Even in that context the Kansas City Massacre was a shocking and galvanizing event. The attorney general declared the massacre "a challenge to the government. The army of crime has declared war against the United States." It took the FBI two weeks to identify Miller as the leader of the Kansas City gang and their reaction was certain and instantaneous. No stone would go unturned in their search for the gangster.
Controversy still surrounds the Kansas City Massacre. Historians disagree on the identity of Miller's two accomplices. Even the motives behind the massacre are in dispute. Many say that Miller was trying to rescue Nash while a nearly equal number believe Nash's death was a gangland hit. Regardless of motive, it is doubtful that the intent was to murder the law officers. Even someone as impetuous as Verne Miller would have foreseen the outrage that followed the unprovoked slaughter.
Miller left Kansas City immediately but the FBI, in their efforts to find the fugitive, put the heat on all of the underworld. Alvin Karpis, a member of the Barker gang, was called before representatives of the old Capone Syndicate. "Where," they demanded, "is Miller?" Karpis asked what they wanted of his one-time partner. "Everybody's after that bastard," he was told.
Miller fled to New York, seeking protection from his old friend, Lepke Buchalter, but the word was out that anyone suspected of harboring Miller would be prosecuted to the full extent of the law. No place was safe.
In October of 1933, the FBI traced Miller to Chicago. They surrounded his apartment but Miller escaped in a flurry of bullets. Miller's escape, though, was an omen of the tightening dragnet. With every lawman in the nation as well as the might of the criminal underworld after him , Miller's days were numbered.
On the evening of November 29, 1933, a motorist on the outskirts of Detroit discovered a naked mutilated body alongside the road. Fingerprints taken by the FBI confirmed that the search for Verne Miller was over.
News of Miller's death was greeted by his family and friends in South Dakota with a mixture of regret and resignation. The Evening Huronite reported that most of the citizens of Miller's hometown "refused to remember his reputation of a life of crime and grieved the Verne Miller, fearless sheriff and valiant soldier, they knew." His wife, Mildred, though legally separated from Miller since 1929, stuck by him, saying "I don't believe all the things they say about Verne. Because he became involved in a few scrapes nearly every major crime in the country was laid to him. He was wonderful to me and I have nothing against him."
His grief-stricken father made plans for the funeral; plans that, like most of Verne's life, were plagued with controversy. Miller, as a veteran and American Legion member, was entitled to full military rites. However, the national American Legion commander forbade the local post from participating, saying it would only bring embarrassment to the organization. National proclamation notwithstanding, Miller's flag-draped casket was escorted from White Lake to Huron by a contingent of uniformed ex-servicemen, Miller's friends. There, following a simple ceremony before an overflow crowd, Verne Miller's doomed journey came to an end.
In one final twist in the tragedy of Verne Miller's life, the erstwhile lawman contributed greatly to the future of law enforcement. FBI Director J. Edgar Hoover used the outrage generated by the Kansas City Massacre to lobby Congress for a true national crime-fighting force. Prior to the massacre, FBI agents could not carry weapons and were not even empowered to make arrests. Within months of the Kansas City killings, Congress passed a comprehensive crime bill giving the FBI all the powers they sought.
Perhaps it is this that provides some final sense and purpose to the otherwise squandered life of Verne Miller—a lawman gone bad.