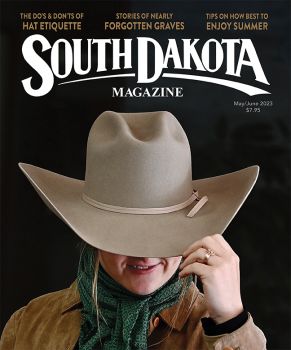 Subscriptions to South Dakota Magazine make great gifts!
Subscribe today — 1 year (6 issues) is just $29!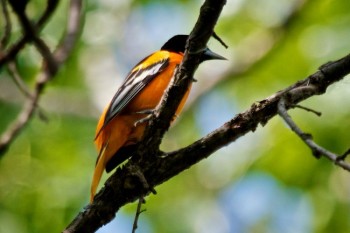 Enticing the Oriole
May 10, 2012
Now is a great time for birding in South Dakota – it's the peak of spring migration. Baltimore orioles are a favorite for backyard birders in Yankton. I know many people who put out jelly to attract them. The couple we bought our house from had great luck simply spooning the grape variety onto small plates in the yard.
Ruth Steil, administrative assistant at the magazine, says orioles started coming to her yard just last week. She and her husband, Mark, keep a large stash of jelly just for the birds. "One time our kids came home to visit and found all the jars," says Ruth. "They wondered what in the world we were doing with all that jelly."
Ruth and Mark have a special feeder with two nails to hold orange wedges and two small cups for the birds' favorite treat. And don't think you can skimp on quality. "A friend of mine bought a whole bunch of grape jelly at the dollar store and they wouldn't touch it," Steil says. "I think it's because it didn't have as much real fruit juice." Ruth recommends Welch's.
If you're wondering what other birds you might attract to your yard, South Dakota Game, Fish, & Parks department has a free booklet. Backyard Birds of South Dakota has color photos and descriptions of nearly 80 species you may find. You can contact SDGF&P to request a copy.
Terry Sohl's web site, sdakotabirds.com, also has a great checklist showing what seasons birds can be expected and how common they are. You can also check out Terry's table showing favorite foods of common birds.
I plan to put out some jelly tonight to see what I can attract. Hopefully I'm not too late. What are your tricks for attracting birds?