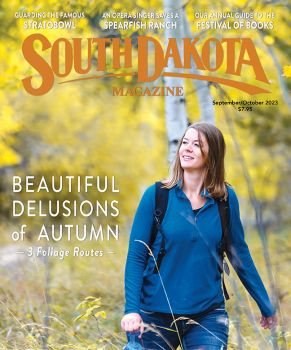 Subscriptions to South Dakota Magazine make great gifts!
Subscribe today — 1 year (6 issues) is just $29!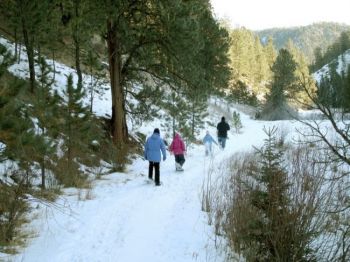 First Day Hikes
Dec 26, 2012
First Day hikes began over 20 years ago at the Blue Hills Reservation, a Milton, Mass. state park. This year is the second time all 50 state park systems have sponsored First Day Hikes on New Year's Day. South Dakota parks are offering 12 free hikes as part of America's State Parks First Day Hikes initiative.
Blood Run, our newest state park, is hosting its First Day Nature Hike on January 1 at 10:00 a.m. "It will be a guided hunt about nature in winter," says Jennifer Nuncio, Seasonal Naturalist for South Dakota State Parks. "We hope to experience animals, tracks, and birds plus a few fun activities along the way." Nuncio will lead the 1/2-mile hike and plans to share history about this Native American historical site near Sioux Falls. For information, contact 987-2263.
Other hikes include:
Riddle Hike, Newton Hills State Park near Canton, sunrise to sunset. Info: 605-987-2263
New Year's Bird Count Walk, Lewis and Clark Recreation Area near Yankton, 10 a.m. CST. Info: 605-668-2985
Creekside Stroll, Custer State Park, 10 a.m. MST. Info: 605-255-4515
New Year's Get Out and Go Scavenger Hunt, Adams Homestead Nature Area near North Sioux City, 1 p.m. CST. Info: 605-232-0873
Lewis and Clark History Hike, Spirit Mound Historic Prairie near Vermillion, 1 p.m. CST, pre-registration required. Info/register: 605-987-2263
First Day in the Forest, Richmond Lake Recreation Area near Aberdeen, 1 p.m. CST. Info: 605-626-3488
Snowshoe If Snow, Hike If No, West Whitlock Recreation Area near Gettysburg, 1 p.m. CST. Info: 605-765-9410
Birdwatcher's Hike, Angostura Recreation Area near Hot Springs, 1 p.m. MST. Info: 605-745-6996
First Day Snowshoe Hike, George S. Mickelson Trail, 1 p.m. MST, pre-registration required. Info/register: 605-584-3896
First Day Find It, Lake Herman State Park near Madison, 1 p.m. CST. Info: 605-256-5003
After the 2011 Flood, LaFramboise Island Nature Area in Pierre, 2 p.m. CST. Info: 605-773-2885
First Day Hike, Oakwood Lakes State Park near Bruce, 2 p.m. CST. Info: 605-627-5441
Snowshoe Along the Big Sioux, Big Sioux Recreation Area in Brandon, 2 p.m. CST. Info: 605-582-7243