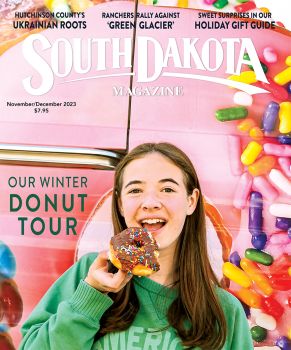 Subscriptions to South Dakota Magazine make great gifts!
Subscribe today — 1 year (6 issues) is just $29!

The First Song to the Flood of 2011
Jun 16, 2011
Fill Your Hearts with Love & Your Shovels With Dirt
South Dakotans in the way of the river have been too busy sandbagging, moving furniture and — in a few cases — blaming the Corps of Engineers to find time to reflect. But not everyone.
Kris Kitko, a talented folk singer in North Dakota, has written a hauntingly beautiful song about the ravages of the Missouri in her state. Both the video and the lyrics reflect just as well on South Dakota — except that the prisoners in North Dakota who volunteered their assistance are in stripes rather than orange.
Well-known Pierre artist Jim Pollock is keeping a journal of his community's trials and tribulations. Surely his sketchbook is in a back pocket.
Dave Tunge, South Dakota's best aerial photographer, has been flying his Piper Cub up and down the river valley, shooting images from 1,000 feet.
Fires come and go in hours. Tornadoes in mere minutes. This particular flood will batter us for weeks, and eventually many more artists and songwriters and photographers will find the time and inspiration to try to explain what is happening to the river people.