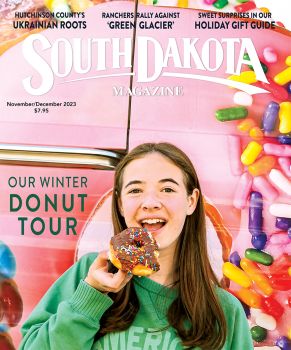 Subscriptions to South Dakota Magazine make great gifts!
Subscribe today — 1 year (6 issues) is just $29!

The Missouri: A Strong Brown God?
Editor's Note — We're mucking our way through one of the worst Missouri River floods in state history. The duration of the 2011 flooding has not been experienced before. Wide parts of the floodplain have now been inundated for seven weeks. Still, old-timers are comparing this year's disaster to 1952, when the river experienced a "spring rise" in April that caused a frenzy of rescue efforts somewhat like we've experienced this year. A number of years ago, Nadine Mickelson wrote this article for South Dakota Magazine on the '52 flood.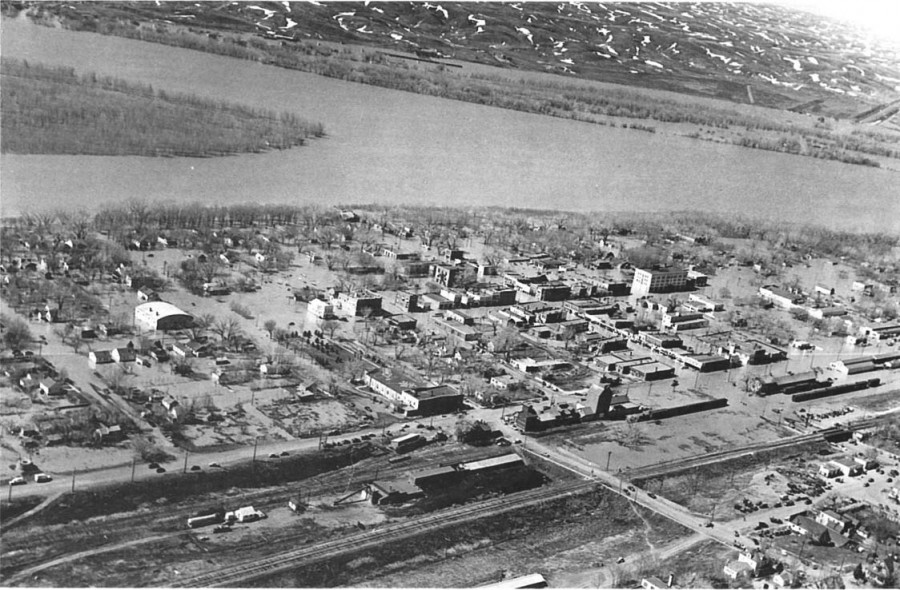 Pan aerial view of the 1952 flood at Pierre.
"There was a crack, a resounding crash, a tumultuous roar, volume still building, at last adding a gush of water." The Chamberlain newspaper reporter described the event beautifully.
But it was not the opening orchestration of a symphony, and it was not always music to the ears. It was the mystical spring ritual of the mighty Missouri River. Ice flew high as she sighed, stretched, and flung wide her arms.
She never freed herself from her icy winter girdle in the same manner, nor did she do it mildly. It depended on early spring runoff and the feeding from upstream tributaries. Mo's frivolous frolics happened in 1947, 1948 and 1952. My research began in 1986 with the death of my mother, and I found pictures I had taken as a girl in 1948.
On March 29, 1947 Bismarck recorded a nighttime high water level of 21.8 feet with solid ice another 11 miles south. Garrison residents were moving back to higher ground. By Tuesday, April 1, 1947, Pierre patrolmen W.H. Walker and Fire Marshall Carl Jensen said, "Rats in Pierre had been flooded out by the rapid rise in the river. City police officers caught up on their target practice Monday afternoon with light caliber shot before rats entered any buildings or homes."
In April 1951, fed by the Bad River that bulged with a two foot melting of snow from a late March blizzard, Mo peaked 10 feet over flood level in Pierre. Sometimes called Old Misery, her spring tantrums are recorded as far back as 1832. That was when Congress first set out to tame her.
This great river rampaged the plains long before South Dakota gained statehood.
Mo's headwaters at Three Forks, Montana ramble over 2,000 miles to join the Mississippi near Hartford, Illinois. She's second longest only to the Mississippi by a mere 32 miles. I've always wondered if the 2,000-mile figure includes her meandering U-turns and S-curves?
One of Mo's past recorded free-runs that began changing the face of the land came in 1881. Another historical facelift caused by Big Muddy was in 1867, when she formed the meandering "S" that joined her to the Big Sioux River.
These deceptive channel jogs stirred by undercurrents and eddies could have been the beginning of land disputes between Nebraska and South Dakota. Every time Ms. Mo changed her mind, she also changed her curves.
Through the years, she altered her traditional shores, her deep channels, and left islands, sandbars, and sediment or quicksand. Malicious or mischievous? Or waiting for an unsuspecting animal or traveler? Who can say? Once while walking on her drought uncovered bottom sand, we found buffalo bones and jawbones she claimed many years ago.
I've used "she" haven't I? Well, I guess I'm safe in using the feminine gender without being sexist. You could challenge me, but I'd tell you I grew up with Mo. No one has ever totally understood a woman or Mo.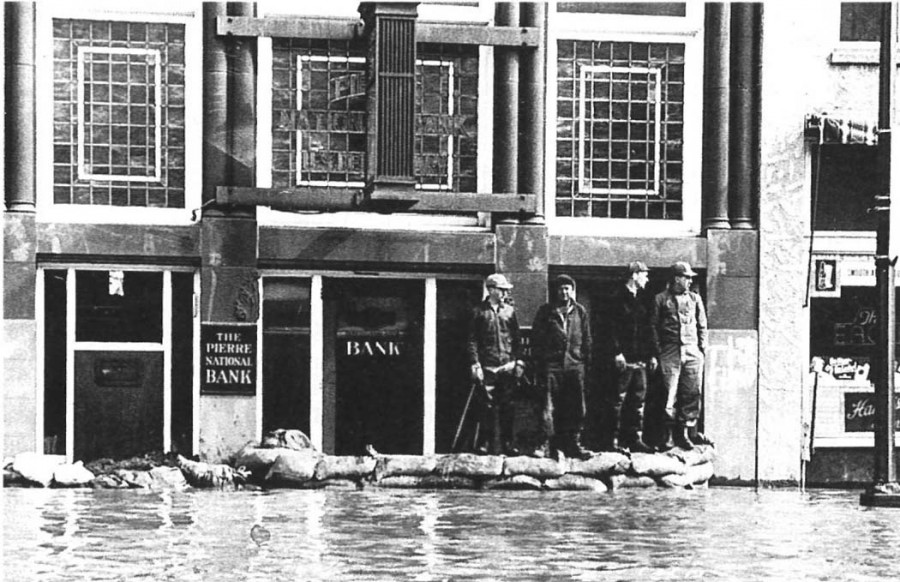 Sandbagging kept water from flooding into the Pierre National Bank and other downtown businesses.
Every clever descriptive phrase from jubilant spring freedom, frivolous frolic, devious damage, vengeful ruins, or deadly devastation could describe a scorned woman or Mo in springtime. If in Mo's youth PMS had already been identified, it could have read "MoPMS" for her "Spring Syndrome." Farmers were thankful it came but once a year.
Magnus "Mac" Ekeren, while in the service in his early 20s, remembered water up to the grain elevator in Mission Hill. When he was 11 back in the 1940's, he'd find carp in the ditches and throw them out into the road.
James Novak, who regularly manned the bridge lift at Yankton, remembers the water nearly reaching the Charles Gurney Hotel in Yankton in March 1947. Jim also recorded flood level at 10.13 feet at 12:30 p.m. on April 7, 1952. He spent many years watching and keeping people aware of Mo's annual flooding.
On April 10, 1952, dozens of families from Pierre to Yankton were evacuated from their property. Pierre firefighters had an additional scare. A petroleum tank came loose from its mooring and floated toward the city. The danger included an outboard motor fire, coupled with a car fire uptown. It shook Pierre's remaining residents. Virtually all of Pierre's downtown businesses were surrounded by water.
On Good Friday, April 1952, Ted Blakey of Yankton was driving a tractor on Highway 50 from what used to be the Yankton city dump. He had a picture taken under the Coca Cola sign that toted the slogan "The Pause That Refreshes!" Two hours later the road was under water. On Easter Sunday, Ted and Stan Brunick went with a boat and motor down the middle of the highway to rescue their seed potatoes out of a flooded cellar.
Mo's progress was watched every spring as she "pipped" from her icy shell from Montana to Illinois. Every farmer from either shore called warnings to neighbors down stream. From gentle thawing birth, tempting teens, right up to a malevolent maturity, every spring with a vengeance of purpose she headed on her trip to the far off sea.
Few rivers or streams ever accomplished as many rebirths as Mo. She celebrated a birth annually until dams harnessed her energy. I'd wait expectantly for that special time every year. Native South Dakotans will understand when I say I could feel it, sense it, and even smell it. The premonition defied exact dates. I learned it from my father.
"Let's get in the car and go to Chamberlain," dad would announce. You knew it was time to see the river. Adrenaline ran high and danger lurked. From birth, you didn't trust the river.
Wise men had already moved their livestock to higher grazing and machinery further inland. The bottomlands were empty. It was fine by them to wait to farm until after Mo was through playing. Precaution came from common sense and experience. We respected the river. No one built too close to the river for fear of arousing her anger.
Depending on each spring and planting progress, the next trip would be to Yankton to see where she would crest next. Some years the history lesson varied with a trip to Lake Andes where friends lived.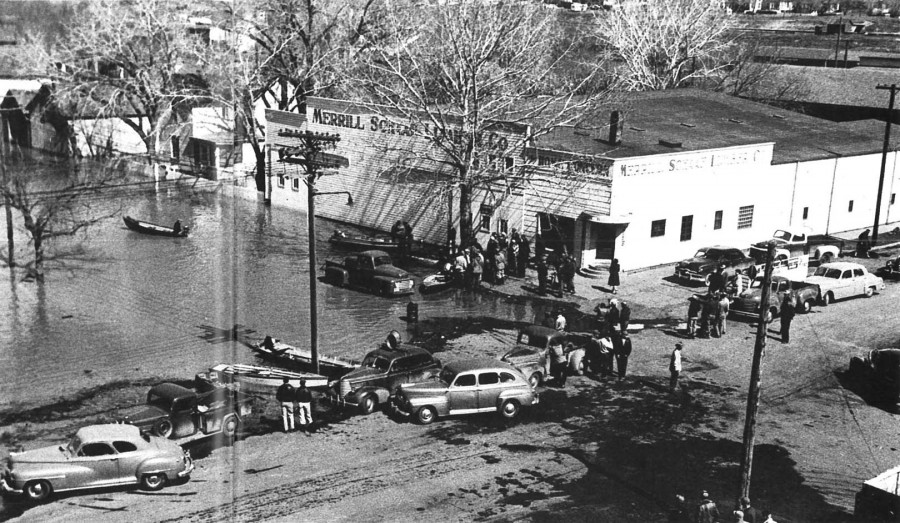 The last major flood on the Missouri occurred in 1952. Boats became the best method of transportation.
Anne Morrow Lindbergh said this about rivers: "Rivers are perhaps the only physical features of the world that are at their best from the air. Mountain ranges dwarf to anthills; seas lose their horizons. But rivers stretch out serenely ahead as far as the eye can reach. Rivers are seen in their true stature."
I cannot cross the interstate at Chamberlain without looking to see if I can identify where American Island lies. It's like an eternal goodbye wave to that island lying in its watery resting place. If the water ever recedes, I wonder if the island will reappear?
Old American Island is gone, but the river has given us some of our state's greatest sport areas and tourist resorts. Though tamed by the dams, she still takes her toll of life when an unwary fisherman or boater forgets to respect her power, currents or snags.
And Mo keeps everyone in turmoil with her claim on wildlife, like the least tern and piping plover. Mo lies placid and calm as government officials, state citizens and industries rage in disputes. Court decisions seem to solve nothing, as she appears to slumber with a smile of glib conceit.
We may think we've tamed the river, but those mercurial waters have an indomitable spirit of their own, just watching and waiting to prove Mo's power over man's superficial control of a river's true power.
The Pick-Sloan plan began the taming of the "shrewd" river by permanently flooding 500,000 acres of farmland and forest, resulting in crop losses of over $79 million per year. Dams forced Mo to give up her fretful, aimless life and become a more productive adult. From figures compiled in 1982 annually from all six dams combined, she produced in peak years, 2,098,250 kilowatts of power serving Montana, North Dakota, South Dakota, Nebraska, Iowa and Missouri, where she feeds into the Mississippi south of Hartford, Illinois.
T. S. Eliot, in The Dry Salvages, who lived by the Mississippi River as a boy, wrote, "I do not know much about gods, but I think that the Mississippi River is a strong brown god — sullen, untamed, and intractable." I think the Missouri is a god of deceit, calm, mysterious, and unpredictable. It has always filled me with awe, distrust, and icy respect.
How much of her debt has Mo paid back? Even the plight of the plover may be peanuts compared to early wildlife, mankind and history lying hidden in the havoc she wreaked in her youth. I wonder if those downstream clamoring for her services would trade places if they'd suffered through those youthful, thoughtless destructions?
I found no positive proof in my research, but after references to destruction of buildings, roads, trails and even forts, that she may have meddled in the eventual move of the territorial capital upstream to Pierre in hopes of tamer, safer springs. Has Mo written history of her own?
Most years she lies calm and peaceful, and we bask in her pleasures, recreational activities, tourism, camping and other benefits. But I caution you. My father said, "Always give water your greatest respect. The muddier it is, and the faster it's flowing, the farther I want to be from it."
I grew up and grew old along with Mo. I learned. "Never turn your back on the Missouri."
Editor's Note: This story is revised from the March/April 1993 issue of South Dakota Magazine. To order this back issue or to subscribe, call 800-456-5117.