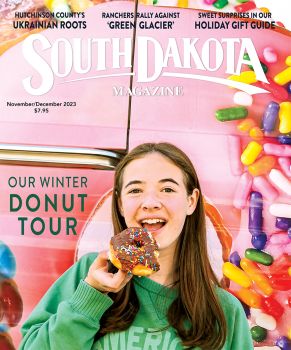 Subscriptions to South Dakota Magazine make great gifts!
Subscribe today — 1 year (6 issues) is just $29!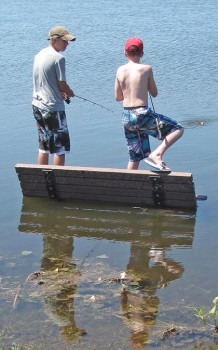 Flood News
Jul 7, 2011
By Bernie Hunhoff
We're not enjoying the flood all that much in Yankton County, but it has made reading the morning newspaper more interesting than ever.
The Yankton Daily Press & Dakotan is one of only two daily newspapers that still have local ownership, and it's probably no coincidence that it's also one of the best little dailies in the West. The staff and readers are going to celebrate the paper's 150th anniversary later this summer (good Lord willing and the Missouri don't rise any more). Never in my memory has our local newspaper done a better job of guiding the community through a difficult period.
Yankton and other South Dakota communities are not strangers to disasters. We have had our share of fires, floods, tornadoes, blizzards and other such mayhem. But seldom does a disaster linger for weeks, as this flood does. For those most affected, it is a slow-motion disaster. Though the water is broiling through the dams and speeding down the river channel, time is nearly at a standstill for home owners and farmers who wait and wait to see how it will all end.
Through it all, the writers and editors of our paper have kept southeast South Dakota in the know. They've dispelled rumors (no, the Corps of Engineers has not inserted dynamite in the cracks in the dam ... and no, there are no cracks in the dam). They've put out the word for volunteers, and taught us the language of a flood. Everybody now understands that a CFS is a cubic foot per second of water, about the same volume of a basketball. They've photographed and editorialized and reported on long, boring meetings and issued alerts .... and it doesn't stop.
In today's edition, editor/photographer Kelly Hertz shows a picture of two lads using a park bench as a fishing dock at Lake Yankton. Of course, park benches are normally ashore. Priceless photography.
Also today, the paper reports that the Corps will divert surplus water through four regulating tunnels at Fort Randall from 10 a.m. to 2 p.m. so the spillway (40 acres of concrete) can undergo a routine inspection. It is just the second time in history that such a high volume of water will be released through the tunnels.
The paper also notes that a man fell into the James River while fishing. He became stuck in the mud. A deputy fished him out.
And in the classifieds, Bob Monfore notes that he lost his boat dock by Choteau Creek near Avon,. It's a heavy bridge plank deck on two pontoons. Call 286-3644 if you see it floating by your farm.
The lake temperature today, according to the paper, is 70 degrees. Lake elevation is 1206.16 feet. Tailwater elevation is 1171.81. Oh, and the CFS is still at 160,000.
If you must endure a summer-long flood, it's nice to have a local newspaper as a guide.