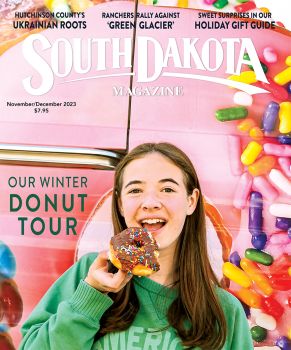 Subscriptions to South Dakota Magazine make great gifts!
Subscribe today — 1 year (6 issues) is just $29!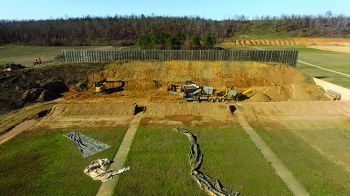 Getting the Lead Out
By John Andrews
It doesn't have a catchy name yet (in legalese it's known as RRT 01), but a new machine built by brothers Dakota and Lance Tschetter of Huron and Colin Treeby of Rapid City is cleaning up shooting ranges across the country and has people around the world asking about its availability.
Treeby had tried doing reclamation on several shooting ranges but never pinpointed the best way to do it. He approached the Tschetters, who run an ag-based manufacturing company called Lankota, and in May of 2015 the three of them rolled their new machine out of the shop. Operating as Range Recovery Technologies, the crew focuses on pistol and rifle ranges, where shooters fire into a berm. Layers of earth are scraped away and run through a crusher and a series of screens. Clean dirt comes out the end, while lead fragments are collected, bagged and sent to a certified recycler. The machine processes 5 to 25 yards per hour, meaning a typical range cleanup lasts a week to 10 days.
Lance says they were surprised at how quickly news about their machine spread. "As soon as the machine was done and we had our website up, we had offers from people who wanted to buy one, but we're not sure where we want to go with it," he says. "Less than a handful of companies in the U.S. can do what we're doing."
Editor's Note: This story is revised from the May/June 2017 issue of South Dakota Magazine. To order a copy or to subscribe, call (800) 456-5117.