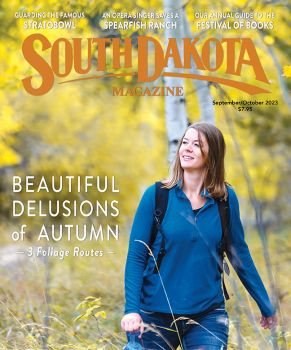 Subscriptions to South Dakota Magazine make great gifts!
Subscribe today — 1 year (6 issues) is just $29!

Grandpa The Bank Robber
Dec 19, 2011
I still chuckle about the family historian who wrote many years ago that her grandpa was a well-known fellow who died quite suddenly from a neck injury suffered from falling off a horse. It seemed he had just given a very short speech in the shade of a tree in the town square when the horse bolted.
The historian didn't add the fact that her grandpa's neck somehow became tangled in a rope that was tied to a tree branch.
But I shouldn't be amused because the executed man was somebody's grandpa. He must have done something bad. Maybe he stole a horse. But he probably did some kind deeds. If nothing else, he fathered a child who had a child who cared enough to try to whitewash his reputation.
I'm reminded of all this because our Nov/Dec issue featured a very popular article we called "Outlaws and Scofflaws of South Dakota." I've always wanted to use the word Scofflaw on our our magazine cover, and finally after 27 years of publishing we found the opportunity.
The story has been a big hit with most readers, but we've heard from a few family historians who are not pleased that we presented great-uncles and grandmas in such a dark light. Just this morning I received a letter from a woman who wrote, "While I've become acccustomed to (name withheld) being portrayed in a negative light, he did a lot of positive things during his years in the Black Hills."
Point made. Every South Dakotan — every man and woman who ever lived — is more complex than could ever be explained in a few paragraphs of a family history book or in our magazine. So enjoy reading about our outlaws and scofflaws, but let's all remember that many of them were husbands and fathers and friends and neighbors, and that their good deeds might have more than compensated for the banks they robbed, the horses they stole or the worthless mines they sprinkled with gold dust.