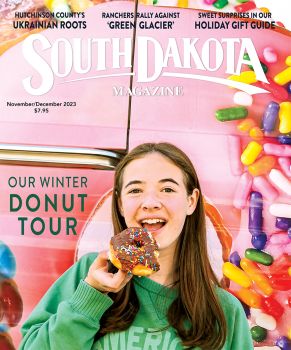 Subscriptions to South Dakota Magazine make great gifts!
Subscribe today — 1 year (6 issues) is just $29!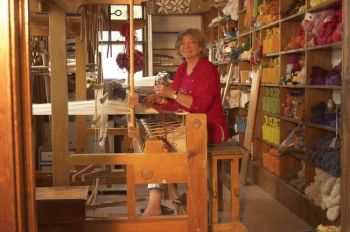 Our Joyful Weaver
Dec 22, 2014
Grete Bodogaard and her husband, filmmaker Chuck Nauman, have been hanging out in the little Yankton County town of Volin for a number of years.
Many of us who live here in southeast South Dakota felt quite blessed to have such a gentle soul in our commuity. Grete and Chuck didn't participte a great deal in community activities, but they were apt to show up now and then. And you might catch them at Mac's Pub, which was across the street from the old Volin Bank where they lived and worked.
I looked for them on several trips to Volin this summer and fall, but to no avail. After asking around, I was told they had returned to the Black Hills because of Grete's health. She is serioiusly ill. Our thoughts and prayers go to her and her family.
When in Rapid City last weekend, I attended a forum at the Dahl Arts Center on Seventh Street downtown and felt fortunate to happen upon an exhibit of Grete's creations titled "Celebration of Works."
Grete was born in Norway, and learned some of her techniques in the old country. She came to the United States in 1969, and she quickly spun her way into our hearts and into our art culture. She is not only one of South Dakota's greatest and most accomplished artists, but also considered one of the master weavers of our time.
"As I travel on my journey around the sun I have learned to spin fibers, dye yarns and weave my thoughts and ideas," she says in an introduction to the exhibit. "Weaving is my other language, my expression of joy and frustrations."
Her contributions to South Dakota have brought only joy, and we thank her for that.
The exhibit will be up through Jan. 31, 2015.