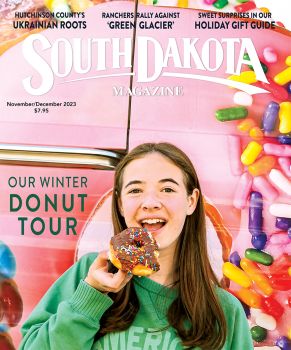 Subscriptions to South Dakota Magazine make great gifts!
Subscribe today — 1 year (6 issues) is just $29!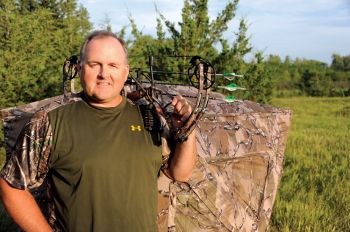 The Hunter's New Friend
By John Andrews
Hunting can try your patience, especially when the prized buck you've been tracking disappears for the rest of the season. But the sport shouldn't be frustrating simply because you can't keep your gear straight.
Bill Conkling is a Yankton realtor and avid archery hunter who contemplated that very problem one day in his deer blind. "I was sitting there trying to manage all my equipment — my bow, binoculars, range finder. I was frustrated with not having a way to organize it all."
That night he started sketching, and soon he had a prototype for what he calls the Ground Blind Buddy. "Most hunters have their rifle or bow, a range finder, a game call, water, cell phone. This is an adjustable stand with a tray. There's a hook for your bow and another for a backpack. You can set your binoculars, range finder and other items on top so they are easily within reach. You don't have to be digging through clothes to find them."
Conkling's idea originated several years ago, but was pushed to the back burner. His original prototype was metal, but research showed the best option would be high density plastic, which meant making molds would be much more expensive. Then last spring he spoke at Yankton's 1 Million Cups, a weekly gathering that allows area entrepreneurs a chance to talk about their work. A local businessman liked the concept and offered to help Conkling launch a Kickstarter fundraising campaign to move the Ground Blind Buddy into production. "For a while I just wasn't sure what to do," Conkling says. "Now it's like I've got my second wind."
Editor's Note: This story is revised from the September/October 2015 issue of South Dakota Magazine. To order a copy or to subscribe, call (800) 456-5117.