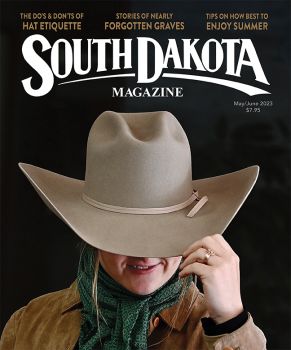 Subscriptions to South Dakota Magazine make great gifts!
Subscribe today — 1 year (6 issues) is just $29!

Discovering Ground Cherries
Aug 16, 2018
By Fran Hill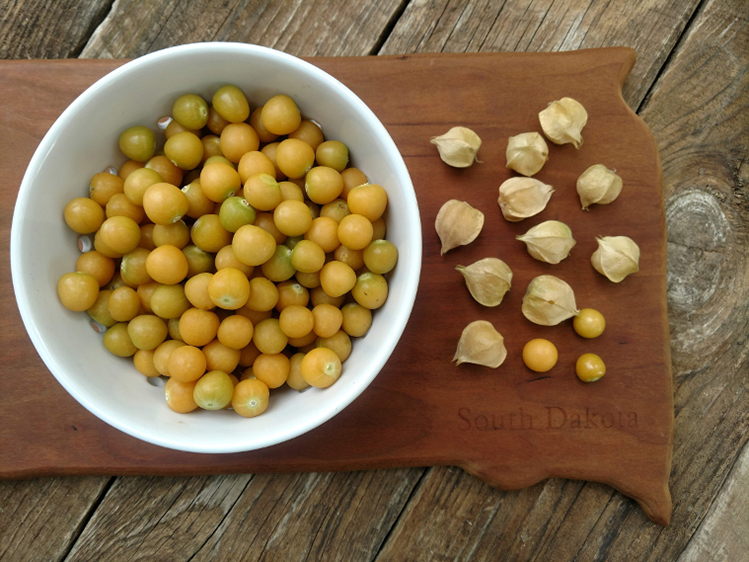 A bounty of ground cherries procured at the Burke Area Farmers Market.
I grew up with a variety of apple, pear, plum and chokecherry trees in my parents' backyard. We harvested the fruits from this mini orchard and made jams, jellies, pies, and crisps. When the pears ripened, I ate so many that the juices seemed to permanently run down my arms. I also remember venturing down the road to the nearby creek and picking sand plums until our buckets were so loaded it felt our arms would break carrying them home. Moving forward into adulthood, there have been wild grape harvests and stalking the neighbor's gooseberry bush to beat the birds to the punch. Taking advantage of local, in-season fruits is second nature for me.
Imagine my surprise earlier this summer when I learned of a new-to-me seasonal fruit that I could also grow in my backyard. Ground cherries are absolutely not new to the South Dakota prairie, but are a new experience for me. Jo Wulf, a vendor with the Burke Area Farmers Market, invited me to visit her amazing garden and ended our morning tour with a Ground Cherry Coffee Cake fresh from the oven. She collects ground cherries from her garden all summer long and sells both the raw cherries and baked goods incorporating their freshness at the weekly market.
The paper husks of the fruit are easily removed to reveal golden berries (which, by the way, is another name under which ground cherries are commercially marketed). The berries are sweet, but slightly tart and have an almost tropical essence similar to mango or pineapple. I have snagged both Jo's delicious coffee cake and fresh berries from the market in Burke, but am already planning to include the hardy plant in next year's garden.
I have attempted to recreate Jo's delectable coffee cake, and may be close with my own Ground Cherry Skillet Cake. This is a dense cake with a crunchy brown sugar-pecan topping. It is mouthwatering when served warm with a scoop of vanilla ice cream. Ground cherries are perfect little fruity bites to complement the cinnamon cake, and I am forever grateful that Jo and the Burke Area Farmers Market introduced me to them.
---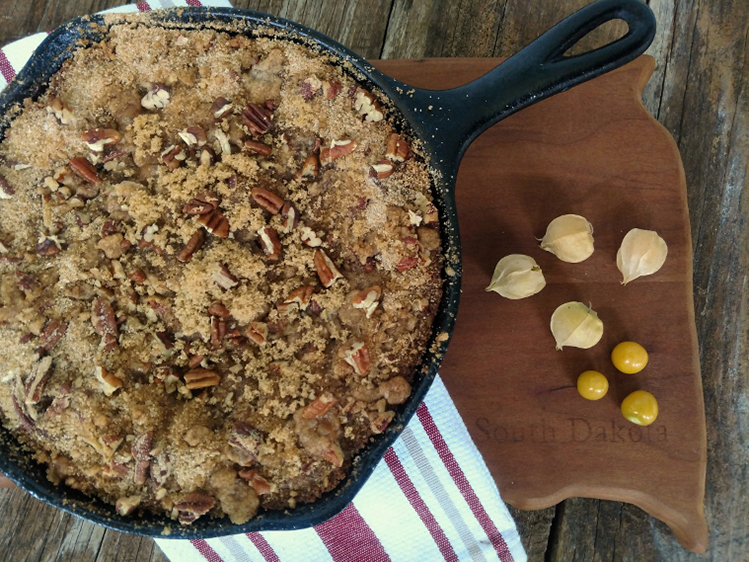 Ground cherries are sweet, tart and tropical, and perfectly complement the cinnamon in a skillet cake.
Ground Cherry Skillet Cake
2 cups flour
1 cup sugar
1 teaspoon salt
8 tablespoons room-temperature unsalted butter
1 teaspoon baking powder
1/2 teaspoon baking soda
1 teaspoon cinnamon
3/4 cup buttermilk
1 large egg
2 teaspoons vanilla extract
2/3 cups ground cherries
1 cup chopped pecans
1/2 cup packed brown sugar
1 teaspoon cinnamon
Preheat oven to 325 degrees F. Butter and flour a 12-inch cast iron skillet.
Whisk together flour, sugar and salt. Cut in butter until mixture crumbles into the size of small peas. Remove 1/2 cup of flour and butter mixture and set aside to use as topping later. Add baking powder, soda, and 1 teaspoon cinnamon. Stir in buttermilk, egg and vanilla.
Pour batter into prepared pan. Scatter ground cherries over the top.
Add nuts, brown sugar, and 1 teaspoon of cinnamon to the reserved flour mixture and combine. Sprinkle topping over batter and ground cherries.
Bake 70-75 minutes until a skewer comes out clean. Allow to cool in pan for 10-15 minutes before serving.
Fran Hill has been blogging about food at On My Plate since October of 2006. She, her husband and their three dogs ranch near Colome.