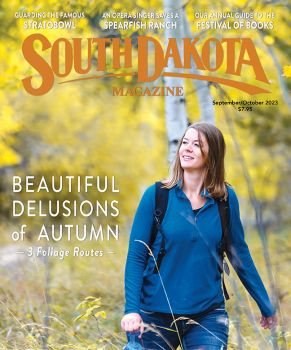 Subscriptions to South Dakota Magazine make great gifts!
Subscribe today — 1 year (6 issues) is just $29!

Cake in Moderation
Jul 6, 2017
By Fran Hill
A few weeks ago, I was attending an event and ran into some friends. We gleefully chatted the evening away covering recent events in our lives and happenings around the state. Unfortunately, as is often the case with women, our conversation turned to our bodies. Two of us cited recent weight gain, and both expressed a desire to make some changes. My friend asked if I wanted to go on a diet with her. I did not hesitate with my emphatic, "No."
I don't want to diet. Ever. I desire my life to be about balance, not restriction. Sure, my jean size is a little larger than I would prefer and my arms wiggle more than I like, but that doesn't mean I am willing to start a cycle of deprivation.
I wish that my female friends and I could stop beating ourselves up about our bodies. We are absolutely worth more than thin thighs. But since I don't see that change happening any time soon, my more important wish is that you don't ask me to go on a diet. Ask me to go for a hike, or a bike ride or kayaking. Let's get active together. Share with me your favorite salad and ask me for tips to change up your vegetable routine. Call me when you bought a case of fruit that you can't possibly eat on your own. Let's be about positive health changes and let our bodies follow along.
In the meantime, for the sake of balance, let's have a piece of cake. Strawberry Cream Cheese Ice Box Cake. We will add a few more steps to our activity tracker and all will be fine.
---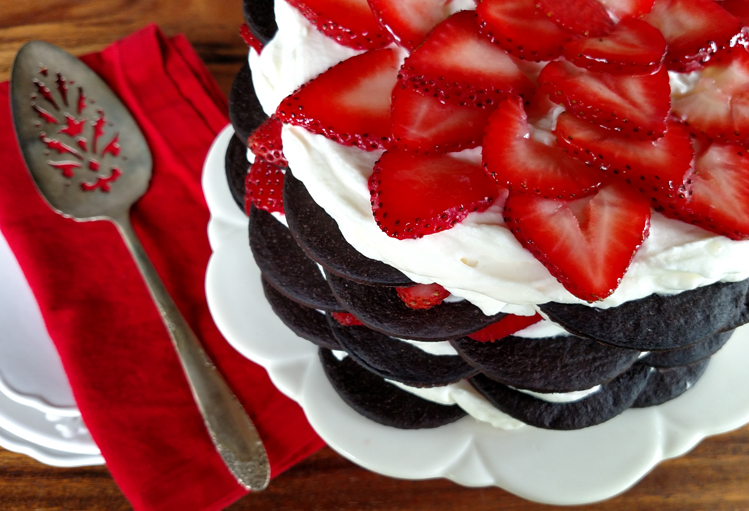 You might need to take a few extra steps during the day, but don't deny yourself Strawberry Cream Cheese Ice Box Cake.
Strawberry Cream Cheese Ice Box Cake
8 ounces cream cheese, softened
1/4 cup powdered sugar
1 teaspoon vanilla
1 1/2 cups heavy cream
4 cups fresh strawberries, hulled and sliced
1 box (9 ounces) Nabisco Famous Chocolate Wafers
Whip cream cheese with powdered sugar until smooth. Add vanilla.
Gradually pour in the heavy cream a bit at a time while mixer is running. Beat until light, fluffy and approximately doubled in size. The cream will be forming stiff peaks.
Arrange a layer of cookie wafers in a circular pattern on a plate or serving platter with one cookie in the center.
Scoop a portion of the whipped cream cheese over the cookies and spread to cover.
Layer sliced strawberries over the cream.
Add another layer of cookies, more cream and strawberries. Continue until you have used all the cookies, ending with an arrangement of strawberries on top.
Refrigerate cake for at least 4 hours or overnight. (Don't skip this step. It IS an icebox cake.)
Fran Hill has been blogging about food at On My Plate since October of 2006. She, her husband and their three dogs ranch near Colome.