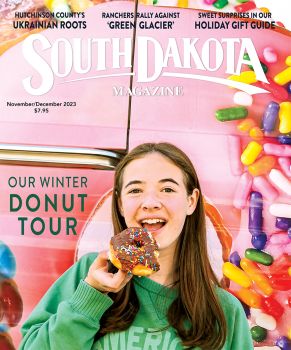 Subscriptions to South Dakota Magazine make great gifts!
Subscribe today — 1 year (6 issues) is just $29!

From Guadalajara to Ciudad del Agua
Apr 6, 2016
By Michael Zimny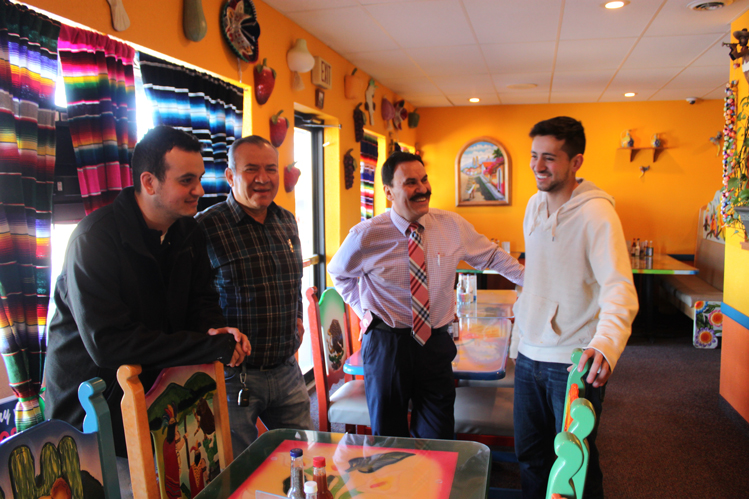 The Vega family includes (from left) Carlos Jr., Carlos, Pepe and Donny.
Carlos Vega named the three restaurants he owns in eastern South Dakota after the city of his birth — Guadalajara, in the state of Jalisco, Mexico. But the feeling you get when you walk into a Guadalajara on a blustery spring day in South Dakota — of having stumbled into a tropical, sunshiny alternate world — is all Tonalá.
The Guadalajaran suburb of Tonalá (pop. 374,000) is a mecca for artists and artisans. Home to the Museo Nacional de la Cerámica, the city is renowned for its pottery, and has been a center of ceramic arts since pre-Hispanic times. At Thursday and Sunday art markets, visitors can shop for traditional bruñido, bandera, petatillo and canelo style pottery and other handicrafts.
Over the years, Carlos' wife Esther has made innumerable trips to Tonalá to curate the unmistakable ambience of a South Dakota Guadalajara — shipping back ornately carved tables, benches and chairs, metal sculpture, pottery and decorative art by the truckload. Almost every object has the cheery gleam of a burnished (bruñido) urn. To open the door to a Guadalajara is to unleash a Nahuatl sunbeam, which can be a welcome respite from the beige of a long winter. The place hums with an ebullient energy. Even in summer, when the Glacial Lakes glisten and the prairie is a verdant green, Guadalajara just might be the wellspring of color where the cormorants score the emerald in their eyes.
So how does a working class guy from Guadalajara end up a restaurateur in eastern South Dakota? Carlos migrated to Seattle in the late 1980s to work with his brother Pepe at a restaurant owned by Pepe's father-in-law.
"He started from the bottom," Pepe (who recently moved from Seattle to manage the Brookings restaurant) says of Carlos, a man of few words. "He worked as a dishwasher…"
Carlos: "Dishwasher, cook, busboy, waiter, manager…"
Pepe: "He went up and up every position. He worked really hard to get to where he is right now."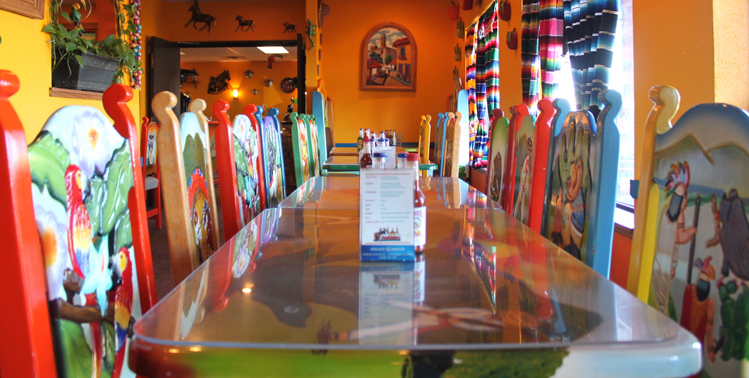 Mexican art is everywhere inside the Brookings Guadalajara's, from the walls to the chairs.
In the early 1990s, Carlos became intrigued by talk of a land of lakes to the east. "Some customers of Pepe's had moved to Watertown and they said that it was a nice town for business," he says.
"They told me, 'Come to Watertown, they don't have any Mexican businesses there,'" Pepe adds.
In 1995, Carlos left Seattle to address that situation. The brothers' hunch about Watertown turned out to be right, at first. The opening year was good. But the winter of 1996 put a deep freeze on many business aspirations throughout the Dakotas and Minnesota, and almost ended Guadalajara.
"Those were really hard years with the snow," Carlos says.
"The winter was really hard, when you hardly have enough to pay your employees," Pepe says. "It was very difficult."
Then the return of American pelicans to Watertown from their wintering grounds — perhaps on the Lago de Chapala — heralded spring. Carlos figured growth could be the antidote to snow. Guadalajara expanded to Madison, where it failed, but then found a footing in Brookings, where a couple of generations of college students have studied the extensive menu. He opened a store, El Tapatio, specializing in Mexican groceries next to the Brookings restaurant. Four years ago, the burgeoning Guadalajara mini-chain expanded to Sioux Falls.
With each new restaurant, Esther's holistic, straight-from-Tonalá approach to the Guadalajara experience endears a new corps of loyal customers.
So, how's the food? Your correspondent is not a food critic with the expertise to dive into culinary minutiae, so suffice it to say it's plentiful and delicious. My finicky 8-month old daughter loved the lengua (so did I), which is all the endorsement I need.
Carlos' sons, Carlos Jr., and Donny, are both involved in the business now, and the restaurants are established enough to allow Carlos Sr., and Esther to visit Guadalajara three or four times a year, giving Esther plenty of opportunities to scour the art markets. Carlos Jr., says he can see Guadalajara making further inroads into South Dakota in the future. Where? That's a family secret for now. "Somewhere close to home," he says.
Michael Zimny is the social media engagement specialist for South Dakota Public Broadcasting in Vermillion. He blogs for SDPB and contributes arts columns to the South Dakota Magazine website.