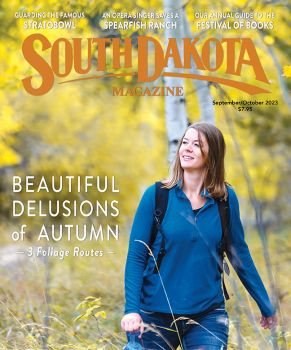 Subscriptions to South Dakota Magazine make great gifts!
Subscribe today — 1 year (6 issues) is just $29!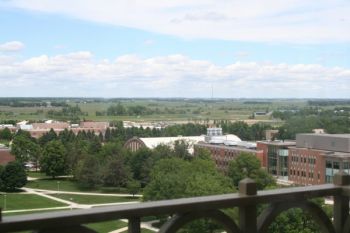 Burgers, Bells, Blooms and Brews
Jul 18, 2013
By Laura Andrews

Brookings was recently named one of America's ten best small towns by livability.com. My husband, Mike, and I visited South Dakota's fourth largest community a few weeks ago. It didn't take long to see why Brookings was given high marks.
Our first stop was Nick's Hamburger Shop, a Brookings institution since 1929. The friendly waitress slipped us each a tank-fried Nickburger on a square of waxed paper. As we munched, we watched locals leave with sacks full of the meaty sandwiches. "This is lunch and dinner," said one.
Sated for the moment, we walked up and down Brookings' charming main street, admiring the shops along the way. A friendly postman directed us to the local library a few blocks away, near the Children's Museum of South Dakota.
An exotic aroma lured us up to the library's second floor, where Mango Tree Coffee was serving Thai vegetable soup. I opted for a rose lassi, a sweet and floral Indian yogurt drink. The Mango Tree is a calm and cozy spot, perfect for library patrons and the local knitters and crocheters who meet there for Brookings Fiber Guild gatherings. My knitting group in Yankton would be jealous if they knew how good Brookings crafters have it!
Our next stop was an odd choice for a couple of acrophobes — the Coughlin Campanile, South Dakota State University's belltower. After ducking into the Alumni Center for the key, we climbed 185 steps to the viewing area at the top, stopping frequently to admire Brookings from above. There was even more to admire at the nearby South Dakota Art Museum galleries, where works by Harvey Dunn and Oscar Howe and other artists were on display. It was a real thrill to see The Prairie Is My Garden in real life, and marvel at the way Dunn combined blobs and swirls of pigment to create his iconic scene of early Dakota life. Of course, no visit to SDSU is complete without a trip to their Dairy Bar for a dish of butter brickle and a grasshopper fudge cone.
Mike is an avid gardener, so I had to take him to McCrory Gardens, where we were surprised how much difference a hundred-plus miles makes. The peonies and irises that had already finished blooming in our yard in Yankton were just starting to blossom up north in Brookings. There's over 25 acres of formal gardens at McCrory plus 45 acres devoted to studying trees and bushes. That's a lot of plants — all beautifully arranged and tended.
All that walking and fresh air helped us work up a thirst, which we quenched at Wooden Legs Brewing Company. The bevy of beverage options was dazzling (117 bottled beers and 21 on tap), but sadly, only one of the pub's homebrews was available. Though we were there a few days before Wooden Legs' grand opening, the Split Rock Creek Pale Ale, Kühl Blonde Ale, Farmhouse Ale and It's What We Got IPA were already sold out. "People in this town like to drink," explained our friendly bartender. We can't blame them. My pint of Wooden Legs' Three5Three, a milk stout inspired by Irish brews, was deliciously dark. I would've loved another, but we needed to stop by George's Pizza for gyros and calzones before heading homeward, tired but happy after a busy day of sampling a few of the great things Brookings has to offer.