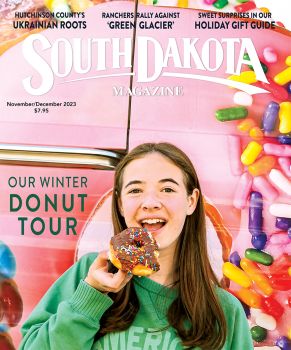 Subscriptions to South Dakota Magazine make great gifts!
Subscribe today — 1 year (6 issues) is just $29!

Have Scoop Shovel, Will Travel
Mar 21, 2018
By Paul Higbee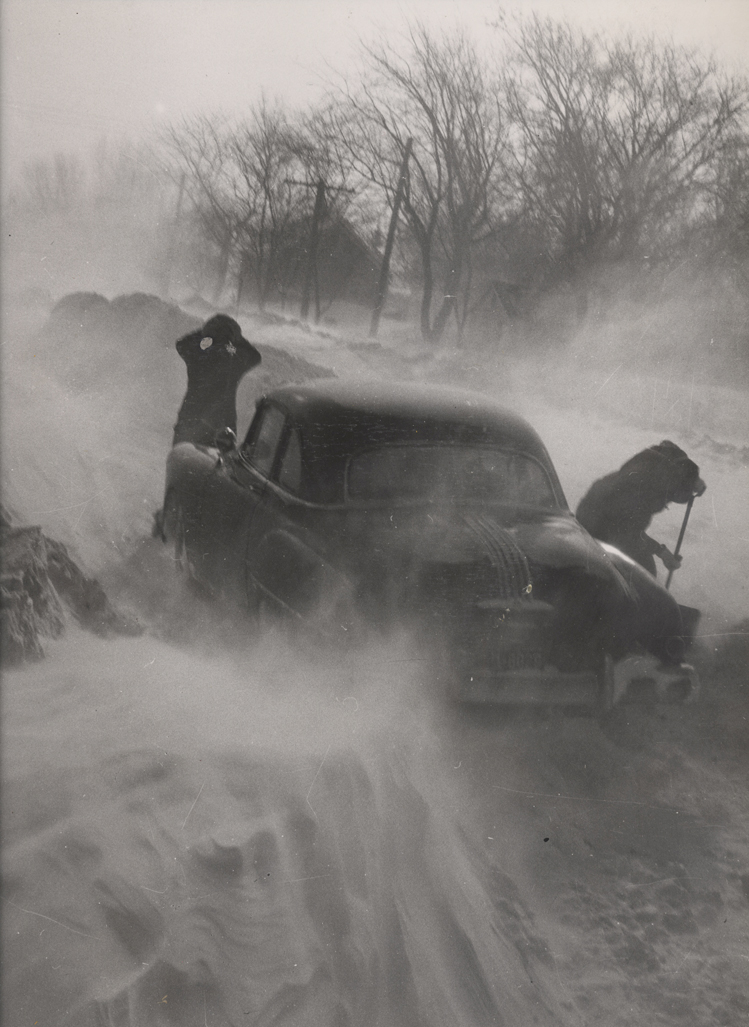 Travelers try to free their car during a fierce blizzard.
Dave Junek, a lifelong West River rancher who has intently observed winters since the 1930s, considers the infamous Blizzard of '49 the worst storm. No surprise there. But the nearly forgotten blizzard of March 1942 had its moments, too.
No one describes those moments better than Junek himself.
That March he was part of a trio of teenage boys who set out on a cross-state trip, figuring it would take a long day in the era of winter-buckled cement highways and lengthy gravel roads. Instead it took a long week. Junek, Bob Kumley and Earl Hansen were Harding County guys who had just graduated from the School of Agriculture, a high school associated with South Dakota State College in Brookings. Graduation happened in March so students could get home by the time farm and ranch work kicked into high gear. As soon as the commencement ceremony wrapped up, the trio hopped into a borrowed 1936 Chevy sedan and pointed it west on Highway 14. Around Huron the snow hit. East of Pierre, snow flew with such fury that drivers couldn't discern the road's edge. But a pedestrian could, so the boys and a stranded soldier they picked up took turns being pedestrians, running ahead of the car to guide it into the capital city.
The three boys checked into a hotel and morning dawned deceptively, as mornings always do following a nighttime blizzard adventure. By contrast everything looks rosy. The guys optimistically climbed into the Chevy and were stuck in a snowdrift before they found the city limits.
"So we invested in a scoop shovel," Junek says. "That put a dent in our travel money."
The shovel was in for a workout. Digging out the Chevy proved to be an all-day deal, so the boys checked back into the hotel for a second night.
The next morning they decided to drive south to Vivian and connect with Highway 16, a better road than the more direct Highway 34. But night found them back in the same hotel minus the Chevy. It sat halfway between Pierre and Vivian, whipped by snowy winds. The boys got back to Pierre, a place now feeling entirely too familiar, courtesy of a local barber and his family, who were all happy to have three strong lads and their shovel aboard when their car got temporarily stuck.
Day four began by hitching a ride with Erdman Stumer and his dad. Stumer was a School of Agriculture classmate, and he and his dad were fighting to get through the blizzard to their home at Wood. Things looked good as the five started out for Vivian, 33 miles distant, and quickly came upon a snowplow clearing the way. "But the snowplow would break through a drift and then it would be stuck," Junek remembers. "So we'd dig it out and that's pretty much how the whole day went."
Drift after drift, almost all the way to Vivian.
Almost.
A mile out of town, as night fell, they came to a mammoth drift impossible to bust. By then quite a procession of vehicles trailed the snowplow, including the Chevy, towed by Mr. Stumer because its engine was encased in snow.
"There was nothing to do except for everyone to get out of their cars and walk to Vivian," Junek says. "For the life of me I don't know how they found enough beds for all of us. But they did."
Junek, Kumley and Hansen ended up in an upper story room in a big house near downtown. Days were starting to blur; today Junek can't remember if they stayed two nights or three. Rumor had it that a great rotary snowplow was cutting its way toward them from the east, but not making good time. The boys spent their days in a combination pool hall/liquor store, a business that offered a menu of hardboiled eggs, pickled fish and other delicacies floating inside big glass jars. The proprietor decided his guests were "good boys" and offered to accept a counter check so they would have cash for their seemingly endless odyssey. The boys thought $5 would get them by.
In the middle of the night Junek heard the rotary come through. Then it was simply a matter of getting the Chevy into town, clearing its engine block in garage space that was kindly offered and installing a new fan belt. The trio was Harding County bound again, and spent the last of their $5 for gas at St. Onge.
During their adventure, the boys had no way of phoning their families, and no one expected them to make contact. Their parents knew they were adults, high school graduates and rural South Dakotans equipped to handle whatever March weather came their way. As such, they established a camaraderie with fellow travelers that comes about only by facing adversity together — head-on, with scoop shovel in hand.
Editor's Note: This story is revised from the March/April 2016 issue of South Dakota Magazine. To order a copy or to subscribe, call (800) 456-5117.