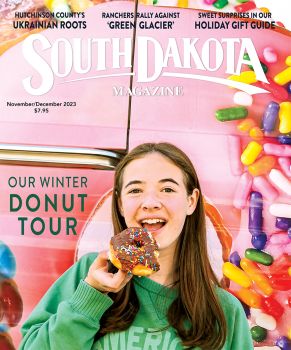 Subscriptions to South Dakota Magazine make great gifts!
Subscribe today — 1 year (6 issues) is just $29!

Snow Day
Apr 13, 2017
By Fran Hill
I seem to talk about the weather a lot. Maybe it's because I'm married to a farmer, and our livelihood is tied to the whims of Mother Nature. Maybe it's just due to living a simple life without many options for topics of conversation. Most likely it's because South Dakota weather can be crazy.
Last Saturday, we enjoyed a sunny 70-degree day. South Dakotans flocked outside to ready lawns and gardens for the growing season, hit the trails for hikes and biking, fished a little, lounged in the sun with favorite books and spent the evening socializing around fire pits.
Sunday, we awoke to spring rain that came and went throughout the day, but picked up steam in the late evening. On Monday, it snowed — and it wasn't just a few wet flakes that fell with the regular raindrops. It started as a dusting and soon became real accumulation. Ice crusted on every surface. The winds picked up. Visibility dropped.
South Dakota was experiencing a true spring blizzard. Schools cancelled classes, and snowplows were forced out to clear roads. As 6 to 12 inches of snow piled up across the region, I bet that more than one pot of soup simmered in cozy, warm homes.
Leek and Spinach Soup is perfect for warming up during a spring blizzard. Leeks are just emerging for the season, spinach is always a great go-to for soups and chickpeas add substance. I use chicken stock, but vegetable broth is just as delicious. Lemon adds brightness to that broth, and thyme lends an earthiness. This is a soup that has the aroma and flavor of spring, no matter what the weather outside.
Oh, and that Monday snow? By Tuesday afternoon, we were back to sunshine, green grass and temperatures in the 50s. South Dakota weather is crazy, I tell you.
---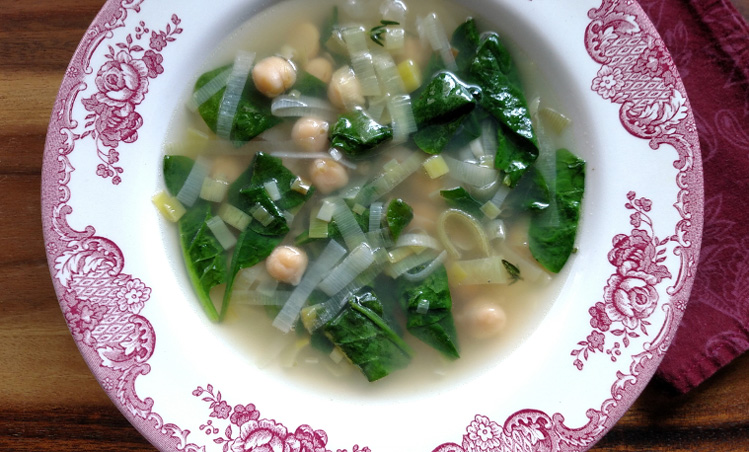 Leek and spinach soup is the perfect remedy for a South Dakota spring blizzard.
Leek and Spinach Soup
(adapted from Better Homes and Gardens)
2 tablespoons olive oil
2 medium leeks, white and light green parts only, thinly sliced (be sure to rinse the sand from the leeks)
2 16-ounce cans chickpeas, drained and rinsed
4 garlic cloves, thinly sliced
4 cups chicken or vegetable stock
juice of one lemon, about 2 tablespoons
10 ounces of baby spinach
1 tablespoon fresh thyme, chopped
In a large soup pot, heat oil. Add leeks. Cook, stirring occasionally, until very tender. (Be careful not to brown the leeks; reduce heat, if necessary.) Stir in chickpeas and garlic. Cook a couple of minutes until garlic is fragrant.
Add stock and 1 cup water. Bring to a boil. Reduce heat and add lemon juice. Return to a simmer. Add the spinach and thyme. Cook just until the greens are wilted. Season to taste with salt and pepper. Serve immediately. (Serves 4.)
Fran Hill has been blogging about food at On My Plate since October of 2006. She, her husband and their three dogs ranch near Colome.