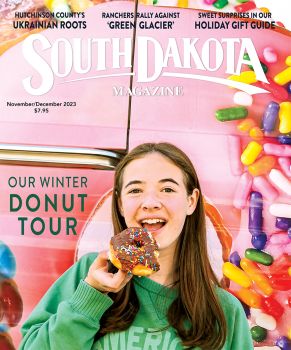 Subscriptions to South Dakota Magazine make great gifts!
Subscribe today — 1 year (6 issues) is just $29!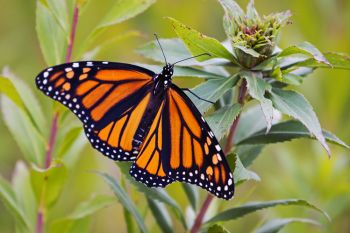 Highway to Zell
Aug 30, 2017
By Christian Begeman
I hadn't planned on going anywhere. It was supposed to be a quiet Saturday. I had traveled the weekend before and was scheduled to travel the next two weekends to Wyoming and Nebraska. A quiet Saturday with nothing much to do seemed like a good idea. So how did I find myself under a stormy sky in Zell just after sunset on August 12? It's complicated.
About mid-morning, I had my errands done. I suppose I could have vacuumed or dusted or even read a book. But the call of the great outdoors had other plans. It was the weekend, for goodness sake. I have a perfectly good camera in my bag and a truck full of gas … wasn't it a bit of a waste not to take a short drive out of town and see what was out there? That line of thinking was all it took. Soon afterwards, I was following this most recent case of wanderlust and heading north. My destination wasn't far, just up to southern Deuel County to check a known spot for Monarch butterflies and wildflowers. Then if the clouds were doing anything interesting, maybe a little storm chasing.
After I'd spent some time chasing a few butterflies the clouds starting building as predicted. I checked the maps and it looked like maybe I could get behind the storm system if I headed west. Soon I was just outside of Waverly in Codington County. Rays of sunlight broke through heavy clouds to shine golden on a recently baled wheat field.
The clouds kept building. I kept driving west. Next was Clark County, then northeastern Spink, where somewhere south of Turton I spotted a pair of Great Horned Owls in a couple of dead trees. The miles were adding up, and I still couldn't get to edge of the storm system.
On the edge of Spink and Faulk County, along Highway 212 is the tiny community of Zell. St. Mary's Catholic Church is right along the highway and I had wanted to get a photo of it for quite a while. With the ominous sky, I figured I might as well zip to Zell to get that photo.
It was now early evening. The skies seemed to be parting westward, so I headed out to Rockham. One of my co-workers is from Rockham, and I thought she might get a kick out of me standing in front of the town sign. After that, I took a gravel road north of town and headed farther west. A beautifully taken care of country school soon appeared on the horizon … another photo opportunity. Later the sun broke through the heavy clouds above a pasture full of grazing cattle. Then the clouds to the east began doing mysterious things. The storm was back building to the west. I headed back to Zell, to frame up the little town under the amazing sky, stopping at a sunflower field along the way.
I found myself standing in the middle of Highway 212 with no traffic, taking photos of massive clouds slowly revolving above the little town. The moment was so South Dakota. Where else can you do that kind of thing? What a great place to be a wandering photographer! On my way home, just north of Wolsey, my truck's odometer turned over to 100,000. So I stopped at the C-store and filled it with the highest quality and most expensive gas available. Seemed like the right thing to do, sort of a little thank you to the trusty wheels that kept me going on this picturesque and totally unexpected road trip.
Christian Begeman grew up in Isabel and now lives in Sioux Falls. When he's not working at Midcontinent Communications he is often on the road photographing South Dakota's prettiest spots. Follow Begeman on his blog.