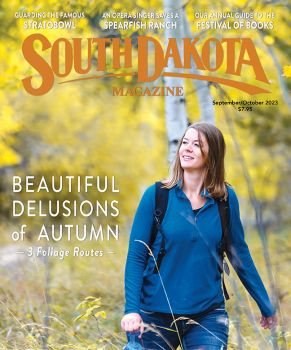 Subscriptions to South Dakota Magazine make great gifts!
Subscribe today — 1 year (6 issues) is just $29!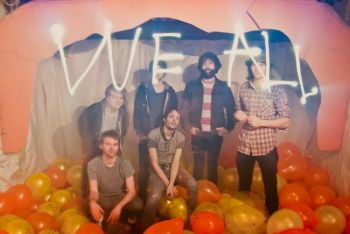 Farewell, Favorite Band
Jul 20, 2012
I feel bittersweet about my evening plans. I get to see my favorite South Dakota band, We All Have Hooks for Hands, perform at the Orpheum Theatre in Sioux Falls. But here's the sad part – it's their final performance.
Hooks for Hands had been playing for six years when I finally saw them live at the Orpheum last year. It was a CD release event filled with balloons, colored lights, confetti, and even a leaf blower. Oh, and the music was good, too. Brothers Isaac and Eli Show, and their core members Tim Evenson, Brent Hardie, Dave Lethcoe, Tory Stolen, Logan Borchardt and Tony Helland played their folk pop hearts out with several special guests. They ended with Eli belting out a spirited rendition of the Jackson 5's "I Want You Back," which you can hear at this link. The sound quality is terrible, but it captures their enthusiasm. Hooks for Hands threw a party and we were all invited.
The Sioux Falls band started as a recording project for Isaac and Eli, but it grew to include two drummers, three guitars, horns, keyboards, and the occasional tambourine or violin. They've clearly been having a lot of fun but have achieved modest success, as well. After signing with Minneapolis label Afternoon Records, their music was used on MTV shows "16 and Pregnant" and "Teen Mom," and on Fuel TVs "Vans Surfer Competition."
I talked with Isaac yesterday about the break-up. The main reason is Eli is moving to New York to finish a master's degree in art at Syracuse University. Evenson has also moved to Minneapolis and Borchardt is moving to Portland, Ore. "We might come out with one last album, which would be the rest of the material that we haven't released yet," Isaac says. And though he will miss being in Hooks, he already has a new project called Later Babes, an amalgam of DJs, mixers and musicians. "Later Babes is fun, but it's not quite the same as being in a big rock band."
For tonight's show, tickets are $15 at the door and show starts at 7:00 p.m. The opener is Night Moves from Minneapolis. Isaac says, "Balloons and confetti are a must, and hopefully some other surprises as well."