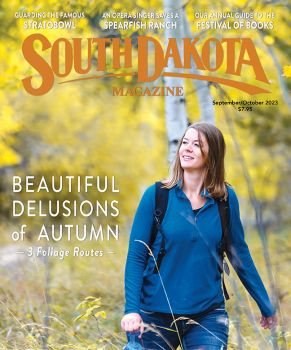 Subscriptions to South Dakota Magazine make great gifts!
Subscribe today — 1 year (6 issues) is just $29!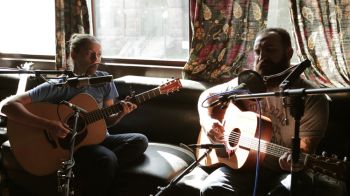 Jami and the Wolf King
May 16, 2018
Thomas Hentges' first gig involved four songs played in front of the Chester High School student body before they were dismissed for Christmas vacation. "I got pulled out of the place by my ear by the principal because he thought I was using profanity on the stage," Hentges recalls with a laugh. "I assured him that I wasn't and that he needed to get his hands off me."
It was a rough start to what became a successful musical career. Hentges now performs solo and with a band, both under the unique moniker Burlap Wolf King. The Sioux Falls artist is the second musician to be featured in Dakota Duets, a summer-long, statewide music tour in which South Dakota singer Jami Lynn performs with artists in a variety of genres. All six installments will be featured on our South Dakota Magazine website.
"Though our beginnings look very different, time and musical evolution brought Thomas and I to almost the same place at the same time," Jami Lynn says. "Many consider him one of the best songwriters in the state. And just as we've finally fallen in the same folky singer/songwriter genre these past few years, Thomas is already morphing into his next musical state."
For the second installment of Dakota Duets, Jami Lynn and Hentges perform "If I Needed You," by Townes Van Zandt, a songwriter perhaps best known for his country hit "Pancho and Lefty," recorded in 1983 by Merle Haggard and Willie Nelson. Van Zandt has been a source of inspiration for Hentges. "What I didn't know what that around 2006, he watched the Townes Van Zandt documentary Be Here to Love Me for the first time," Jami Lynn says. "It inspired him to 'pick up that crappy acoustic guitar in the corner of my apartment and get into three chords and the truth.' I think you'll find the truth in Thomas Hentges' voice and lyrics in any genre. While listening to our version of 'If I Needed You,' I hope you'll agree that three chords are exactly the right amount."
---
Click below for previous Dakota Duets.