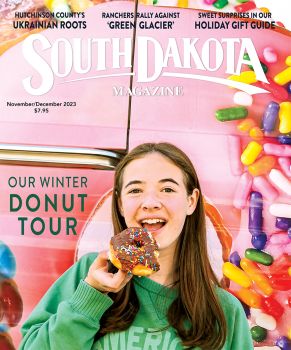 Subscriptions to South Dakota Magazine make great gifts!
Subscribe today — 1 year (6 issues) is just $29!

Our King of Rock & Roll
By Chuck Cecil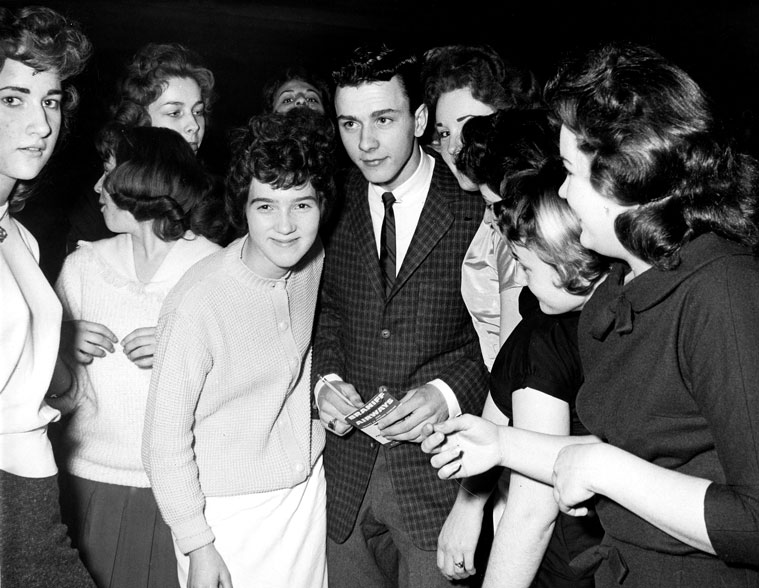 As a Sioux Falls Washington High School senior in 1959, Lee promoted his hit record "Rona Baby," at the Prom Ballroom in St. Paul, Minnesota. He was surrounded by fans seeking his autograph.
Editor's Note: The South Dakota Rock and Roll Hall of Fame will induct its newest class April 15-16 at the Ramkota Exhibit Hall in Sioux Falls. Nine bands will be inducted and will stage a concert. Myron Lee and the Caddies were among the groups honored in 2009. South Dakota Magazine featured Lee in its November/December 2004 issue. To order a copy or to subscribe, call (800) 456-5117.
Myron Wachendorf of Sioux Falls is not a household name, but mention his stage name, Myron Lee, and a generation of South Dakotans recognize the father of South Dakota rock and roll. The Caddies turned out crowds across South Dakota and the Midwest in the late 1950s and early 1960s. After a remarkable 34 years with The Caddies, Myron Lee still performs, though in a different way. Myron the DJ spins music at private parties, weddings and special events.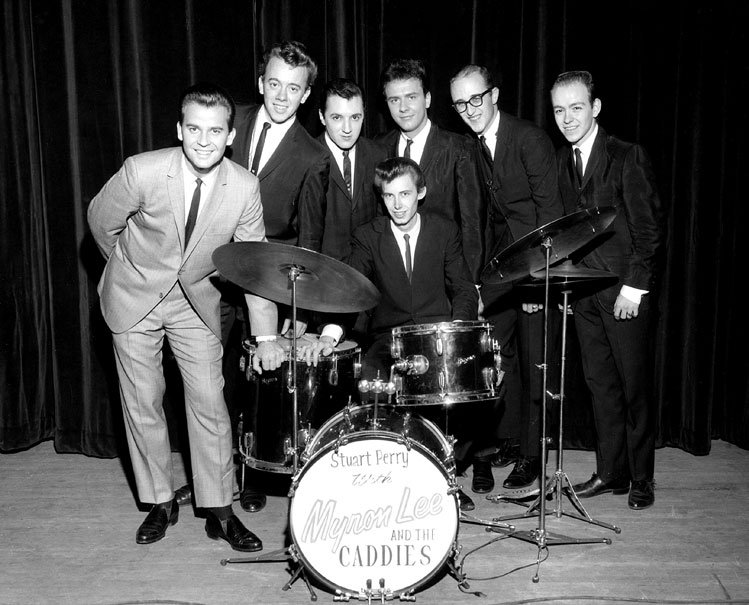 On tour with Dick Clark of American Bandstand in 1963, Myron Lee and the Caddies was selected for Clark's Caravan of Stars.
He doesn't miss being a vocalist, says the rhythm guitarist and band leader who gained national attention and appeared on two North American tours with Dick Clark of American Bandstand and with Buddy Knox, Bobby Vee, Conway Twitty, Roy Orbison, the Everly Brothers, Frankie Vallee and the Four Seasons.
The band is gone, but its fans have not forgotten. Young fans of 40 years ago enjoyed the music into their middle age years and beyond. Their sons and daughters and even grandchildren sought Lee out at dances late in his career and told him stories they'd heard about the band.
"Ruskin Park Ballroom is a great memory," said Karen Hoffman of rural Artesian, who attended dances at the famed dancehall near Forestburg in the 1960s with future husband Jim. "The first thing that comes to mind is Myron Lee and the Caddies. I can still hear 'Peter Rabbit' and 'Little Boy Blue,'" she said.
Terry Woster of Pierre, news reporter and columnist for the Sioux Falls Argus Leader, says Myron Lee was a constant in his life for more than 30 years. "He's a South Dakota legend and rock hero whose dances bring back everything that was best about those happy days."
Lee climbed aboard the rock and roll bandwagon when the driving new beat was in its infancy. For him it started with the 1955 movie "Blackboard Jungle" and its theme song "Rock Around the Clock" by Bill Haley and the Comets. "I'll never forget that afternoon at the Hollywood Theater in Sioux Falls," Myron said. That sound, and Sonny James singing "Young Love" at the Arkota Ballroom, started Myron on his storied career.
After the James concert, Myron decided to become a performer like his father. Bob Wachendorf 's band, Bob's Swingsters, played in the Parker and Marion area. His father died when Myron was eight, but during their brief time together he instilled in Myron a love of music and taught him the F and C chords on the piano. Sometimes he took Myron to dances in Sioux Falls, where the family had moved soon after Myron was born in Parker in 1941. "At the Melody Ballroom, he'd even let me play the drums for a few tunes," Myron remembers.
As a junior in high school, Myron organized a small combo, abandoned the piano he played by ear and taught himself to play the guitar. The name "Caddies" came from Myron's part-time golf course job at the Minnehaha Country Club. "It sounded like a wholesome, clean cut name," he said. The Caddies played their first gig at The Stardust Club in east Sioux Falls for $15 a night. Soon they were booked at the Sioux Falls Cabana Club.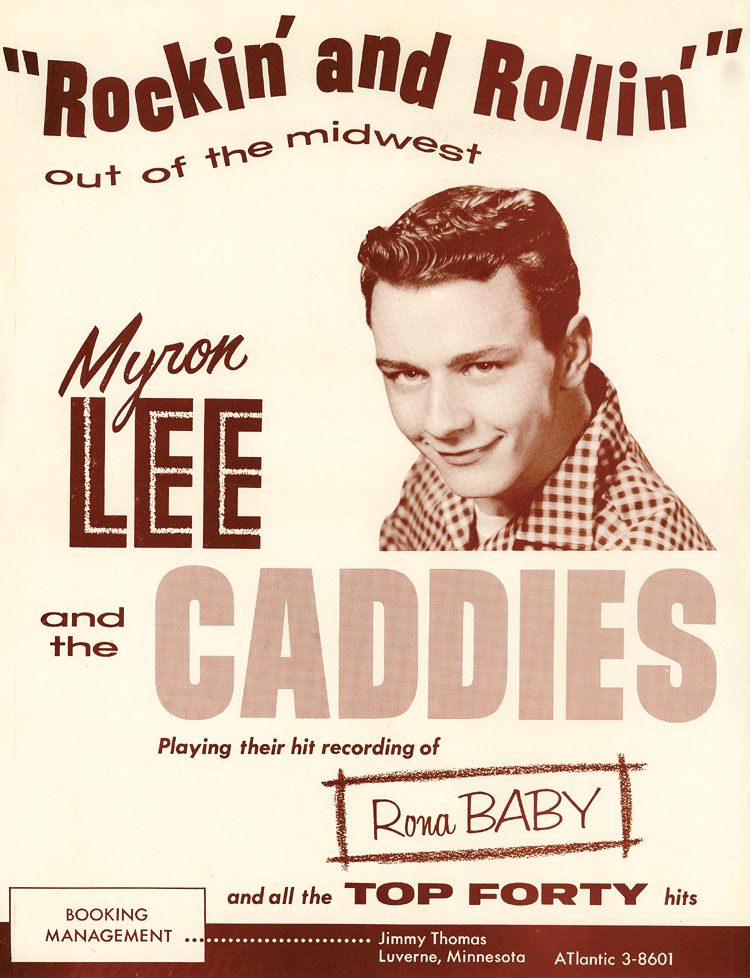 The Caddies' first out of town performance was in 1958 at the Groveland Park Ballroom of Tyndall, now a machine shed on a Bon Homme County farm.
Too young to be where liquor was sold, they needed a chaperone and a note from Myron's mother. Myron picked the songs people liked. "We listened to the Top Forty hits on KIHO radio and memorized the good ones," he said.
Their first out-of-town job was playing intermissions at a "big band" dance at Groveland Park Ballroom in Tyndall. The people loved the music, and booed when the regular accordion band returned to the stage, he said. "It was embarrassing, but we couldn't do anything about it."
The ballroom manager, George Beringer, took note of The Caddies' popularity and invited them back, and soon the band was in great demand. Myron hired a Sioux Falls radio DJ, Ki-Ho Helgie (Bob Helgeson) to manage the band.
From Ruskin Park to the Surf in Clear Lake, Iowa, the Paragon Ballroom in Kimball and a bank converted to a dance hall in Dimock, Myron Lee and the Caddies were hot. They played now-defunct ballrooms across the region, including 40 nights in the famed Holly Hock Ballroom in Hatfield, Minn. Johnson's Barn, near Arthur, N.D., was a working dairy barn, with the haymow converted to a dancehall. "The cows didn't bother us much," he remembers, "but the place had a certain aroma, and it was always a surprise to hear bellowing in the background."
Sioux Falls television personality Doug Lund was part of the early 1960s rock and roll scene. "When a lot of young guys, including me, were forming rock and roll bands, Myron Lee and the Caddies were already there and had set the bar of excellence awfully high," he said. "Everything about the group, from their music to their stage presence, was tuned to perfection."
Myron Lee not only had a popular band, but was a talented writer, with 13 records and three albums to his credit. He teamed with his future wife, Carole, to write the lyrics for "Rona Baby," which climbed to number 10 on regional charts. He promoted the song at the famed Prom Ballroom in St. Paul, Minn., appearing with WDGY disc jockey Bill Diehl. His early song "Homicide," cut on the Hep label in 1958, still has a following in England.
When Ki-Ho Helgie left, Myron and big band drummer Jimmy Thomas of Luverne, Minn., agreed to a five-year booking contract. "I was 17, so I couldn't sign," Lee said. "My mother signed for me. Jimmy said I could make as much as $150 a week. I thought I was a millionaire."
Thomas advised Myron to put his name on the billing to insure the band's continuity. Wachendorf was too long, and "people might think we were a polka band," Myron remembers. A fan of singer Brenda Lee, he adopted her last name.
School became more difficult; Myron often fell asleep in class. "Just let him sleep," the teacher once told other students. "He's making more money than I am."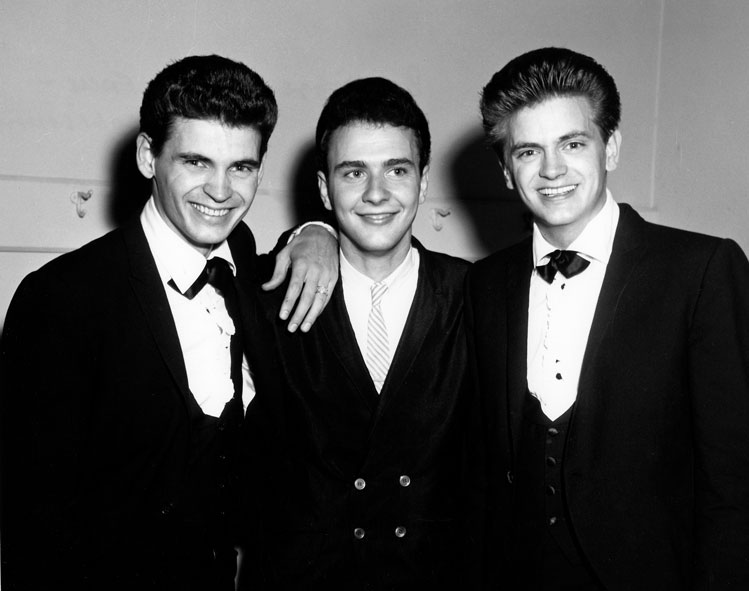 In Sioux Falls in 1962, Myron Lee and the Caddies appeared on the same billing with the Everly Brothers. Myron is in the middle, with Don (left) and Phil.
During gigs in North Dakota, Myron met Bobby Vee. They became close friends, and still maintain contact. Lee and the Caddies backed up Vee on tours of the east coast and throughout North America.
Another big break was when singer Buddy Knox asked the Caddies to back him up on the first American rock and roll coast-to-coast tour of Canada. "I saw my first Eskimo in Flin Flon," Myron remembers.
In 1963, on Vee's recommendation, Dick Clark hired Myron's band as the opening act and backup band for the singers on his Caravan of Stars. The Caddies memorized over 60 songs popularized by Jimmy Clanton, The Ronnettes and Brian Hyland, whose "Itsy Bitsy Teenie Weenie Yellow Polka Dot Bikini" was an international gold record. On November 22, 1963, Myron and Hyland watched President John F. Kennedy's motorcade pass just blocks from the Texas Schoolbook Depository. They heard the rifle shots that took the president's life. That tour ended in sadness, but Clark was so impressed with Myron and his band that he invited them back for a second Caravan of Stars tour in 1965.
When the Beatles performed on the Ed Sullivan show Feb. 9, 1964, the music scene began to change. Myron's band returned to South Dakota to play clubs, lounges and private parties. But now he had to find what he described as "real work" to support his wife and three children. He sold snowmobiles and worked in the KELO television studio and as a Sioux Falls radio talk show host. He continued to find an occasional evening job doing what he loved to do.
By the 1980s, the Caddies' brand of rock and roll had regained popularity. Lee's best year ever was 1989, he said. But music continued to change. Young people went to see roiling smoke, flashing strobe lights, gaudy make-up, grungy costumes and heavy metal. Lee had also had his fill of travel to venues where he'd performed 30 or 40 times. He began to notice the drudgery of setting up equipment, the difficulty of late night hours and the long, early morning drives home to Sioux Falls.
The Caddies last performed at a Vern Eide Christmas party in Sioux Falls in 1992. It was an emotional ending to a long and successful career. "I guess I just suffered from severe burn out," Lee said. "I've since been asked to return for one final dance, and offered good money to do it." But he's seen other entertainers try to make a comeback. "I'd rather have people remember us as we once were," he said.