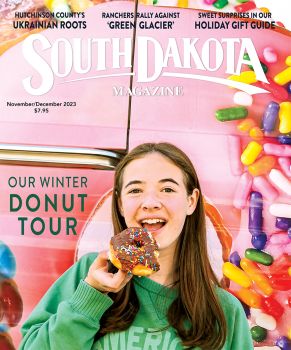 Subscriptions to South Dakota Magazine make great gifts!
Subscribe today — 1 year (6 issues) is just $29!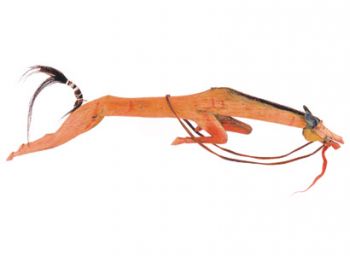 Leaping Around the World
Oct 18, 2013
By Laura Andrews

The South Dakota Cultural Heritage Center is saying goodbye to one of its most beloved artifacts this weekend. The Sioux Horse Effigy dance stick, a three-foot-long carved wood sculpture, is going on tour with the traveling exhibit "The Plains Indians: Artists of Earth and Sky," appearing at museums in Paris, New York and Kansas City before returning home to Pierre in mid-2015.
"I am really excited about this opportunity for us to share this magnificent piece with a much larger audience," says Dan Brosz, Curator of Collections at the Cultural Heritage Center. "It is truly a national treasure, and I do not use that term loosely."
The dance stick was created as a tribute to a fallen friend and as a storytelling aid. "Men carved horse sticks to both honor their horses killed in battle and for use in telling of their own actions within the fight. In the retelling of the battle stories, the warrior would handle the horse stick much like a club, or often straddle it as if riding the horse. Only warriors that lost a horse in battle were allowed to use the horse sticks in this manner," says Brosz.
Ralph T. Coe, former director of the Nelson-Atkins Art Museum in Kansas City, once called the Sioux Horse Effigy one of the finest pieces of horse sculpture in the world. It's unusual because it shows all four of the horse's limbs — most horse sticks included only the rear legs. Only one other full-horse effigy exists, and that's in a private collection. The artist who made Pierre's effigy, perhaps a Hunkpapa Lakota man named No Two Horns, depicted his steed with blood oozing from bullet wounds as he made a final leap from life into death. "I really hope the people who see it in Paris, Kansas City and New York will appreciate the brilliance of the Horse Effigy's creator and gain a better understanding about the Lakota people, if only this little bit of their robust culture," says Brosz.
Stop in at the Cultural Heritage Center this Saturday to say goodbye to the Sioux Horse Effigy. The send-off party goes from 1-4 pm, with presentations at 2 pm, plus cake and refreshments. The Cultural Heritage Center is located at 900 Governors Drive in Pierre.