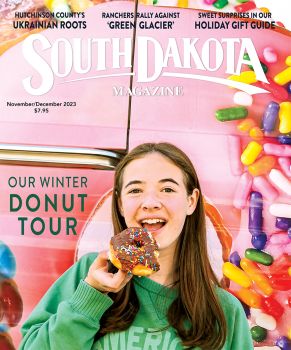 Subscriptions to South Dakota Magazine make great gifts!
Subscribe today — 1 year (6 issues) is just $29!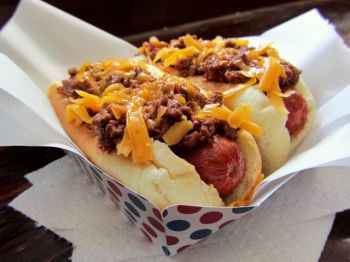 Hot Dogs
Feb 21, 2013
By Fran Hill
My life now revolves around hot dogs. No, I didn't invest in a little food cart to sell dirty water wieners on the street corner. Hubs, Ace, and I opened our home to two more dachshunds. We are now a three hot dog home.
After we lost our female doxie to heart disease in December, our house was very quiet. Ace, our remaining dachshund, stopped eating, reverted to some poor bathroom habits, and clung to me when I was home. Sissy's lively personality had been our spark. We were lonely and grieving.

In January, I decided that it might help Ace to find another companion and contacted an area rescue organization, Dakota Dachshund Rescue. I perused the (unfortunately) long list of pups available for adoption and sent a rambling email that described Ace's more stoic personality and the habits of our lifestyle. The reply came quickly with a request that I complete the adoption application and asking if my hubs and I could attend the monthly Meet and Greet to get to know some of the adoptable dachshunds.

Dakota Dachshund Rescue is a private, all volunteer, non-profit organization. The very small group of volunteers really love wiener dogs. They work together to rescue abandoned, abused and unwanted dachshunds, including those that need rehoming because their owners just can't keep them anymore.
Without a facility to house the dogs, all dachshunds with Dakota Dachshund Rescue are in foster homes. My hat goes off to those volunteers. They open their homes and hearts to the pups with the hope that they will one day have to let them go, even if it aches to do so. Once a month, the organization hosts a Meet and Greet at an area pet store, Your Pet Stop in Sioux Falls, to ease potential adoptions. With our references checked and adoption application approved, Hubs and I set off to meet some loveable doxies. Of course, Ace also joined us. There would be no four-legged family additions that were not approved by our long and lean king of the household.
Tabby and Jenn seemed to know we were the ones before we were even in the door. Jenn curled up in Hubs' arms and fell asleep, and Tabby batted her big, brown eyes and barked at me every time I set her down and tried to walked away to look at another dog. Ace, meanwhile, took it all in stride and lounged at Hubs' feet inside a pen at the back of the store. The mother and daughter pair of doxies had never been apart, and it was required that they be adopted together. We were going to be a three dog family.

A few personal issues put off the official adoption for a few weeks, and during that time, I drove the DDR volunteers crazy with my never ending emails. What were the girls' sleeping habits? What kind of food did they eat? Were they OK with stairs? The girls already had me wrapped around their little paws as I purchased new kennels, harnesses and food dishes to be ready for their arrival. Everyone was anxious for the girls to come home.
The day I picked up the girls, Jenn jumped into my lap and kissed me incessantly. Their foster mother and I hugged and brushed away a few tears as I prepared to leave. In the car during the drive home, Tabby nervously let me know that she needed a pit stop and after a brisk walk, curled up in the carrier and went to sleep with her tiny daughter. I cried again.
Arriving home, I had arranged for Ace and Hubs to meet us in the backyard. When I opened the gate and let the girls run in, Ace danced around them with joy. All three pups explored the backyard and sniffed for squirrels together. Just moments later inside the house, all found their spots to settle in and cuddle with Hubs in his chair and watch a little football.
Tabby and Jenn have now been with us just over two weeks, and there has never been any doubt that the girls are home. It is as if they have always been here. Their smart, inquisitive minds learned the ins and outs of the puppy door immediately. Tabby isn't thrilled with Ace's love of playing ball, but has learned that boys will always be boys. Jenn took a few days to really begin eating and even now the little cuddle bug would prefer to be held instead of have a treat, but has no problem letting us know that dinner smells good and she would like a bite. Ace has shared his home, his bed, his toys, his food and his heart with both girls. Every morning begins with a sweet round of mutual kisses and butt sniffs among the pups. This is their forever home.
Our furry hot dogs make our home happy, and Deviled Chili Cheese Dogs make our tummies happy. While not a menu staple for the health conscious, chili cheese dogs are a deliciously messy indulgence. Start with good quality wieners to really make this treat worthwhile. The heat of the saucy, seasoned ground beef can be adjusted from mild to wow with your choice of chile powders. An extra step of tossing the scored hot dogs with hot sauce adds an unexpected burst of flavor, and don't skimp on the cheese. Melty, gooeyness is essential for a superb chili dog.
---

Deviled Chili Cheese Dogs
(adapted from Rachael Ray)
1 pound ground beef
kosher salt
freshly ground black pepper
1-2 tablespoons Worcestershire sauce
1 small onion, chopped
2 cloves garlic, minced
1-2 tablespoon chili powder (I used Ancho Chile Powder)
16 ounces tomato sauce
8 all-beef hot dogs
1 tablespoon butter
1 tablespoon hot sauce (I chose Frank's Red Hot)
8 hot dog buns, toasted
2 cups shredded cheddar cheese
Heat skillet to medium heat and add the ground beef. Season with salt and pepper. Brown and crumble the beef. Add Worcestershire, onion, garlic and chili powder. Cook together a few minutes to soften the onion and garlic. Add tomato sauce and bring to a simmer. Reduce heat and simmer until sauce is thickened. Meanwhile, boil the hot dogs until heated through. Drain and return pan to the heat. Add the butter and hot sauce and stir to combine as butter melts. Score the hot dog casings and return to the pan with the hot sauce. Brown the dogs and crisp the skin in the sauce mixture. Heat broiler. Arrange hot dogs in buns and top with chili and grated cheese. Place dogs under broiler and melt cheese. Serves 4.
Fran Hill has been blogging about food at On My Plate since October of 2006. She, her husband and their three dogs ranch near Colome.