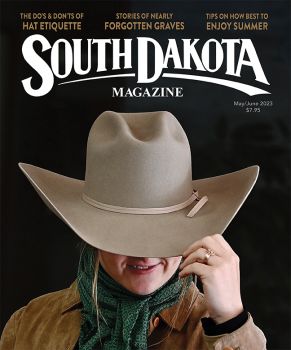 Subscriptions to South Dakota Magazine make great gifts!
Subscribe today — 1 year (6 issues) is just $29!

Hunter: Eight Years Later
Jun 20, 2014
Eight years ago, we wrote several times on our magazine Web site about a little fellow from Alpena who was in the fight of his life. Hunter Mees was just eight years old, and the boy was fighting off Hodgkin's Lymphoma.
It didn't seem fair. He was as cute as an 8-year-old could be with a big smile and more grit than a kid should ever have to show.
But some good came out of Hunter's lymphoma. We don't know the whole story because we mostly observed it from a hundred miles away, but first we watched as the Wenzels at the Wessington Springs True Dakotan spread the news about the boy's plight.
Then the story hit the Internet, thanks in part to our then-new Web site which was little more than a blog. Jerry Hinkle's Holabird Advocate, a community blog, spread the news. So did our old friend Grant Peterson, who had a popular radio show in Brookings.
The story of Hunter caught fire. Teachers, high school students, friends, relatives and strangers began to shave their heads to show solidarity with Hunter. Even the Dakota Wesleyan baseball team went bald.
A single fundraiser, promoted by all the above entities, raised $20,000 on a Friday night and the money kept coming in to help Hunter's family with the expenses that surround such a fight. Everyone wanted to help Hunter, especially those who'd seen his smile.
Hinkle, who still writes his blog, says Hunter changed his life. It pushed him to pursue social media as a means of building community, and that led him to study at DWU. "Whenever I'm faced with a difficult or seemingly impossible job, I think of the 8-year-old boy who kicked cancer in the teeth and I keep plugging away."
Yes, Hunter's cancer went in remission. He kicked it away in 2007.
We got word in May that Hunter just celebrated his 16th birthday. He's healthy and an active student at Woonsocket High School. We thought our longtime readers would want to know.