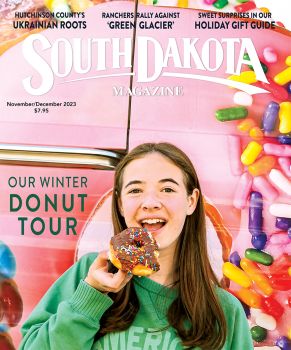 Subscriptions to South Dakota Magazine make great gifts!
Subscribe today — 1 year (6 issues) is just $29!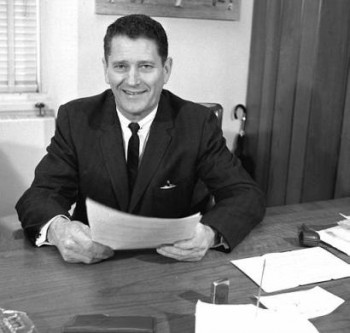 Joe Foss Remembered
For a 9-year-old newspaper boy in Pierre, balancing 50 to 100 papers on a bike was a challenge. One day in 1956 I hit a rut and crashed into the pavement. Newspapers scattered across the highway. With a badly skinned knee and embarrassed, I saw a black limousine coming straight at me. I scrambled to get out of harm's way as the car screeched to a halt.
A man in a suit stepped out of the limousine and began picking up newspapers. I didn't know he had been a fighter pilot in World War II or that he scored 26 personal aerial victories against the Japanese. I didn't know he had been shot down over the Pacific or had received the Bronze Star, the Silver Star, the Purple Heart and the Congressional Medal of Honor.
I didn't know that in 1941, he was the Officer of the Day, in charge of base security at Pensacola, when the Japanese attacked Pearl Harbor. He rode around its perimeter defending against Japanese invaders on the only transportation available…a bicycle.
Was this on his mind as he saw me take a spill in the middle of the airport highway? When he said, "Let me help pick up your papers," I was in awe. Without fanfare, Joe Foss, the governor with a state to manage and a plane to catch, took a few minutes to help a kid with a skinned knee.
Editor's Note: This story appeared in the July/August 2008 issue of South Dakota Magazine. To order a copy or to subscribe, call 800-456-5117. The author, Dave Beckwith, was a retired California pastor who grew up in Pierre. His story later appeared in the book Chicken Soup for the Republican's Soul.