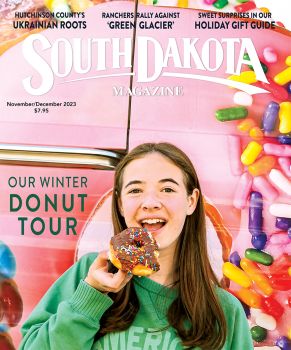 Subscriptions to South Dakota Magazine make great gifts!
Subscribe today — 1 year (6 issues) is just $29!

Resolved to be Simple
Jan 5, 2017
By Fran Hill
It is a new year. Have you made any resolutions? Set any goals? Have you broken any resolutions?
So far, my 2017 has gone reasonably well. I haven't quite shaken that overwhelmed feeling that has haunted me for the past year, but I do feel I am slowly gaining a more solid footing. But I didn't make any grand resolutions. With my recent turmoil, it felt as if I might be setting myself up for failure. At this point, simple is best.
One easy goal is to make better use of my pantry and freezer staples. We often resort to takeout when I am busy, even when my fridge is overflowing. I always feel like I have "ingredients" rather than "food."
But food doesn't have to be difficult. Real meals can be simple enough for even a hectic day.
Spicy Pork and Rice Soup comes together from pork and stock in the freezer, rice and spices from the pantry, and the box of fresh spinach and bag of carrots that are virtuously tossed into my weekly shopping cart. The savory pork and rice are filling and satisfying in this brothy soup, while wilted spinach adds a much-needed vitamin boost for gray winter days.
This soup hits all my criteria: simple, warming, delicious and utilizing what I have on hand. That's a 2017 goal met.
---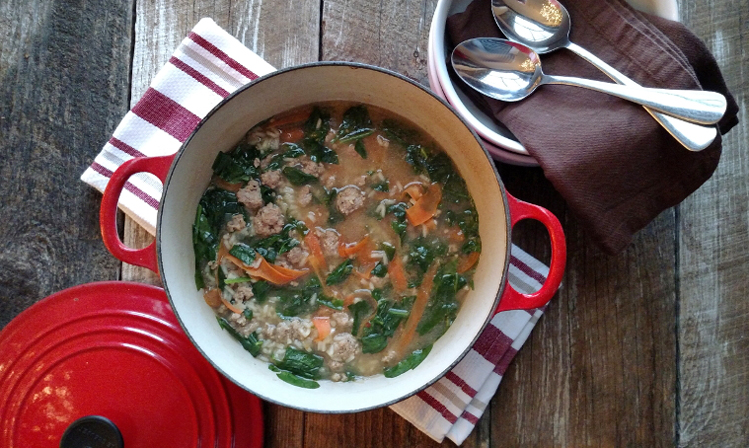 Spicy Pork and Rice Soup comes together quickly with just a few items from your freezer and pantry.
Spicy Pork and Rice Soup
(adapted from Bon Appetit)
1/2 pound ground pork
2 cloves garlic, finely chopped
2 1/2 teaspoons finely grated ginger, divided
3/4 teaspoon crushed red pepper flakes, plus another sprinkle
1/2 teaspoon cumin seeds, coarsely chopped
1 tablespoon olive oil
1/4 cup yellow onion, diced
5 cups chicken stock
1/3 cup long grain rice
3-4 cups fresh spinach, chopped
1 medium carrot, shaved
Kosher salt
freshly ground black pepper
Combine ground pork with garlic, 2 teaspoons grated ginger, 3/4 teaspoons crushed red pepper flakes, cumin seeds.
Heat olive oil in a heavy pot over medium heat. Add diced onion and sauté until tender. Add the pork mixture, stirring and breaking up into medium chunks, until browned and cooked through.
Add broth and bring to a boil; reduce heat and stir in rice, 1/2 teaspoon of grated ginger and additional sprinkle of red pepper flakes. Simmer 10-15 minutes until rice is tender.
Add spinach and shaved carrot; stir to wilt. Season with salt and pepper to taste. (Serves 4)
Fran Hill has been blogging about food at On My Plate since October of 2006. She, her husband and their three dogs ranch near Colome.