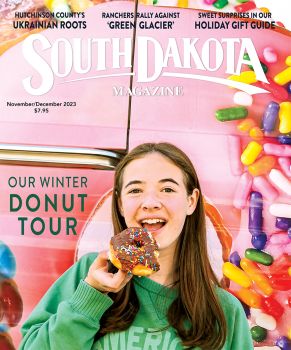 Subscriptions to South Dakota Magazine make great gifts!
Subscribe today — 1 year (6 issues) is just $29!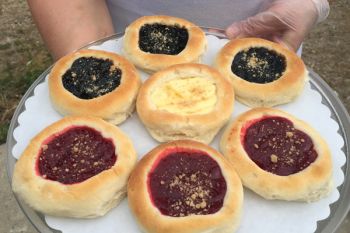 What's Your Favorite?
Jan 27, 2015
Until I wrote "Quest for the Czech Kolache" (Jan/Feb '15), I'd always thought that the best Czech pastries were filled with poppy seed sludge. Our office bookkeeper, Ruth Steil, swears that prune kolaches are the way to go. Others crave apricot or cherry.
But Czech South Dakotans' favorite dessert is much more versatile than I realized. Kelsey Thomas, part-owner and kolache maker at Czeckers Sports Bar & Grill of Yankton, told me that anything that'd make a good pie would make a good filling. She's tried making chocolate kolaches, peanut butter and jelly kolaches — and the fresh-from-the-oven pumpkin pie kolache she let me sample was out of this world.
If you'd like to branch out from the ordinary, here are three filling ideas from the demonstrators at Tabor Czech Days. Maybe tropical pineapple-coconut kolaches are just the thing to combat cold, bleak winter weather. Wake up your taste buds for spring with a tart rhubarb kolache. And Kelsey Thomas describes cottage cheese kolaches as "strangely good." "Just don't think of it as cottage cheese," she says.
---
Tropical Filling
1 cup half and half
1/4 cup coconut
1 1/2 tablespoons pineapple Jell-O
1 cup crushed pineapple
1/2 cup pineapple juice
1/4 teaspoon salt
1 tablespoon butter or margarine, melted
1 cup sugar
3 tablespoons cornstarch
2 teaspoons coconut extract
Mix sugar and cornstarch together and set aside. Combine half and half, coconut, pineapple Jell-O, crushed pineapple, juice, salt and butter. Bring to a boil in double boiler or microwave until heated through. Add cornstarch and sugar mixture and cook until thickened. Stir in coconut extract and cool.
---
Rhubarb Filling
3 cups rhubarb, cut up
1 teaspoon vanilla
2 tablespoons Jell-O
1 1/2 cups sugar
3 tablespoons cornstarch
Mix sugar and cornstarch together. Add other ingredients and cook until thick. Add red food coloring if desired.
---
Cottage Cheese Filling
24 oz. low-fat cottage cheese
1 egg yolk
3/4 cup sugar
Pinch of salt
1 teaspoon vanilla
Few drops of lemon extract
Sprinkle of cinnamon or nutmeg
2 tablespoons instant tapioca
Mix together and refrigerate overnight.