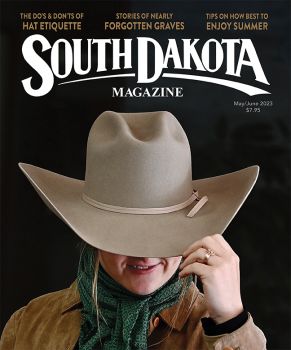 Subscriptions to South Dakota Magazine make great gifts!
Subscribe today — 1 year (6 issues) is just $29!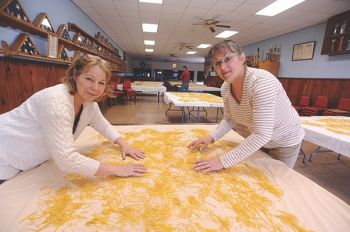 Noodles the Czech Way
By Laura Johnson Andrews
Beseda Hall was without kolaches. No dancers could be seen in Sokol Park, and downtown Tabor was devoid of polka music. Lidice Street seemed strangely empty and quiet when we rolled into town. "Are we in the right place?" we wondered.
If you've only been to Tabor during Czech Days, you might not recognize the little Bon Homme County town during the 362 days a year when quiet reigns. The silence we found on our Monday morning visit stood in sharp contrast to the bustle inside American Legion Post 183, where a chaotic scene was unfolding.
Members of the Czech Heritage Preservation Society and volunteers were in the Legion kitchen getting ready to start mixing on their annual noodle-making day. "It's a little disorganized right now. It'll get better as time goes on," Ann Beran, one of Czech Days' official kolache-making demonstrators, told us.
A pattern began to emerge from the clatter of mixers and chatter of 20-some people crowding the kitchen. One woman cracked eggs into ice cream pails — each bucket containing enough for a batch of noodles. Another measured flour. At a third station, eggs, oil and salt were being mixed. Next, a heavy-duty mixer brought the beaten eggs and flour together. Another team kneaded more flour into each batch of noodles, setting their bowls in the Legion's double sink, a more comfortable height. Others sliced and rolled the dough into smaller portions, which were then fed through the pasta attachments on KitchenAids. A pair of young brothers carried the flattened dough out to a room full of sheet-covered tables, where the yellow ovals would dry slightly before returning to the kitchen to be cut into two sizes of noodles: thick and spaghetti-sizes. "I told that little boy we're going to fill all these tables. He said, 'Are you sure?'" Beran said.
Beran was sure. The society makes 20 to 22 batches of noodles every year for Czech Days, selling the noodles in Vancura Park and the Gift and Information Center, located on Lidice Street in the town's community center. The noodle sales generate funds to help preserve the historic buildings and artifacts in Vancura Park. The park's mini pioneer village contains an 1873 log schoolhouse, St. John the Baptist Pioneer Chapel, the original Tabor jail, a log house and other buildings that highlight what life was like in the community's early days.
While Tabor residents have long had a passion for their roots, in recent years, Czech Heritage Preservation Society members have become more aware of the subtle nuances of saving history. "We are finding that some of the things we thought we were preserving aren't being preserved enough," said Susan Schroeder, a society member. Thanks to grants and the sale of personalized bricks that create a heritage walk through the Vancura Park village, the society has been able to oil the two log buildings and reroof two other structures. Volunteers are in the process of organizing the museum's collections and digitizing photographs. The ultimate goal is to open the Czech village to the public three days a week.
Volunteers are also essential to making enough noodles to save a village, especially during the drying phase, when dough is ferried back and forth to the kitchen before cutting. "We need lots of runners because some of us are old and we run with a limp," laughs Adeline Merkwan. She grew up speaking Czech, and once taught the language in the local school. She's been one of the Czech Preservation Heritage Society's stalwarts since noodle-making began about 20 years ago. She recommends using the noodles in soup. "Chicken noodle, beef noodle, anything you put a noodle in. It's a farm thing."
While noodles might not be the first thought that comes to mind when you think of Czech cuisine, many of the volunteers were raised in homes where their moms rolled the noodles out in a big circle and then hung them over a chair to dry.
Even with modern technology, it's still a labor-intensive process. The Legion Hall group was friendly and sociable, but at-home noodle makers sometimes consider the project a good marriage test. Ann Beran said, "If a marriage survives making noodles, sorting hogs and doing plumbing, you've got it made."
---
Czech Days Noodles
12 eggs
3/4 cup oil
4 teaspoons salt
9 cups flour
With a heavy-duty mixer, combine eggs, oil and salt until the eggs are thoroughly mixed. Switch to a dough hook attachment and slowly spoon in about 4 cups of flour, stopping when you have a pliable, kneadable dough. Knead in more flour by hand until you have a stiff, round ball of dough that is not sticky. You might not use all the flour. Cut the dough into egg-sized pieces and roll them out into a 2 x 5 inch oval, stopping when it's thin and pliable enough to go through your pasta machine, about 1/8 inch thick.
Let the flattened dough dry, turning once, until the dough feels slightly leatherlike but is still flexible enough to be cut. Do not let the dough become too dry or it will become brittle. Using a knife or a pasta machine, cut the dough into strips. Lay noodles over a tablecloth for a day or two, tossing gently about two times a day, until they are completely dry.
Editor's Note: This story is revised from the July/August 2015 issue of South Dakota Magazine. To order a copy or to subscribe, call (800) 456-5117.