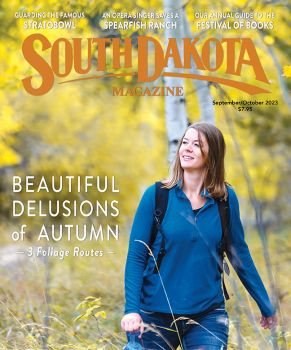 Subscriptions to South Dakota Magazine make great gifts!
Subscribe today — 1 year (6 issues) is just $29!

Kolache Making
By Genevieve Arntz
All my life I have enjoyed kolaches. My mother, an immigrant from Moravia (then Austria-Hungary) made them every Christmas and Easter. As she grew older, she would tell me what ingredients to use and how much and I became adept at making them.
Alas, when she died she took the recipe with her. So I went to my cousin, Mary Palank, who was then living in Aberdeen. Mary was famous for her kolaches. She had learned to make them from her mother, my aunt. "Come," she said. "We'll make some in the morning."
When I came into the kitchen she had everything ready. "See this little blue bowl? I fill it up to here with flour for the sponge."
I objected. "But Mary, when I get back home I won't have your little blue bowl."
So she measured out the ingredients in her time-tried way and I reduced the measurements to standard cups, teaspoons and tablespoons. In the course of the morning I covered two sheets of paper with notes and in the afternoon we visited over oven-warm kolaches and coffee.
When I got home I reduced the notes to one succinct page, which is my standard recipe. I've shared the recipe with many friends who have followed it successfully, too.
---
Kolaches
Recipe from Mary Palank and Genevieve Arntz
Dough
2 packages active dry yeast
1 cup warm water
2 cups warm milk, divided
7-8 cups flour, divided
3/4 cup sugar
3 eggs (room temperature)
2 tablespoons salt
1 cup vegetable oil or shortening
Using a large mixing bowl, dissolve 2 packages of yeast in 1 cup warm water. Add 1 cup warm milk, 2 cups flour, and stir until smooth. Let stand in a warm place until it triples in size.
To this mixture, add 3/4 cup sugar, 3 eggs, salt, 1 cup warm milk and vegetable oil or shortening. Mix well, then gradually add 6-7 cups of flour, until a very soft dough is formed. On a board, knead in flour until dough does not stick to hands. Grease top with vegetable oil and let rise. Punch down and let rise again.
Cottage Cheese Filling
2 pounds low fat, small curd cottage cheese, wrapped in a cloth and squeezed to remove whey, or baker's cheese
2 egg yolks
1 1/2 cups sugar
2 cups raisins
1 tablespoon butter or margarine
Mix cottage cheese or baker's cheese with egg yolks, sugar, butter and raisins.
Note: plum or other thick jams also make good fillings.
Streusel
1 cup flour
1 stick margarine
3/4 cup sugar
2 teaspoons cinnamon
Mix all ingredients together.
To form kolaches: Grease hands. Spoon out about 1/4 cup to 1/3 cup of dough, or divide dough into 30-32 portions. Using your hands, roll each piece of dough into a small ball, then flatten it. Place about 1 tablespoon of filling in the center of the dough; draw the sides of the dough up over the filling, overlapping. Place on greased baking tin and pat flat. Oil top with salad oil. Place about 1 teaspoon of streusel topping on each oiled bun.
Let kolaches rise until doubled in bulk. Preheat oven to 400 degrees and bake for about 20 minutes. Oil the sides of the bun and the topping with salad oil and cool. Store in cool place.
Editor's Note: This story is revised from the March/April 1993 issue of South Dakota Magazine. To order a copy or to subscribe, call (800) 456-5117.