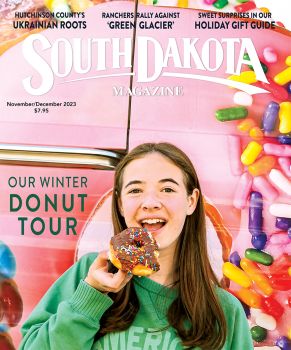 Subscriptions to South Dakota Magazine make great gifts!
Subscribe today — 1 year (6 issues) is just $29!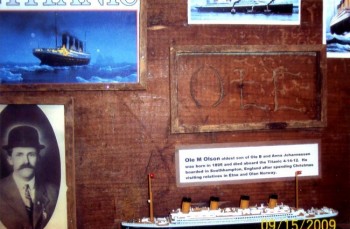 Langford's Titanic Victim
Apr 15, 2015
Today is the day when, 103 years ago, the RMS Titanic struck an iceberg and ended up at the bottom of the Atlantic Ocean. The massive ocean liner was designed to be unsinkable, but her maiden voyage from Southampton, England to New York City in April 1912 turned out to be her only voyage.
Few reminders of the tragedy exist in South Dakota, but there is one on a Day County farm. Sometime between 1885 and 1912, Ole Olson scratched his name into the wall of his family's granary southeast of Langford. No one knew it was there until 2003, when Olson's nephew Harlan and his wife Karen rediscovered it while converting the granary into a craft house.
Ole was among more than 1,500 people who died when Titanic sunk. Ole's parents homesteaded in Day County in 1883. He grew up there and later moved to Canada to start his own farm. He spent the holidays visiting family in Norway, and was returning to Canada aboard the Titanic to begin spring planting.
Ole's mother refused to talk about the accident. She firmly believed her son had survived and would simply show up one day at their farm. But passengers like Ole stood little chance of making it out alive. Women and children were given priority as the lifeboats were being filled, resulting in a 70 percent survival rate. However, only 20 percent of the 1,670 men aboard ship survived. Numbers were lowest among those traveling second (8 percent) and third class (16 percent). Oddly, 33 percent of men traveling first class were rescued. Many, including J. Bruce Ismay, the White Star Line's chairman, endured social ostracism for fleeing the foundering ship with little or no regard for the 2,200 passengers and crew. Ismay is the subject of one of those new books.
Any family would cherish uncovering such a piece of family history, but it's even more important to the Olsons, given Ole's connection to such a famous disaster. The Olsons have created a small exhibit in Ole's honor. They have framed the portion of the wall around Ole's signature and added photos and information about the Titanic.