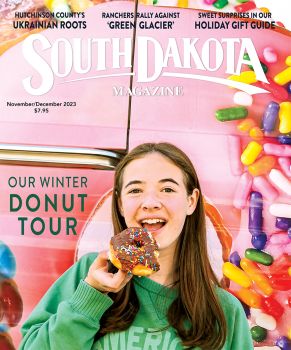 Subscriptions to South Dakota Magazine make great gifts!
Subscribe today — 1 year (6 issues) is just $29!

Verna Knapp's Recipe Roundup
By Ruth Steil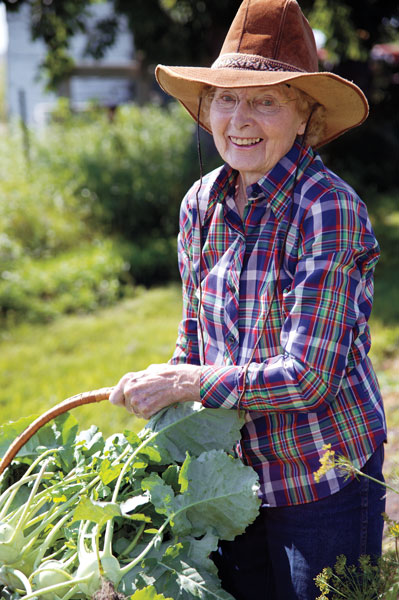 Verna Knapp's cookbook mixes family quotes and stories with prize-winning recipes. Photo by Dani Steele.
Verna Knapp tries one new recipe every week, which explains why she calls her kitchen a "laboratory for experimentation." She doesn't always create the dishes from scratch, but "when I try a recipe I change the ingredients to see if I can improve it," she says. Her cookbook, My Recipe Roundup at the Knapp Ranch, contains a wide variety of foods. They include an uncomplicated "Broiled Fish," a curiously different "Sauerkraut Apple Cake" and an exotic "Essence of Rose Ice Cream." Small ribbons placed beside a title designate prize winning recipes. There are 26 ribbons in the "Bread Basket" section alone. Along with the recipes, Knapp added family and regional quotes and stories.
Knapp has always been an avid recipe collector, but the suggestion to write a cookbook didn't come until the summer of 2003 when her youngest daughter vacationed at the Knapps' Waubay ranch and brought a computer. She said, "Here, Mom, this is for you. Now you can write your cookbook."
"I did recall saying to her and our other daughter that I planned to copy my favorite recipes for them someday," Knapp says, "but I had no plans to learn to use a computer at age 80. My daughter said, 'Mom, you can do it.' Then she had to leave, but she showed me how to dial up and shut down." Knapp's progress was "slow and painful," but through the winter of 2004-05 she organized and copied recipes using the computer. The following winter she completed the cookbook and sent it to a publisher.
The prize-winning ribbons in the cookbook might never have happened if it weren't for chicken pox. In the fall of 1957, Verna's husband became ill. They had three children at the time, including a three-month-old baby. "I was milking and running the combine to harvest oats," she says. "So I hired two teenage girls from a little town west of here. They took turns staying with us and caring for the children." One of the girls came down with chicken pox and her mother didn't want her to come home because the father was quite elderly and ill with congestive heart failure. It was a big disappointment for the young girl; she'd been working hard on a 4-H project for the Day County Fair.
"We didn't have a phone so I told her to write her mother and tell her that we would get her to the fair," Knapp says. "She wrote back, 'That's fine if Mrs. Knapp exhibits, but if she doesn't exhibit we can't expect that.'" Knapp had never intended to use her cooking skills to enter competitions — besides she was too busy with ranch work. But to console the young girl, Knapp said she would enter something. "I whipped up some muffins to take. The results were great — the girls took top ribbons and I took top ribbon, too," she says. "That started me in competition. It was fun and a challenge, and I love a challenge."

Knapp Ranch is 27 miles from Webster, 20 miles from Sisseton and three hours from Huron. Getting to a competition wasn't easy, but the distance wasn't the only obstacle for her. "My exhibiting was by chance. My main job was here at the ranch; if we weren't haying we were combining, if we weren't combining we were bringing hay home," she says.
"Many times if I thought we had time to go, I would start after chores and bake until 1 or 2 o'clock in the morning. That was fun." Knapp is a self-proclaimed bread-baker. "I never run out of bread," she says. Maybe that's why it was her biggest winner. She won a year's supply of Red Star yeast, a year's supply of Robin Hood flour and three photographs to be taken by a photographer of her choice when her rye bread took top honors at the State Fair. "Oh my, I appreciated the prizes so," she says. "It was just great!"
Knapp hasn't exhibited in many years, but she maintains an active lifestyle on the ranch. "This is my 64th garden on the same spot of ground," she says. She raises a variety of vegetables including two kinds of potatoes, two kinds of squash, a variety of salad greens, beets, carrots, and tomatoes. "I'm really retired, but I don't feel that way," she says. "I've started selling produce at a farmer's market." Knapp also has several flowerbeds, including one that has roots in the long-gone claim shanty built in 1898 by her father-in-law and his brothers. The shanty's stone foundation forms a 24 x 24 foot "sunken garden" that Knapp filled and surrounded with flowers.
To order Recipe Roundup at the Knapp Ranch, contact Verna Knapp at (605) 947-4309, or write 13168 450th Ave., Waubay, S.D., 57273-7500.
---
Vegetable Harvest Dish
Verna Knapp's Vegetable Harvest Dish takes advantage of a bountiful garden.
1 med. unpeeled eggplant, cubed
1 med. unpeeled zucchini, diced
1 cup chopped onion

1 green pepper, seeded, diced

3 cloves garlic, minced
1⁄4 cup olive oil

2 large fresh tomatoes, peeled, cored, chopped

1 tbsp fresh basil, chopped
2 tbsps fresh sage, chopped, or 2 tsps rubbed sage
2 tsps dried oregano, crumbled

1 tsp cinnamon

1⁄2 tsp nutmeg

1⁄2 tsp allspice

1⁄4 tsp cayenne pepper (optional)

1 cup cottage cheese
1⁄2 cup light cream
Salt and pepper
After cubing eggplant soak pieces in salted ice water. Prepare zucchini, onions, pepper and garlic; saute all vegetables in oil for 10 minutes. Add tomatoes and spices, cook a few minutes longer. Adjust seasoning with salt and pepper. Spoon mixture into 2 quart baking dish sprayed with oil. Puree cottage cheese with cream. Spread over top of dish. Bake at 325 degrees for 1⁄2 hour or until bubbly. Serves 4.
Editor's Note: This story is revised from the September/October 2009 issue of South Dakota Magazine. To order a copy or to subscribe, call (800) 456-5117.