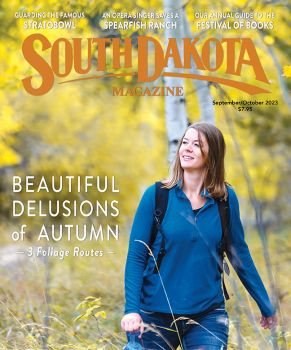 Subscriptions to South Dakota Magazine make great gifts!
Subscribe today — 1 year (6 issues) is just $29!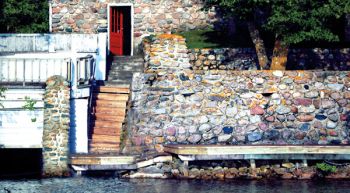 Pickerel Lake's Stone Walls
Pickerel Lake is bordered by some of the West's most magnificent displays of stone craftsmanship. Scattered around the lake are many unique and charming stone walls constructed throughout the last 80 years.
The ages and styles of the stonework vary greatly. There are stacked rock walls and mortared walls. Some were built with split stone and others with natural. Some soak up the blazing summer sun, while others are so heavy with moss and lichens that very little stone is visible. There are simple walls and multi-tiered structures with flower gardens and staircases.
Pickerel Lake lies in Kosciusko Township of Day County, a very rural place with far more than its rightful share of skilled stonemasons. Gust Gruba, Gus "Happy Jack" Schultz and brothers Tony and Alfred Miotke were trained by working alongside their fathers, who descended from immigrant families with European roots.
Jonas and James Keeble came to the profession through another route. Jonas was a Sisseton Sioux born at Pickerel Lake in a tipi in 1888. His parents sent him to the Genoa Indian Industrial School in Nebraska, a vocational training school for Indian children. Jonas was interested in bricklaying, and when he returned to Pickerel Lake he did stone work around the area and soon trained his brother, Jim, to work with him as his assistant.
When he wasn't doing masonry, Alfred Miotke ran a taxi service with his horse team and did various odd jobs for Harvey Jewett I, who decided to build a lake home in 1929. The house provided quite a boost to the local economy during the Great Depression. Jewett asked for a large stone fireplace, numerous retaining walls, a stone-lined driveway and stone flower beds (while the lakeshore retaining wall has been replaced, some of the original stonework on the property is still intact).
On larger projects like the Jewett stonework, the masons worked together. They were friends who looked out for one another and respected each other's talents and abilities.
The Keeble crew grew to include other brothers, cousins and some of Jonas and Jim's children. Jonas' son Frankin Delano Keeble, who lives on the family's original property, began mixing cement for his dad at age 10. He wonders now how children back then could have handled such heavy, labor-intensive jobs. Eventually Jonas turned the business over to Jim, who also played the fiddle and accordion at barn dances. Jim's retirement marked the end of the line for the Keeble family masonry crew.
The children of Gust Gruba and Alfred Miotke are building walls at Pickerel Lake today. Gust's son Ed and Alfred's son Alfred Jr. (Fred) are unassuming, witty and good-natured, as was Fred's brother Don, who passed away in 2011. Don and Fred built walls with Kenny Okroi, and Ed has taught his sons Mike, Steven and Curtis, as well as a few nephews.
Even with lifetimes of experience, the men insist they are still learning about the nature of rocks and how to stack them. A good wall begins with a stable base, able to withstand the South Dakota ice, winds, frost heaves and heat. Depending on the soil type, the footings need to go down as far as four feet. The most important part of the wall is the part you don't see.
Aboveground requires imagination. Rock selection gives the wall its personality. The mason has to find rocks that fit visually and structurally. If done properly, the wall should be able to stand without mortar, though all of the walls created today are mortared. Split rock adheres better to the "mud" than natural rocks. The size and color of the rocks depends on the artistic vision of the mason. Rocks are his paints and brushes.
Pickerel's masons do 90 percent of the rock splitting by hand, using shims and wedges and feathers to divide large rocks. Stones are most spectacular when split across the grain, exposing the color band, but it is not an easy task to hand-split a stone across the grain.
The personalities of the masons are reflected in the walls of Pickerel Lake. The Miotkes often add one of their signature patterns into a wall – a butterfly, flower, sunset or boots. In 1978 Fred took a day off, and upon his return he found his work boots permanently embedded in a wall near Pike's Point. Later, Fred returned the favor. He and colleague Kenny Okroi were working at one side of a new wall, with Don at the other side. Don heard chuckling and knew the others were up to something. He soon found a pair of his own work boots embedded in the wall. Cabin owner Leni Johnson loves the masons' humor.
Rocks for the lake walls come from local fields. The rocks were originally brought by one of two significant glaciers that covered the area. The first, called the Illinoisan, delivered granite rocks from the Lake Superior area. The second glacier, called the Wisconsinan, came from the north and formed two lobes, the James (to the west) and the Des Moines (to the east). Rocks with sharp edges most likely came from this glacier, or were displaced from the north end of the prairie coteau as the glacier slid through and dragged away much of the rich black topsoil.
Four factors account for the many stone walls around Pickerel. First, there's a need due to the number of lake lots with a significant slope. Thanks to the glaciers, there is an abundance of natural building materials. Also, the property owners include families who can afford improvements to their cabins. Finally, there are local masons who love beautiful walls.
According to Fred Miotke, "If your goal is to get rich, you need to move right away. Our ancestors homesteaded here — this is home. We're used to working together. Why stop now?"
Editor's Note: This article is revised from the July/August 2009 issue of South Dakota Magazine. To order a copy or to subscribe, call (800) 456-5117.