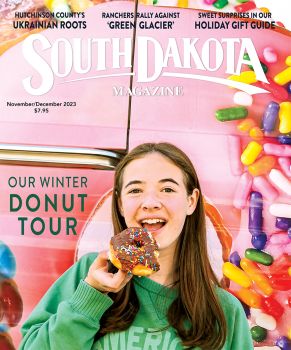 Subscriptions to South Dakota Magazine make great gifts!
Subscribe today — 1 year (6 issues) is just $29!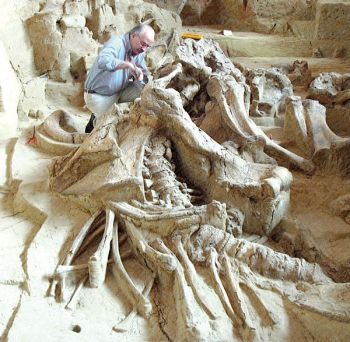 The Mammoth Man
Editor's Note: Volunteers have come and gone in the Mammoth Site's 40 years of operation, but Larry Agenbroad was always there. He became the site's principal investigator shortly after the first tusk was unearthed in 1974 until his death on Friday, Oct. 31 in Hot Springs. Though the bones had been there for millions of years, Dr. Agenbroad helped open a new and unique window to prehistoric history that South Dakotans and countless visitors from around the world have enjoyed. A memorial service is scheduled for Nov. 15 at 10 a.m., at the Mueller Civic Center in Hot Springs. A version of this story appeared in the May/June 2005 issue of South Dakota Magazine.
It was just another plateau on the western rim of Hot Springs gulch, a great place for new homes, with a fabulous view. But when a bulldozer blade scraped the edge off a massive tusk in 1974, Philip and Elenora Anderson called Dr. Larry Agenbroad, then a professor at Chadron State College in Nebraska. Initial investigation indicated that the tusk belonged to a long-extinct mammoth. The Andersons stopped the bulldozers and gave scientists three years to explore the site. Today the Hot Springs Mammoth Site is regarded as the world's premier place to see and learn about the extinct giants of the elephant world.
"When we began in 1975, we had a roaring budget of $500," Agenbroad said. "One day we uncovered a big skull. That night a full moon came up over Battle Mountain and moonlight shined through the eye sockets, and I haven't looked back."
The skeletons of coyotes, wolves, camels, llamas and a short-faced bear
 have all been dug from the sinkhole too, but the creature that gave the place its name was an animal so big that its name means huge. Bones lie at least 67 feet deep, so there are many more years of excavation ahead. So far the Mammoth Site has yielded 61 mammoths, the biggest creatures since the dinosaurs. There is literally no other place like this on Earth.
The Andersons and the scientists decided to leave everything they dug up on site. In many cases, one skeleton lies atop another, and the upper bones have been displaced to get at what lies below. But where possible, the bones lie "in situ," locked in the sandstone that formed around them after they died 26 millennia ago, the last of a species 2 million years old.
Agenbroad said pelvic measurements taken in 1989 indicated that all but one of the mammoths are males, and other tests indicate most were between 12 and 29 years old; in mammoth years, they were "teenybopper males," he said, ostracized from the herd, and as teenagers sometimes do, they got into trouble; they ventured into the sinkhole to feast on vegetation surrounding the thermal pool. The shale around the edges was "slick as snot on a glass doorknob," and the giant creatures could not climb out. Most likely they died in spring, Agenbroad said, when they had two choices: sweep the snow off the grass with their tusks, or take easy pickings by the pool. "Having raised teenage boys, I know teenagers are allergic to snow shovels," he said, "so they took the latter." He thinks the animals fell in over a period of about 750 years, maybe one each decade or so.
The sinkhole is covered by a 23,000-square-foot laminated beam building. Excavators can work anytime, and the paleontological dig is open to visitors, regardless of weather or time of year.