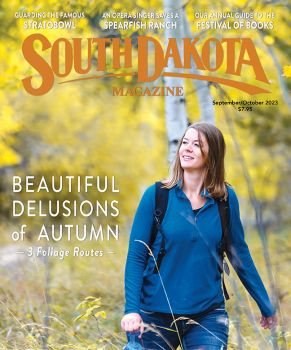 Subscriptions to South Dakota Magazine make great gifts!
Subscribe today — 1 year (6 issues) is just $29!

Love for the Game
By Mel Antonen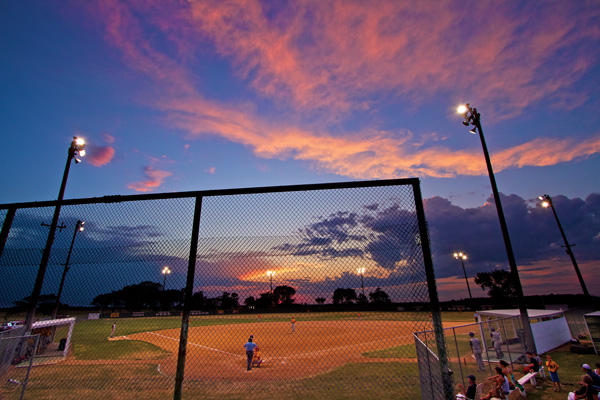 The Canova Gang plays under the lights at the ballpark in Canova. Photo by Christian Begeman.
As a kid in Hamlin County, Burt Tulson was marked for baseball success. He belted rocks with a bat, took batting practice at the granary and played night games under the only yard light on the family farm.
He chased foul balls for a nickel at Lake Norden Lakers games and in school he wrote an essay about how he wanted to be in the big leagues and build baseball fields.
Tulson wasn't one of the handful of South Dakota-born big-leaguers, but in a state where town-team baseball is the closest thing to a common religion, Tulson has been a deacon of the diamond.
We are in South Dakota's 82nd season of amateur baseball, and Tulson, 67, has been a manager almost half of those seasons. He's in his 40th year of running the Lake Norden Lakers, and that makes him the dean of managers in the state.
Tulson has good company. Of approximately 75 managers, he is one of five with 30 years of experience leading an amateur baseball team.
The Canova Gang's Dave Gassman and Kirk Sorensen of the Vermillion Red Sox are each in their 37th seasons. Paul Martin of the Akron (Iowa) Rebels and Fred Obermeier of Clark are each at 33. The Dell Rapids Mudcats' Jim Wilber, who also managed Redfield and his hometown Miller, is at 31.
"Managers are the most important ingredient we have in keeping amateur baseball alive,'' says Dale Weber of Salem, president of the South Dakota Amateur Baseball Association. "The average fan has no idea how much work a manager does outside the white lines."
A manager does more than write lineups an hour before the game. They oversee the team finances, and sometimes foot the bill for expenses out of their own pocket. They buy equipment and uniforms, schedule games and organize ticket-takers, concession stand operators, umpires and announcers. Managers are groundskeepers — mowing, chopping weeds and preparing the field — and they fix everything from drinking fountains to bathroom light sockets.
"We have this notion that our ball fields should look like Yankee Stadium,'' Wilber says.
The morning after a game there's ballpark cleanup and calling newspapers and radio stations with game highlights.
Overall, town-team baseball is doing well, but there is a slow decline in teams, and that's related, in part, to the difficulty in finding managers, says Herb Sundall of Kennebec, the association's secretary-treasurer: "It's not that there isn't enough players or money. It's that managers are hard to find.''
So, why do managers manage? Managers on the three-decades list don't like attention and quickly credit spouses, children and townspeople for the success of a program. But managing gets in their blood, and they love it because of the competition, camaraderie and community. And, they don't want to see baseball fade away.
Gassman says retirement isn't an option. "Baseball is all we have left in Canova. I'm a die-hard. I'm not going to let baseball die as long as I am around.''
Except for Obermeier, who never played baseball, each manager followed a familiar path: They finished daily chores quickly so they could play baseball. They joined youth leagues, played American Legion and were drafted to play on the town team. After a couple of decades, they were handed keys to the equipment shed.
---
The Fireballing Manager
Dave Gassman's dad, Bernard, was a manager in Epiphany. As a kid, Gassman tagged along and chased foul balls for a nickel and then spent his money on ice-cold pop at the concession stand, a taste that he'll never forget.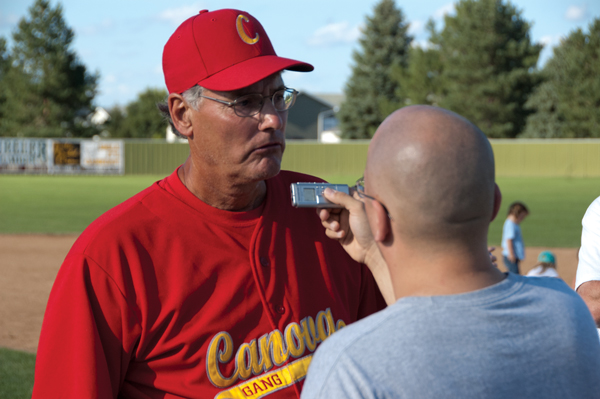 Dave Gassman is interviewed after his team won the state championship in 2009.
Today Gassman, a farmer who owns the Canova Service Center, follows in his dad's footsteps in Canova, his 37th season. He also managed one year in Scotland, the year he earned four state tournament wins as a pitcher and Scotland beat Renner 7-5 for the Class B title. Gassman has managed for so long, players might not remember that he was a pitcher, arguably the best in state history, with 376 wins and 5,595 strikeouts, both state records.
In 1966, as a Legion player, he pitched five innings of relief for Canova against Aberdeen in a state tournament semifinal game, allowing the Gang to use ace Lee Goldammer in the championship. Goldammer tossed a one-hitter in a 3-1 win against Woonsocket, giving Canova its first state title.
It was the first of four titles for Gassman. In addition to Scotland, the Gang won in 1979 and again in 2009 when Gassman got to share the experience with his son, Garrett, a left-handed batting catcher.
This year, in addition to Garrett, there are three other Gassmans on the team, including Dave's nephews, Tucker and Gavin, all who either pitch or play infield.
---
Scout in Disguise
Burt Tulson and his sister, Pauline, had four places to play ball on the farm between Bryant and Lake Norden.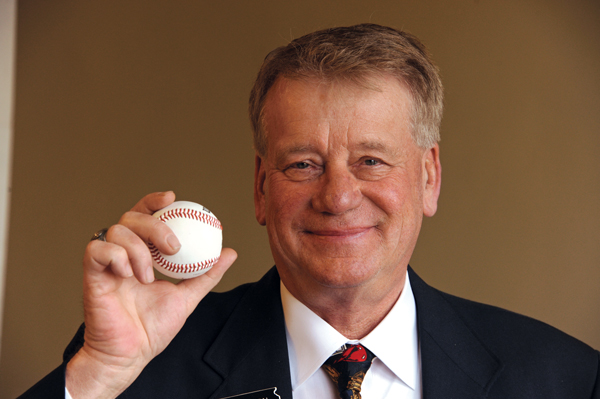 Burt Tulson.
They played with a plastic bat and ball on the front lawn. The second field had a granary as a backstop so they could hit balls toward the road. The third field was big enough for a game with the neighbors and the fourth was under the yard light, where players had to keep the ball inside the base paths or it was an out.
"That game taught us how to bunt,'' Tulson says. "We had to play that game because there was only one yard light on the farm. I learned a level swing and bat control. It was like using a hammer. If you swing too hard, you miss the nail. It was important to be in control.''
His parents, Glenn and Fern, brought him to Lakers games in the late 1950s. He wore Lakers blue for the first time in 1966.
As a player, Tulson was a pitcher, but he injured his right shoulder in a motorcycle accident and moved to first base. He was a line-drive hitter with a lifetime average of .362 and 60 home runs. Tulson and business partner Frank Andrews, a longtime volunteer ticket-taker, were the contractors who built the amateur baseball Hall of Fame in Lake Norden.
He started managing the team in 1976 and earned his 700th career win in 2012. He's managed the Lakers in 28 of their 39 state tournament appearances.
Tulson's an accomplished manager, but one night, during the late 1990s, he used an off-the-wall scouting trip to see if he could break the Lakers' late-season slump. A few days before a game in Huron, Tulson told his team he would be gone and that pitcher Paul Raasch would manage.
A smattering of fans attended, including one sitting alone at the top of the grandstand in Huron. The fan had enormous hair and wore a trench coat with big shades — a bit odd considering it was 90 degrees and muggy.
The Lakers' players recognized the fan as Tulson, who was trying to watch his team from a different perspective.
During warm-ups at the Lakers' next game, Tulson was asking about the Huron game, as if he wasn't there. The players played along, but eventually they cracked and told him they knew where he was.
"It was hilarious,'' Raasch said. "We played pretty good the rest of the year. We won the district and a couple games in the state tourney.''
---
Baseball and Healing
Kirk Sorensen, who farms west of Vermillion, has been a Red Sox fan his entire life. As a kid, he'd visit his grandma, Jessie Jensen, on summer Sundays and walk six blocks to see a game. He chased foul balls and hung numbers on the scoreboard.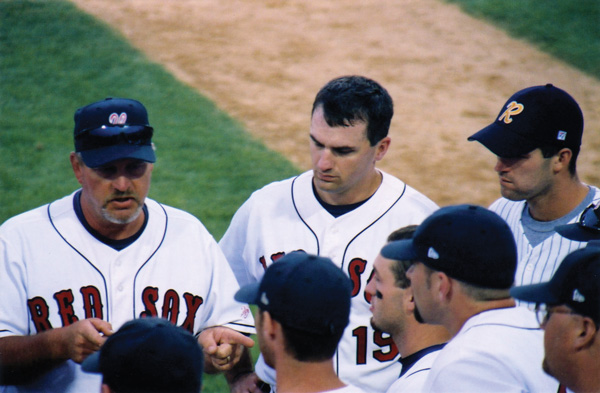 Kirk Sorensen guided the Vermillion Red Sox to state championships in 2003, 2004 and 2006.
He was a catcher with speed, but an elbow injury moved him to first base. His resume includes a six-hit game and a season where he had 11 triples.
Sorensen, who also plays bass guitar in a country band, is the only manager to win state titles in Class A and B.
At times, baseball was therapeutic for Sorensen. When his first wife, Teresa, died in June of 1997, he thought about quitting as a manager. Then, a week after her funeral, he was at home as the Red Sox were playing. He decided to go to the game.
"It was a beautiful evening, so I put on my uniform and went to the game,'' he says. "It allowed me to forget for a few minutes. The support of the baseball community meant everything to me. It got me through a tough time. It was so good. I'll never forget it.''
---
The Bizarre Champs
Paul Martin grew up on a farm and played high school baseball in Westfield, Iowa. The year after his graduation, he formed a baseball team because he didn't want to play fast-pitch softball.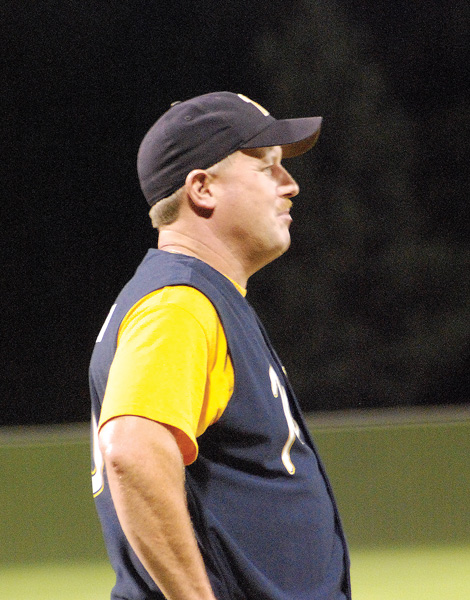 Paul Martin.
He had a choice to play in a league in northwest Iowa or join South Dakota's association. (Akron is just across the Big Sioux River, 18 miles east of Vermillion. Larchwood, Iowa, Wynot, Neb. and Crofton, Neb., are the three other out-of-state teams that play in South Dakota's association.)
Starting a team from scratch isn't easy. For several years, Martin, a former catcher, paid expenses himself and recruited players minutes before games. "There were times we had to pull dads out of the crowd to complete a lineup,'' he says. "It took about 15 years to get going.''
These days, things are easier. There are plenty of players and Akron has a wonderful field.
The Rebels started in the early 1980s and have had their share of history-making moments.
In a 2008 game vs. Elk Point, they turned two around-the-horn triple plays — from third to second to first — meaning the Rebels had a feat that's only been accomplished once in thousands of Major League games.
But the Rebels' defining moment came in 2005, when they won a district title against Larchwood in bizarre fashion to make their first state tournament.
Larchwood was beating the Rebels 13-4 when rain stopped the game. The delay lasted two days because of wet grounds and other conflicts. When the game resumed, the Rebels rallied and won 17-16.
"It was an insane celebration because so many times, we were just one game away from going,'' Martin says. "I'll never forget it. We had a big dog pile of players on the mound.''
---
Rush of Memories
Fred Obermeier, who grew up raising Black Angus on a ranch near Clark, started a baseball team, too. He didn't grow up playing baseball, but he loved the sport, and he was umpiring games as a sophomore in high school.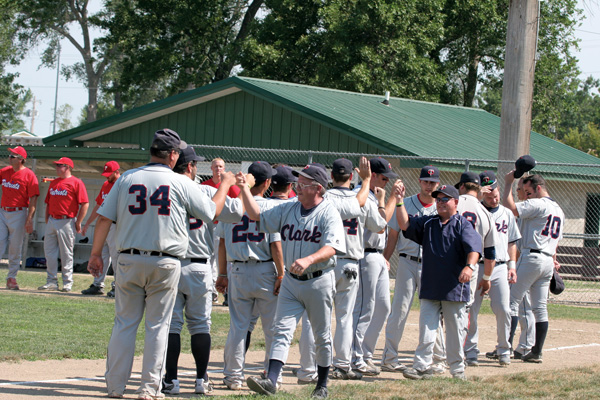 Clark's Fred Obermeier (in blue) started a team from scratch.
In the spring of 1983, a group of players asked if he'd manage a baseball team, and the Clark Cubs were born.
Eventually, the team's nickname became the Traders, in honor of Obermeier's cousin, Chess, who trades corn options on the Chicago Board of Trade and supports the team with checks from the Windy City. "If we need uniforms or anything like that, he always helps,'' Obermeier says.
As a manager, Obermeier played only when there weren't enough players. "I didn't have any talent,'' he says. "I have been in two games and gotten one at-bat. I struck out. But, I love the game."
There were good and bad times. In 1995, they went winless. In 1985, Claremont beat Clark 9-2 in the Class B title game. That game is stamped in Obermeier's mind forever.
"I was nervous because I had not been to that level before and I was pretty new,'' Obermeier says. "It was nerve-wracking.''
But while managers say the sting of losing big games never goes away, the hurt softens. The runner-up trophy stands on a shelf in Obermeier's home, a snapshot of what amateur baseball is all about.
"Every time I look at that trophy, it brings back a lot of good memories,'' Obermeier says.
---
Patience is the Key
Jim Wilber, who brokers farm land in Sioux Falls but grew up in Miller working in his dad's feed and seed business, is in his 15th season as a manager for the Dell Rapids Mudcats, but his resume also includes 15 state tournaments for Miller and Redfield. He was a right-handed pitcher who also played all four infield positions.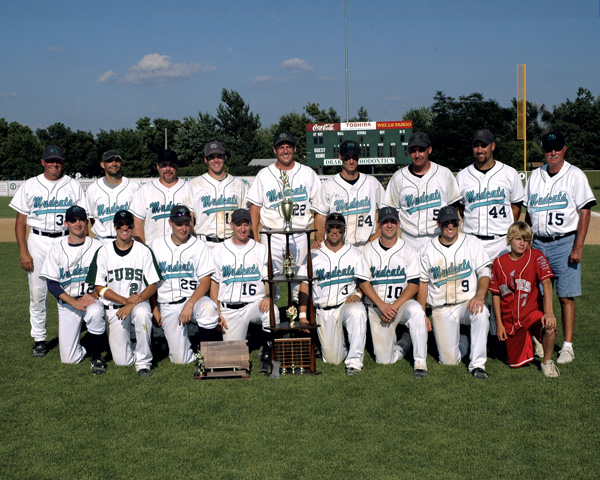 Jim Wilber's Dell Rapids Mudcats share the spotlight with Dell Rapids PBR, but the Mudcats finished on top in 2008.
Wilber's state title was a long time coming.
The Mudcats beat Wynot for the championship in 2008, something they weren't sure would ever come. After losing twice to cross-town rival Dell Rapids PBR in the state finals, the Mudcats blew an 11-6 lead in the eighth inning, only to come back and win 15-13.
"The lasting image was a strange combination of relief and euphoria,'' Wilber says. "The Mudcats weren't blessed with the best of luck during the final weekends of previous state tourneys. When Wynot rallied, the mood of our team was, 'Here we go again.'''
Wilber says the passion for baseball is unique: "It is the same in the Pony Hills, James Valley or Corn Belt League. Hometown pride has a lot to do with it. Attendance isn't great at every home game, but the community keeps track of how their town team is doing. And playing in the state tournament is just plain fun.''
About the Author: Mel Antonen is a Lake Norden native. He is a pre-game co-host for MASN-TV, which covers the Washington Nationals and Baltimore Orioles, does baseball analysis on Sirius XM radio and writes for SI.com. He lives in Washington, D.C., with his wife, Lisa, and son, Emmett.
Editor's Note: This story is revised from the May/June 2013 issue of South Dakota Magazine. To order a copy or to subscribe, call (800) 456-5117.