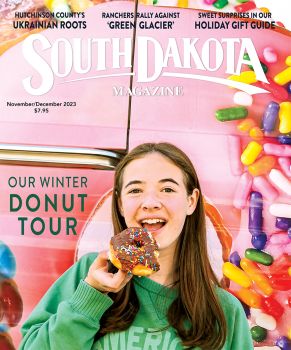 Subscriptions to South Dakota Magazine make great gifts!
Subscribe today — 1 year (6 issues) is just $29!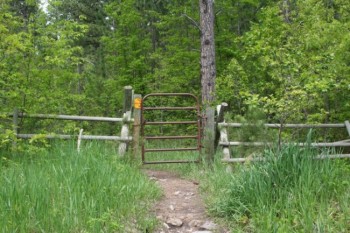 Lyme Disease Awareness
May 25, 2012
May is Lyme disease awareness month. Most of us know the common way of contracting the bacterial infection — through a deer tick bite. My husband and I had a close encounter with a tick a couple of weeks ago while hunting morel mushrooms. We knew enough about Lyme disease to get worried, but it turns out contraction in South Dakota is very rare.
The deer tick (Ixodes scapularis) has been detected occasionally in far-eastern South Dakota. But in the 2011 survey conducted by South Dakota State University and funded by the Department of Health no deer ticks were found. "My interpretation is that we probably have low levels of Ixodes ticks in isolated areas of eastern South Dakota," says Lon Kightlinger, State Epidemiologist. "Our main Lyme disease risk is for South Dakota residents who travel to Lyme-endemic states, like Minnesota where over 1,000 human cases are reported annually." Last year there were four human Lyme disease cases reported and all were with out-of-state tick exposure. "The deer tick habitat is dense forest area, not prairie," says Kightlinger. "Our environment is protective."
Though contraction in South Dakota is very rare, I felt better familiarizing myself with the symptoms. According to the Centers for Disease Control and Prevention (CDC), early indicators may seem flu-like, including fever, headache, muscle aches, and swollen lymph nodes. A very obvious symptom that occurs in about 70-80% of infected cases is erythema migrans or a "bulls-eye" rash at the site of the tick bite. The circular rash gradually expands and can grow as large as 12 inches in diameter. Parts of the rash may fade as it grows, creating its bulls-eye appearance. Later symptoms include loss of muscle tone in the face, severe headaches and neck stiffness due to inflammation of the spinal cord, pain and swelling in large joints, heart palpitations and dizziness. Most cases can be treated successfully with a few weeks of antibiotics. Left untreated, Lyme disease may cause severe arthritis and chronic neurological problems.
And in case you were wondering, wood ticks and dogs tick do not carry Lyme disease. "You can only get Lyme disease from the Ixodes deer ticks," says Kightlinger. "Dog ticks, however, may transmit tularemia or Rocky Mountain Spotted Fever." Visit the CDC web site for information on preventing tick bites and tick removal.