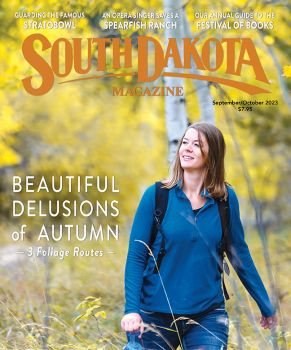 Subscriptions to South Dakota Magazine make great gifts!
Subscribe today — 1 year (6 issues) is just $29!

Primitive Camping
By Rebecca Johnson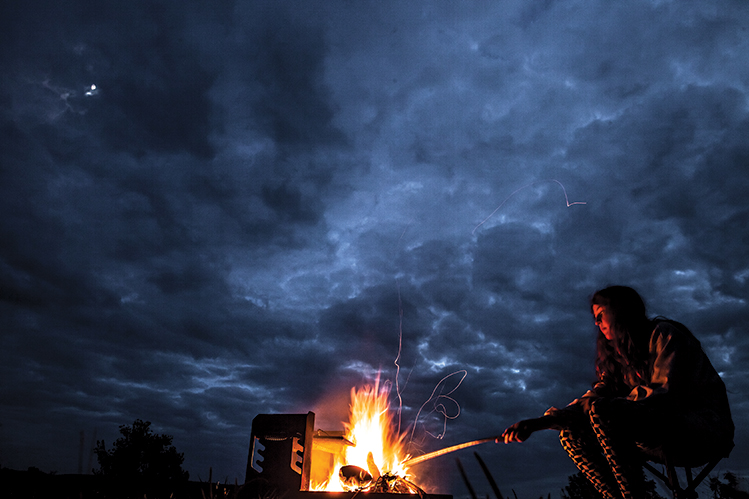 Anna Fleming of Rapid City stokes a fire at Snake Creek Recreation Area near Platte. Photo by Bonny Fleming.
Mention the word "camping" and you'll invoke many different notions in people. My own experience consists mainly of stints at Lewis & Clark Recreation area, between sites packed with RVs, patio furniture, stringed lights, bikes and satellite TV. The playgrounds are colorful, the paths are paved and the bathhouse showers nearly cleaner than my own. My husband and I camp in a roomy five-person tent and we bring an air mattress.
So where does one go for a more rugged adventure amongst the flora, fauna and twinkling skies? For primitive or dispersed camping with bare bones amenities? We found six South Dakotans with wanderlust for the wild. Here are their favorite spots to experience beauty and solitude in South Dakota. Consider the words of Walt Whitman, should you travel to them: "Now I see the secret of making the best person: it is to grow in the open air and to eat and sleep with the earth."
---
Tabor Lakeside Use Area
Lewis & Clark Lake
Abbey Kokesh recommends the little Tabor Lakeside Use Area campground near her home with its boat dock and small rocky beach. A gravel road 6 miles south of Tabor off Highway 52 winds the way there through deciduous trees and rolling hills. Its six sites are first-come, first-served with a self-pay station. They're close together but on some perfect evenings, neighbors are few. The prime spot is atop a cliff overlooking Lewis & Clark Lake. Few places are better to watch the chalkstone bluffs of the Nebraska shore glow orange at sunset. If all six sites are full, don't worry. "Some people kind of make their own campsite," Kokesh says.
She likes the seclusion. There are no lights at night, but that doesn't bother her — not even when she camped alone with her 2-year-old daughter, Sivelen, and heard a deep whine coming from the trees. "My husband and I listened to mountain lion sounds on YouTube and I swear it was a mountain lion," Kokesh says. "I thought it was exciting. I know they don't usually come around people, so I wasn't scared."
---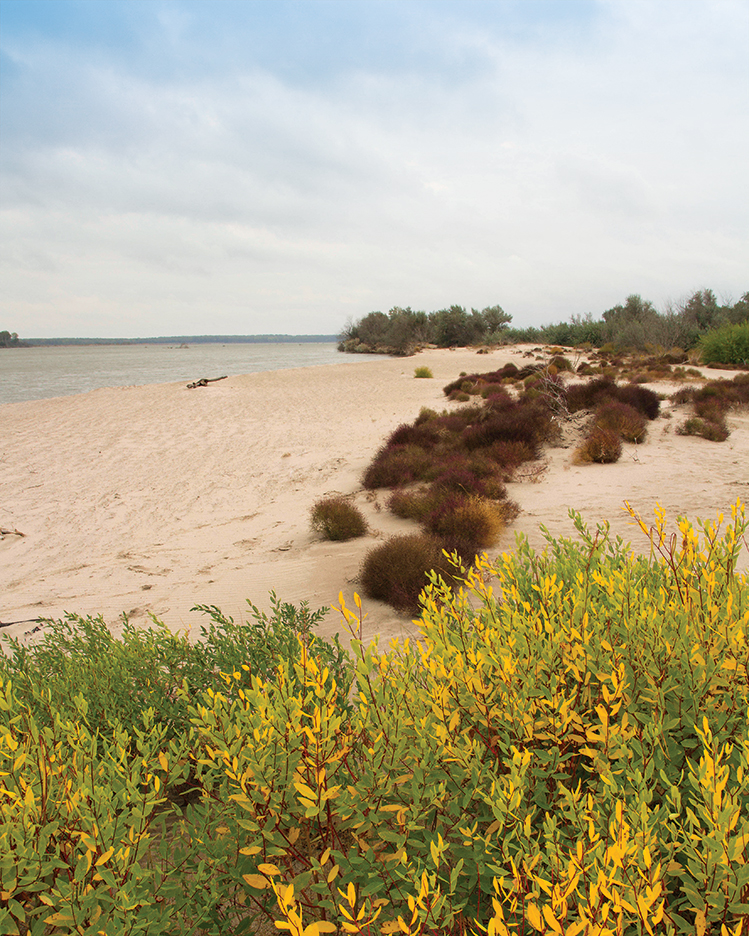 Photo by Sam Stukel.
Goat Island
Missouri River
Tony Kellar has led countless kayak and canoe excursions down the Missouri River as a former wilderness guide. His favorite place to overnight is Goat Island, a 3-mile long landmass south of the Myron Grove Boat Launch in Clay County. "It's huge with lots of forest, brush and old growth trees," Kellar says. "You have to paddle there so it's been less used and there are more natural resources."
Goat Island offers no designated campsites or facilities. It does offer the chance to see bald eagles, deer, turtles, raccoons, rabbits and turkeys if you're lucky — or skunks if you're not. Poison ivy and poison oak are also common, so be prepared to identify them and have some salve on hand just in case.
When island camping, you need to be selective with your gear. Kellar's must-have items include a two-man tent, sleeping bag, single-burner propane stove, first-aid kit, weather radio and dry bags to safeguard your gear. "You protect a warm sleeping bag at all costs," Kellar says. The more primitive you camp, the more vulnerable you are to weather. "I've been camping with a large group on Goat Island in a storm with trees coming down and tennis ball-sized hail," Kellar says.
"Obviously the majority of the time it doesn't happen, but you really need to be prepared. Weather changes really quickly."
---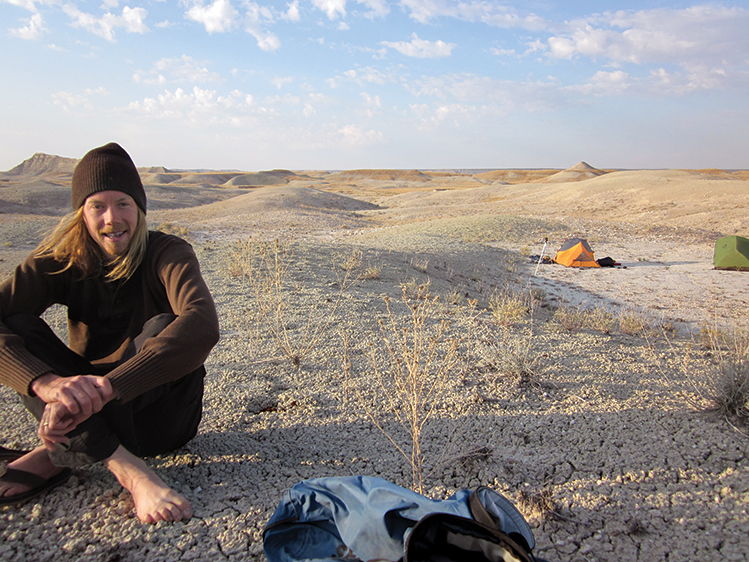 Luke Mickelson suggests campers bring a map or GPS to the Badlands.
Sage Creek Wilderness Area
Badlands National Park
Badlands National Park is a pleasant, scenic loop away from fast-paced Interstate 90. Sage Creek Campground is a primitive campground near the middle, with designated sites, picnic tables and pit toilets. But the Badlands also offers superb dispersed camping in Sage Creek Wilderness.
"It's hard to even explain how gorgeous it is out there," says Luke Mickelson, naturalist volunteer coordinator at The Outdoor Campus-West in Rapid City. "And I've never once run into another person while camping." Mickelson accesses the area from Sage Creek Campground. There's a register book for recording your name, number in party and expected date back.
No designated trail system leads the way through Sage Creek's thousands of acres of grassland and rock so Mickelson recommends a map, compass or GPS. "Sage Creek has almost maze-like plateaus and little valleys you have to navigate through. Often times you won't even see a bunch of buffalo until you're right upon them," he says.
Gumbo, thick mud that sticks to your boots like glue, is a hazard in rainy months like April or May. "It takes so much energy to go a few steps once that gumbo starts and builds up, so it can really wear a person out quickly." And dehydration is a risk in hotter months since you have to pack in all your water.
Rattlesnakes are common, especially near prairie dog towns. If you spot a snake or hear its rattle, move slowly out of striking distance. "When they rattle, they're just warning that they feel a little bit threatened by you," Mickelson says. "It's kind of them saying, 'Hey, go the opposite way if you get the chance.'"
---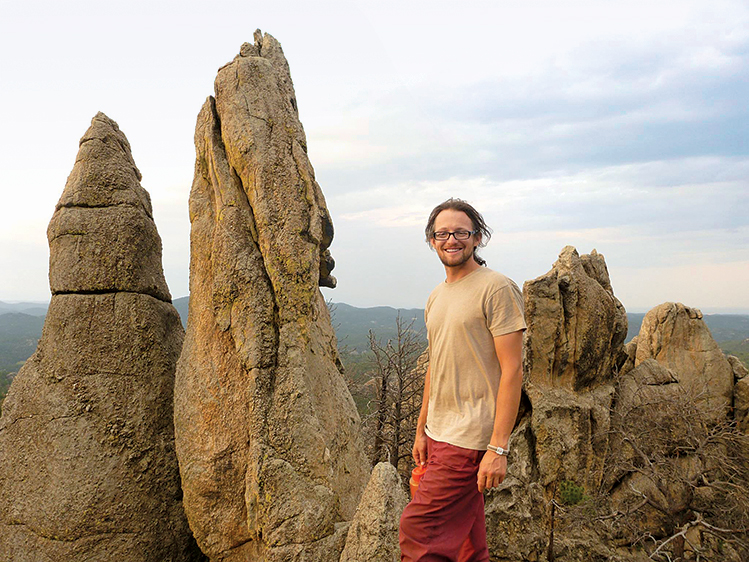 Chris Pelczarski says Grizzly Bear Creek is like "a fairy tale land."
Grizzly Bear Creek
Black Elk Wilderness
Grizzlies are long gone from the Black Elk Wilderness north of Custer but Grizzly Bear Creek area offers beautiful views of spires and pine. Chris Pelczarski, an avid rock climber from Custer, lists it as one of his favorite places to spend the night. "You don't have to climb to get to it," Pelczarski says. "There's a trail that goes right there called Grizzly Bear Creek Number 7." Take the trailhead off SD 345 for a 6.3-mile hike. It follows the creek, so you don't need to bring water if you have a good filtering device. "I bring a water filter, tent, sleeping bag and sometimes a little camp stove," Pelczarski says. "I'm carrying all my climbing gear, so I have to go pretty light on everything."
Free, dispersed camping is allowed anywhere near the trail, as long as you set up at least 100 feet away from the creek or any other water sources and don't start a fire. Pelczarski likes to camp at the base of the rocks near the end of the trail. "It's really like a fairy tale land back there. I encourage people to get out of their comfort zones and see these miraculous places before they're too out of shape to do it," Pelczarski says. "Whether you're a hiker, climber, scrambler, camper or back packer, it's a special, spiritual place that offers a lot of adventure."
---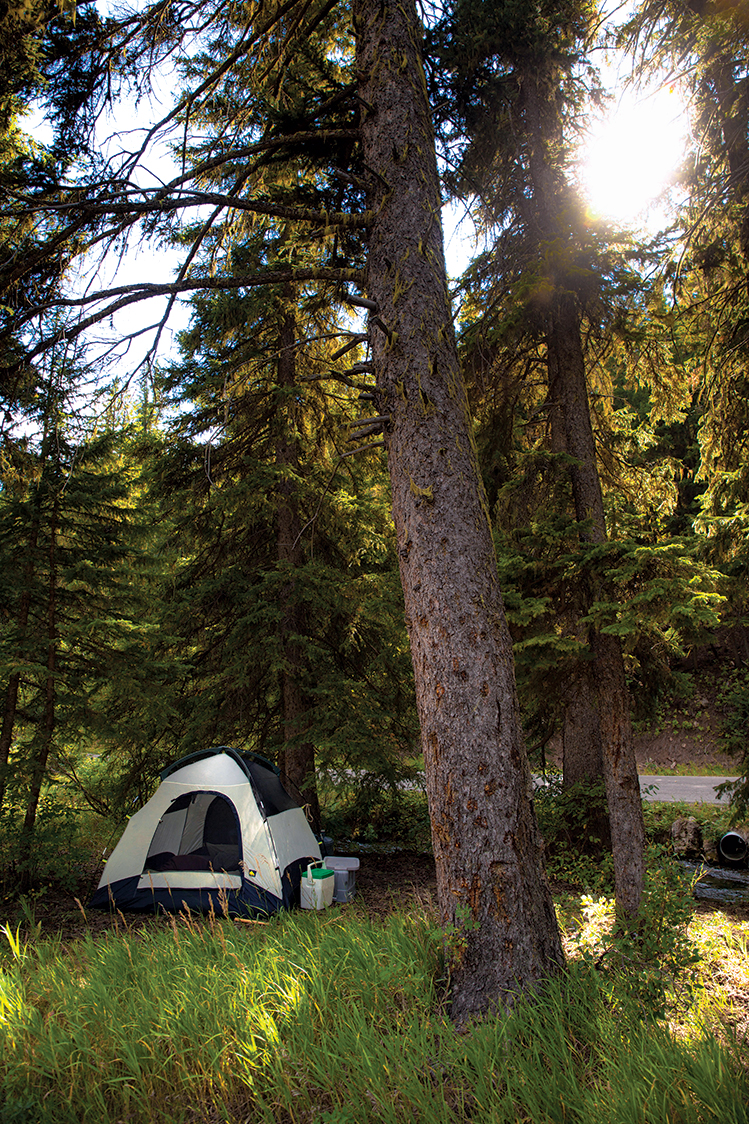 Photo by Bonny Fleming.
Hanna Campground
Black Hills National Forest
Darcie Reichert of Sioux Falls hesitates to share details of Hanna Campground for fear it becomes too popular. She's visited the minimally maintained National Forest Service campground since she was a child. It's nestled beside Hanna Creek 2 miles south of Cheyenne Crossing, southwest of Lead and has 13 primitive sites.
"During the week, not too many people go out there. The weekend is another story, but it's kind of remote," Reichert says. "There's no noise and when it's dark out, it's super dark out. You can see all the stars." A recent trip with her own young family involved cooking chokecherry syrup over the campfire and snacking on the blueberry-like wild juneberries. And she could practically set her watch by the local wildlife. "It never failed. Every day at four o'clock the same bird would come swoop the creek for fish and the dragonflies would swarm in," Reichert says.
Hanna has no running water so bring some to drink. And no showers, but you can bathe in the ice-cold creek if compelled. There are two outhouses.
---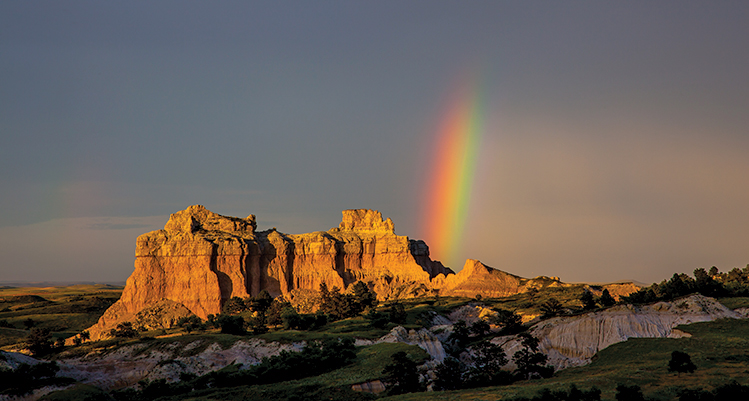 Photo by Harlan Humphrey.
Slim Buttes
Custer National Forest
Slim Buttes is a spectacular blend of badlands, ponderosa pine forest and mesas surrounded by West River grasslands in Harding County. It's part of Custer National Forest and runs 40 miles north-to-south and 20 miles wide. Dispersed camping is allowed throughout if you set up 100 feet away from water, trails or road and pack out what you pack in. Harlan Humphrey, president of the Black Hills Photography Club, has taken fellow members there for several summers.
"It's a beautiful place to camp out," Humphrey says. "There was a rock formation right above us where we camped last time." Slim Buttes' white sandstone is a photographer's dream, shining like polished granite in the sun. Most of the peaks and promontories have names. Ranchers dubbed one formation The Seals, and another the Three Sisters. Official names include The Castles, Doc Hodges Draw, Adam and Eve Butte and Battleship Rock. There are only three passes through the buttes. Two of them are paved. Highway 79 crosses Slim Buttes to the south and Highway 20 to the west of Reva. Reva Gap hosts a campground with limited amenities and hiking with views of The Castles.
Humphrey always sets up camp in an open area among the blue stem, Indian grass, buffalo grass, sage and sumac. "Of course, when you set up a tent, you need to make sure you set up on a high point and not on a low point," Humphrey says. This will help keep you dry if it rains. "It was a bit hairy last time because we had an electrical storm come through with vicious lightning," Humphrey says. "I think everybody was wide awake that night."
Editor's Note: This story is revised from the May/June 2015 issue of South Dakota Magazine. To order a copy or to subscribe, call (800) 456-5117.