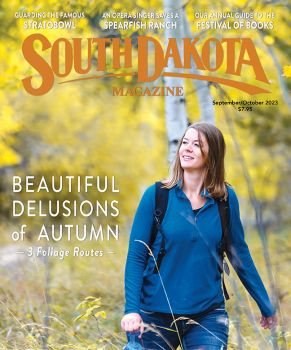 Subscriptions to South Dakota Magazine make great gifts!
Subscribe today — 1 year (6 issues) is just $29!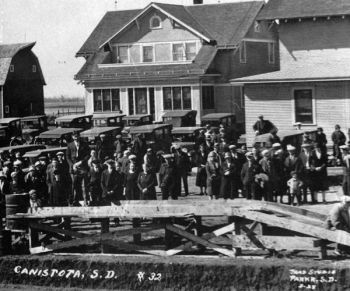 Chol and Amon
Jul 9, 2015
By Bernie Hunhoff
Chol Atem and Amon Ortman have something in common, though they lived 100 years apart. Amon was a pioneer healer, the founder of the Ortman Chiropractic Clinic at Canistota that is celebrating its 100th year this month. More about Chol in a few paragraphs.
We have always loved the story of Amon Ortman, the farmer with a gift for healing. The legacy he created through the generations continues today, and we've featured it on several occasions in South Dakota Magazine.
Of course I never met Amon Ortman, but I feel like I know him because like many of you I grew up with old-timers like that. People who worked hard. Who cared about their neighbors and their communities. People who thought you could do great things right here in South Dakota as well as anywhere else in the world.
I can easily picture Amon, after a hard day's work of his own in the field, coming to the farmyard and finding a neighbor waiting with a sore shoulder. And I can see him inviting the neighbor to maybe sit on the running board of the car. They talk about the rain --- or the lack of rain – and Amon lays his hands on that bad shoulder.
People like Amon and places like Canistota have made all the difference for South Dakota. The Ortmans and the Husteads and the Andersons and the Hubers and the Larsons and the Brockelsbys and the Bakers and ten thousand other families who've gutted out their dreams, stuck it out and made it work.
Now to Chol Atem. Earlier this year, in our May/June issue, we did something different in the magazine. We invited a few dozen people to write words of advice for the high school and college students who would be graduating this year.
We called them "letters to graduates." I thought the most touching letter came from a young man we've come to know who works at a convenience store in Yankton. His name is Chol Atem. I met Chol when he came to Pierre to help us pass a policy that discourages the State Investment Office from investing funds with companies who support the kind of genocide his family faced in Sudan.
Chol grew up 7,500 miles away from South Dakota, across the Atlantic Ocean. He was one of the "Lost Boys of Sudan," driven away from his small town by terrorists who burned and ravaged his town and killed his relatives. He didn't want to leave but he had no choice.
He survived, miraculously, and came to study at Mount Marty College in Yankton. He now lives and works in Yankton. And what did he tell our young readers of the magazine?
He had no choice but to leave home. But Chol challenged young South Dakotans to think twice before leaving their homes. "Step up to the plate and stop this chronic cycle of mass exodus to other states by generations of young South Dakotans," he said. "It is time to invest and build our state of South Dakota. It takes one step to form an unstoppable movement. We are who we are by where we come from."
"There is nothing like home," says Chol, who had to find a new home in South Dakota. "I challenge you to rise beyond something bigger than yourselves. Invest your talents and expertise in building your state."
Chol's birth home and the Ortmans and Canistota are an ocean apart in more ways than one. But he and the Ortmans hold the very same idea of home.