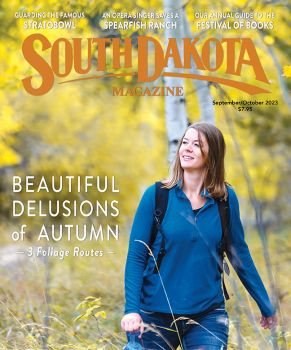 Subscriptions to South Dakota Magazine make great gifts!
Subscribe today — 1 year (6 issues) is just $29!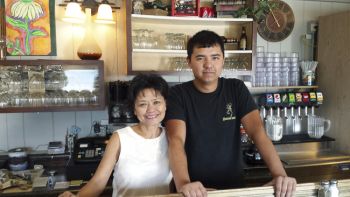 Pedaling South Dakota: Day Six
Jul 30, 2016
Carl and Jan Brush of Yankton are loyal readers of our magazine, and avid bicyclists. This summer they are combining those two loves on a cross-country trip, using past South Dakota Magazine stories to guide them to interesting people and places. They've agreed to post some reports from the road so we can go along on their eight-day, 360-mile journey. 



DAY SIX: Big Meals and Bigger Hearts Between Howard to Canistota
Leaving Howard, we stopped for a big breakfast at Diner 34. The food here was delicious. Carl got the biggest serving of breakfast sausage that we have ever seen! Toni Carey and her son, Will, opened the business two months ago. Toni has been in the restaurant business for over 20 years, operating in several South Dakota towns. She will also soon take over management of the Country Club restaurant in De Smet.
We returned to Canova to meet Tammy Zulk, the creator of the memorial garden. She started building the garden in fall 2007 as a memorial to her late son, Tyler. It has expanded considerably since then through her hard work and the help of the Canova community. Engraved memorial stepping stones are available by contacting Tammy. She etches them herself. The beautiful garden is certainly the pride of the community.
While in Canova we met Bill Perrine and his rescue dog, Daisy. Bill worked for the city prior to his recent retirement. Daisy follows him everywhere. The local joke is if you want to find Bill, find Daisy. Bill rides a motorcycle. With his wife they have ridden in every state, all the Canadian provinces, throughout Mexico and through much of western Europe. They currently ride a Honda Gold Wing.
We had to detour through Bridgewater on our way to Canistota due to road construction, so we stopped to see Jack and Lois Vondra at their house. We first met Jack on Day Two of this tour. We wanted to tell more about him. Jack first moved here in 1947 to start a job repairing watches. He was paid $25 a week and a place to live. In 1951 he and Lois were married and they bought the jewelry store where he was working, on a handshake agreement, pay whenever you can. At age 91 he still can be found at the store most days! It is more of a hobby now but Jack loves his profession.
He and Lois had nine children; seven are living. They have 20 grandchildren and 6 great grandchildren. They were a delight to visit with and are still going strong! We encouraged them to take a ride on our bike. Maybe next time!
It was lunch time so we went to the Wildcat Inn Cafe. Lavon Zelmer has operated it for over 39 years. Overall she has over 50 years restaurant experience. Her burgers were great. She said that is because she never uses frozen meat. Lavon said she may retire in the fall. If she does the town will surely miss her!
At Lavon's cafe we met a fellow Gator fan, cafe employee Jerico Shape. Jerico is a noted South Dakota athlete. As quarterback he led his Emery/Ethan football team to the state championship in 2007. After transferring to Canistota High School, he helped them to a school best basketball record, 18-4. Later he played basketball at Kansas Central College. He was runner-up in the national college 3-point shooting tournament held in Roanoke, Virginia. Jerico is now the proud father of one month old Reddic Wade.


Click to read Day One, Day Two, Day Three, Day Four and Day Five of Carl and Jan's journey.