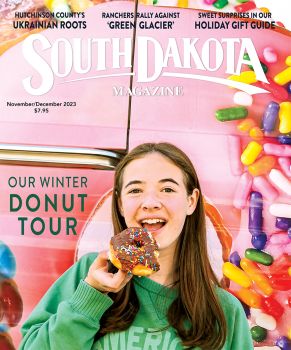 Subscriptions to South Dakota Magazine make great gifts!
Subscribe today — 1 year (6 issues) is just $29!

Inspired by McCook County
Mar 14, 2017
By John Andrews
We drive Highway 81 when we travel from Yankton to my hometown of Lake Norden. Whenever we approach Salem, my 10-year-old daughter scans the skyline for the steeple of St. Mary's Catholic Church. Monsignor Bernard Weber oversaw construction of the pink quartzite church in 1898. I suspect the stately steeple stood out on a prairie vista that included just a few trees and Salem's early buildings. Perhaps it acted as a source of inspiration for the early settlers of McCook County, whose descendants seem to have carried on the desire to provide hope and help to others.
McCook County was established in 1873 and named for Edwin McCook, the secretary of Dakota Territory. McCook belonged to the famous "Fighting McCooks" family from Ohio whose dedication to the Union was unparalleled. Brothers Daniel and John McCook all served in the war, as did 13 of their sons. McCook saw action in battles at Fort Henry and Fort Donelson and in the Vicksburg, Chattanooga and Atlanta campaigns and was severely wounded three times.
He was appointed secretary of Dakota Territory in 1872. The following year, a dispute over the Dakota Southern Railroad put him at odds with Yankton banker Peter Wintermute, who shot and killed McCook over the disagreement at a meeting in downtown Yankton in September of 1873.
McCook County covers 577 square miles halfway between Mitchell and Sioux Falls. Interstate 90 bisects it from west to east, and Highway 81 halves it from north to south. Salem, the county seat with the noticeable church steeple, sits just north of that busy intersection. Another source of inspiration is found in Canistota, south of the interstate and east of 81.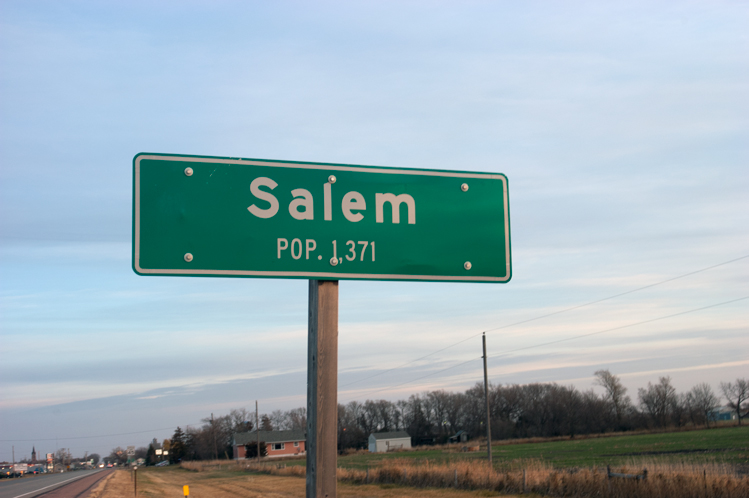 Salem is the seat of McCook County. The steeple of St. Mary's Catholic Church can be seen in the lower left corner.
In the early 1900s, farmer Amon Ortman discovered that his hands possessed a healing touch. When his work was done in the fields, he often encountered friends or neighbors complaining of a sore neck or other such malady. He'd have them sit on a wagon tongue or a bucket and provide relief as only he could. His unique touch turned Canistota into a destination for people around the world who seek treatment. Since Amon and his brother Noah opened the Ortman Clinic, four generations of Ortmans have treated more than 3 million patients. The influx gives the town of 600 a steady boost.
Canistotans can also learn a lesson in entrepreneurship from Tom and Ruth Neuberger. In 1984, they fattened 3,500 geese and then found themselves without a market. They decided to process the birds and hit the road in a refrigerated bus, selling town to town. Their formula became a huge success, and the Goosemobile has crisscrossed the state hundreds of times.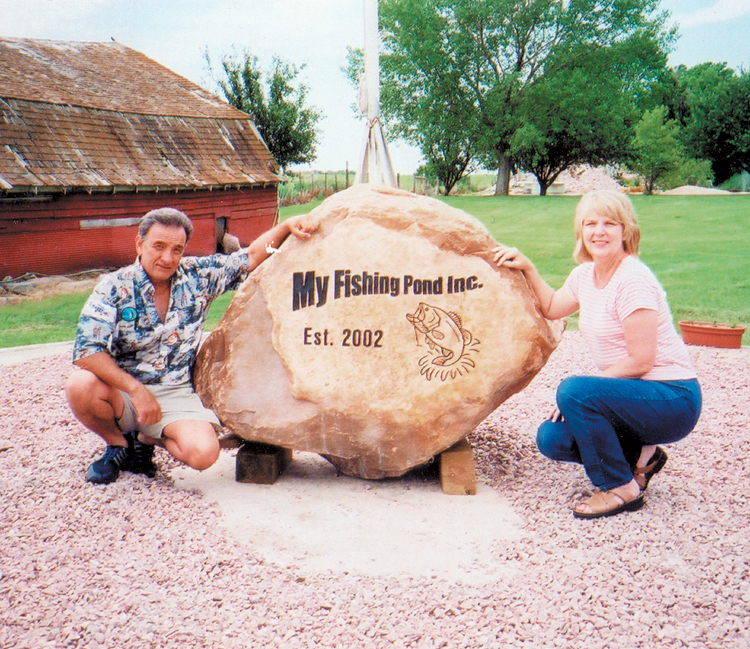 John Alvarez and his wife, Dee Ann, run My Fishing Pond, a therapeutic retreat near Bridgewater.
Across the county in Bridgewater, John Alvarez uses fishing to help brain injury survivors. Alvarez survived a horrific car accident in 1994 near Tucson, Arizona, but was left with a severe brain injury. He had to relearn basic skills and grew frustrated living in a busy urban environment. So he and his wife Dee Ann moved to a small acreage near her hometown of Bridgewater where Alvarez spent quiet days casting for bullheads in nearby Wolf Creek. Realizing the therapeutic value of fishing, Alvarez created My Fishing Pond, a non-profit organization that invites fellow brain injury survivors, children with special needs or the elderly to catch and release fish.
You no doubt remember the 1989 movie Field of Dreams, about an Iowa farmer who upon hearing strange voices in his cornfield builds a baseball diamond. Well, a friend of mine was recently driving through tiny Center, just south of the intersection of 245th Street and 443rd Avenue, and was surprised to find a similarly well-tended baseball field. The Center Ball Diamond became a reality in 1958, when a group of local softball players decided they wanted a ballpark near their rural homes. McCook Electric installed light poles in the middle of what was then a hayfield and the park began taking shape. More softball teams formed and soon there was a rousing league. Between concession stand sales, league dues and services donated, the park eventually became self sufficient — McCook County's own field of dreams.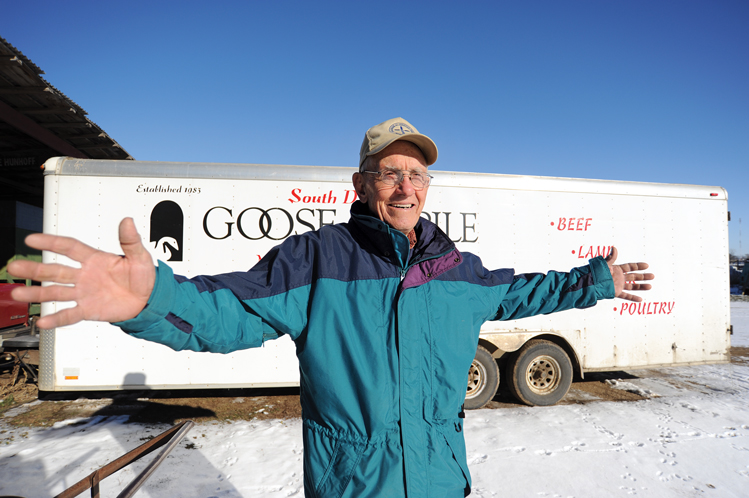 Canistota farmer Tom Neuberger started the Goosemobile in 1984.
The tiny hamlet of Center is also the setting for one of my favorite South Dakota baseball stories. The Center Store did solid business during the 1930s, and in the fall during pheasant season it wasn't unusual to spot a celebrity or two who had come to South Dakota for a hunting excursion. Bob Feller, star pitcher for the Cleveland Indians, hunted every year between Center and Howard with his uncle, who delivered gas and oil to the store.
One day, a middle-aged hunter who nobody recognized walked in. Kenny Knutson, a local farmer on his way home from a baseball game in Salem and still in uniform, happened to be inside.
"I see you're a ball player," the visitor said. "I used to play a little ball myself."
"Yeah, when?" Knutson asked, looking and the old hunter with doubtful eyes.
"It was a few years back. Maybe you've heard of me. I'm Ty Cobb."
"Oh, sure, and I'm Babe Ruth!"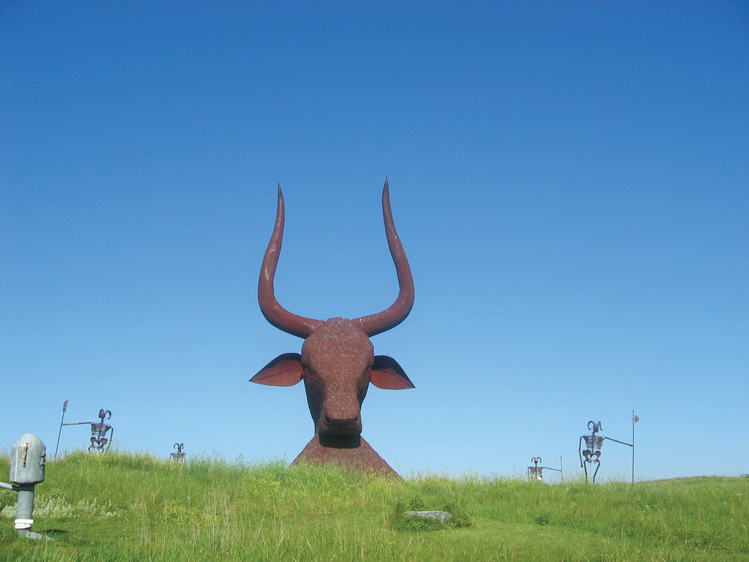 Wayne Porter's 60-foot-tall longhorn towers over the prairie along Interstate 90 near Montrose. Photo by Stacey Stoddard/S.D. Tourism.
But it was true. Cobb, who had retired in 1928 after 24 seasons with the Detroit Tigers and the Philadelphia Athletics and was elected to the National Baseball Hall of Fame in 1936, didn't say another word. He just pulled out his hunting license and presented it to the gape-mouthed Kenny.
Wayne Porter is also living his dream in McCook County. He's the creative force behind the Porter Sculpture Park, and eclectic mix of scrap iron creations that can be seen near the Montrose exit along Interstate 90. You'll spot dragons, butterflies, vultures and a man's head with a hand emerging from the top. Maybe the least out-of-place is the 60-foot-tall longhorn.
But perhaps the saddest source of inspiration comes from Spencer, a town that made headlines worldwide in May of 1998 when a monstrous tornado destroyed the town. I had just graduated from high school, but I remember people traveling there to help with the clean up. Six people were killed and several more displaced. The town's population never rebounded to the pre-tornado estimate of 315, but many residents stayed, refusing to let Mother Nature control their lives. Spencer is now home to about 150 people.
As someone who simply passes through from time to time, I never really thought about all the inspiring people and places to be found in McCook County. But the 5,600 folks who live there see it every day — in a quartzite church steeple, the ball field in the middle of nowhere and that 60-foot longhorn.
Editor's Note: This is the 33rd installment in an ongoing series featuring South Dakota's 66 counties. Click here for previous articles.